https://www.instagram.com/p/BiYDfGxF2sw/
Updated July 1st, 2020.
The beauty community is exploding with drama yet again.
Over the last month, two ex-friends of Jeffree Star have spoken out against the makeup mogul, implying he and Shane Dawson were the brains behind Dramagedon 2.
ICYMI, Dramagedon 2 marks one of the most dramatic "cancellations" in YouTube history. On May 11th 2019, beauty guru Tati Westbrook uploaded her now-infamous "BYE SISTER…" video, accusing friend and mentee James Charles of predatory behaviour— including using his fame to manipulate straight men into sexual relationships. At the time, Jeffree Star inserted himself into the narrative, publicly siding with Tati and tweeting that James was a "danger to society."
Though many of Tati's claims have since been debunked, Jeffree's role in the take-down has been highly debated amongst fans.
Now, it seems his role has potentially been confirmed according to multiple sources.
First, former model for JSC-turned-friend Kameron "Kam" Lester jumped on Instagram live this week to officially cut ties with Jeffree, Jeffree Star Cosmetics, and Shane Dawson. In his video, Kam says he was allegedly told by members of Jeffree's camp to keep quiet on his experiences, but he no longer wants to feel silenced. He says he believes Jeffree never saw him as a true friend, but instead as the token POC in his entourage.
Kam says the first time he felt like something was "off" with JS was during a trip to Houston with Rich Lux. The three were shopping at Louis Vuitton (something Kam says was very exciting for him as he got to see the "behind the scenes" of Jeffree's glamorous life) when Jeffree reportedly turned to Kam and asked him point-blank, "Do you like James Charles?"
Kam alleges this was three months prior to Dramagedon 2 and that Jeffree stopped trusting him after that conversation, as Kam stood up for James who was his friend at the time.
The model then goes on to say that back at the hotel, Jeffree was on the phone with Shane Dawson in front of a room full of people. On the call, Shane was allegedly "cursing James out" and "going in" on the then-19-year-old.
Kam explains that this is when he realised there was "something brewing" beneath the surface and that Shane wasn't the person fans perceive him to be. While Kam doesn't go into details on what he heard, he says he feels guilty for not warning James that "something was about to happen" regarding his cancellation.
Despite Kam's anecdotal evidence, many fans have chosen to believe his story. There has been speculation for months that the duo was behind James' cancellation after Shane publicly stated he would be "exposing" the beauty community in his latest docu-series starring Jeffree. The series, however, took a totally different turn after James debunked many of Tati's claims. Instead, the doc ended up following Jeffree and Shane's journey of creating a makeup collab. This led fans to question the initial intention of the docu-series.
Fans have been skeptical of Jeffree and Shane's involvement in Dramagedon 2 ever since.
Days after Kam posted his IGTV, drama channel Ashley Kyle uploaded a video titled "I WAS ON JEFFREE STAR'S PAYROLL" in which she shares screenshots of text messages reportedly between herself and Jeffree Star. After days of texting her ominous accusations about James, Jeffree allegedly wrote to Ashley on May 1st 2019 saying, "Shane and I feel like this weekend something bad is going to happen with all of this…James is playing with so much fire 🙁 Karma is in full swing lately."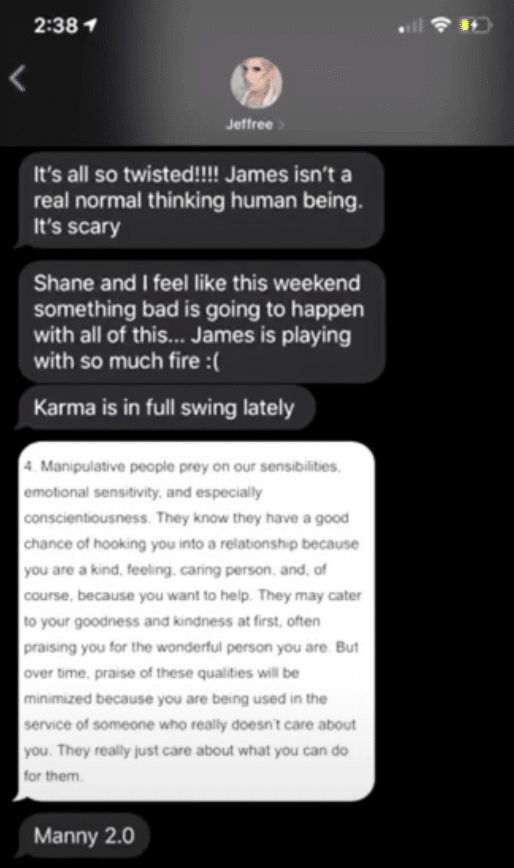 She also shares multiple screenshots from other text message conversations which allegedly show Jeffree feeding Ashley information prior to things happening within the community.
Ashley explains that Kam's video, along with Jeffree's recent interview on the Mom's Basement podcast, brought her to the realisation that Jeffree Star and Shane Dawson were likely behind James Charles' take-down.
See Also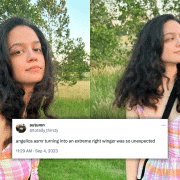 With this all this coming to light, fans now believe that Tati was manipulated by Jeffree and Shane into creating the BYE SISTERS video. This theory would also explain why Tati had a falling out with Jeffree and Shane post-Dramagedon 2.
Though Jeffree has yet to address any of these allegations publicly, he did reportedly send Kam a voice note days after his IGTV went live. In the voice note, which was obtained by drama channel Sebastian Williams, Jeffree can be heard allegedly saying the following:
"Girl, how much shit did you smoke today? I told you to grow out your facial hair and I checked on you after your breakup, it's actually the last thing you and me spoke about. That is the most craziest, manipulative, most insane thing I've ever heard in my entire life. Um, I know you're upset— your boyfriend left you, he stopped loving you. Your roommate moved out. Um, you attacked Fenty, they didn't respond. And now people are coming for you for supporting me, so you're trying to flip the script and make up a bunch of lies and make me the devil. It is so boring."
We commend Kam and Ashley for speaking their truth.
Now, we're just waiting on Tati…