@jeffreestar
It's finally here!
After teasing a new collection in Shane Dawson's docuseries about his life last year, Jeffree Star has finally revealed his latest collection, Blood Lust.
In his reveal video, the beauty mogul shared that the Jeffree Star Cosmetics Blood Lust collection is the trilogy to his wildly popular Blood Sugar and Blue Blood palettes. The pinky-purple colour story rounds out his previous two 'Blood' collections— when you combine red and blue, you get purple.
The Packaging Comes With A Bumper
The Blood Lust palette comes in a purple hexagon-shaped box. Jeffree explains the purpose of this box is to help alleviate shadows smashing during the shipping process, as it comes with a removable cardboard 'bumper' around the edge.
"There is this bumper around it where if you get it, it may have a little bit of creasing in here but this is a protector," he says, referring to the cardboard potentially arriving less-than-perfect upon delivery. "It's going to make sure that your palette stays flawless."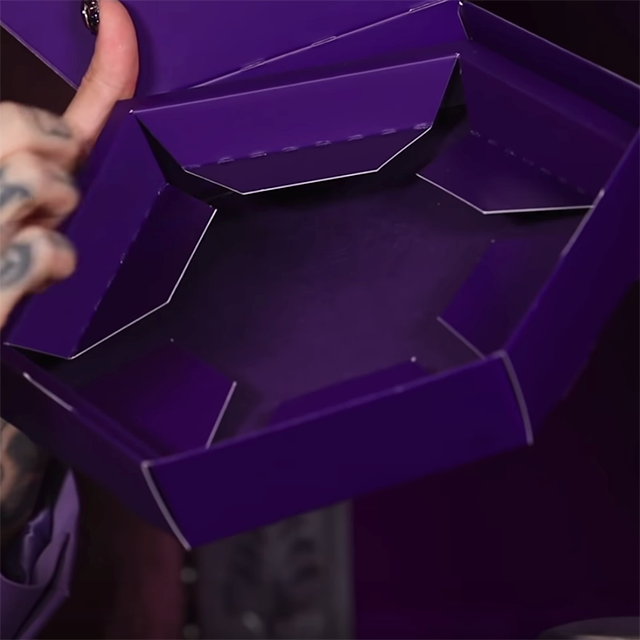 The Palette Is Housed In Velvet
The Blood Lust palette takes lux-packaging to another level. The hexagon-shaped component comes wrapped in a coat of dark purple velvet. "This is yes, actual real velvet fabric," he says. The palette also has a gold jewelry clasp opening instead of a traditional magnetic clasp found on most eyeshadow palettes. "I wanted to do something different than the trunks and the clasps. Hello, it's 2020 baby!"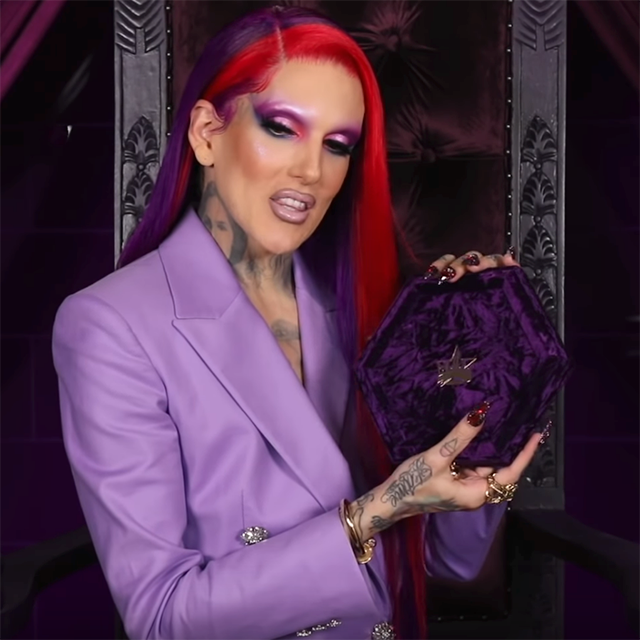 The Palette Comes With A New Formula
The Blood Lust palette contains 18 shadows in varying hues of purple, pink, red and teal. For his first collection of 2020, Jeffree says he's created a new eyeshadow formula for the shades Take The Crown and Wet Jewel to give your lids that ultra-glossy look we're all obsessed with right now. "They are so wet-looking on the lid," he boasts. "It's very highly concentrated and look like diamonds."
He also reassures that the palette, of course, has his iconic JSC matte and metallic formulas. The Blood Lust palette comes with 8 mattes, 4 metallics, 4 shimmers and 2 wet shades. It retails for $54 USD.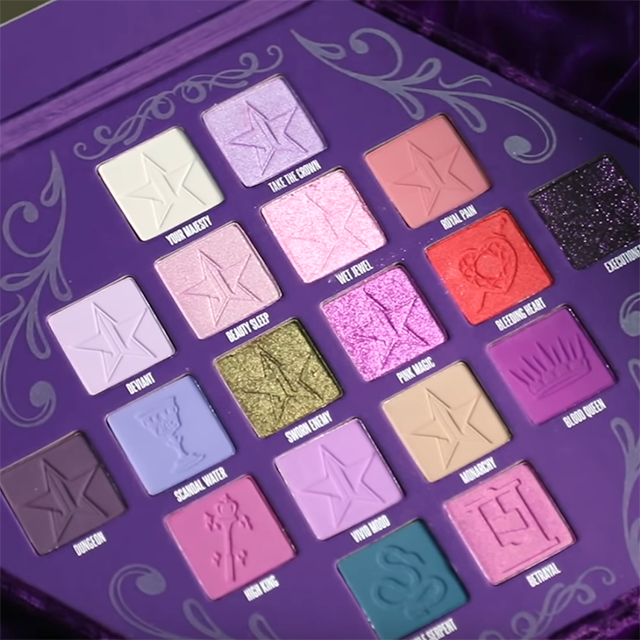 The Collection Also Has Lip Glosses
The Blood Lust collection comes with five new lip glosses. Jeffree says the Blood Lust glosses are his favourite that JSC has ever made. "When I launched The Gloss last year, I couldn't believe how well you guys received them," he explained. "I want more sparkle, more drama…I really wanted to give you guys something really fun."
And that he did! The Blood Lust glosses match the palette's colour-story with shades of purple, pink and clear. All five glosses are iridescent, super sparkly and apply sheer. The glosses retail for $18 USD.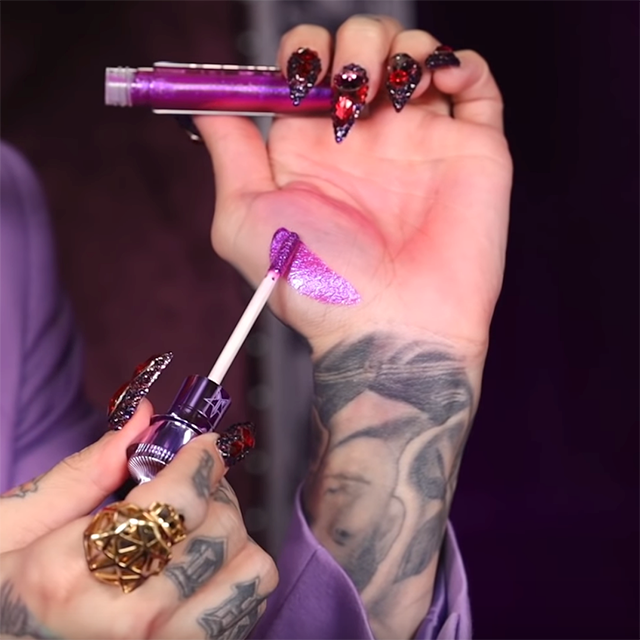 And A New Extreme Frost Highlighter
Jeffree launched his highlight formula, Extreme Frost, last year in celebration of JSC's 5-year anniversary and now he's back with another blinding shade to tie the Blood Lust collection together. Choking On Ice is a purple highlighter that comes housed in a faux-leather ring box.
"Now to create this formula, you can't do a million shades because it's very unique—the texture, the way it reflects," he says of his highlight formula. Jeffree acknowledges that the pressed pan looks similar to his existing highlight shades, but upon swatching it you can see that it's a very wet-looking iridescent highlight with flecks of purple and frosting white. The highlight retails for $50 USD and will be exclusive to JSC.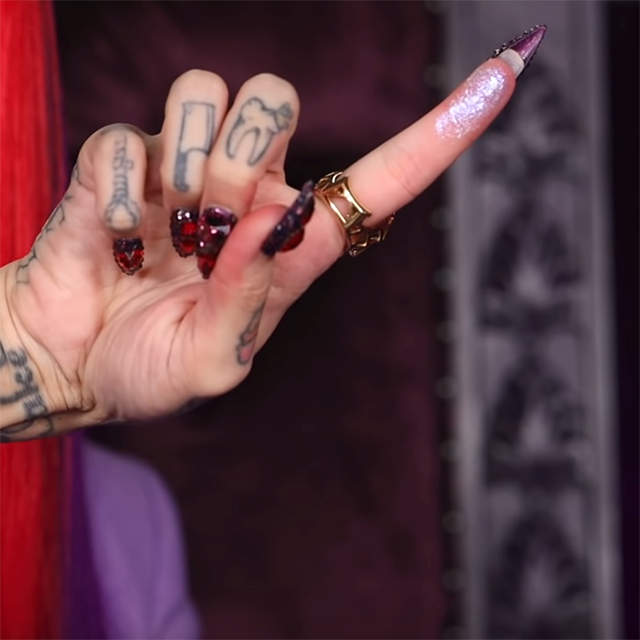 The Collection Rounds Off With A Mini Bundle
Jeffree Star Cosmetics is notorious for putting together a "mini bundle" to celebrate new launches and Blood Lust is no exception. The Blood Lust purple mini bundle comes with 8 mini liquid lipsticks— 6 existing JSC shades and 2 brand new called Royal Armour and I'm Vulgar, exclusive to this collection.
Similar to his new eyeshadow formulas, both lippies created for this collection will give your lips that dripping wet look. Royal Armour is a sheer purple-toned iridescent lipstick and I'm Vulgar is a bright fuschia. The mini bundle will retail for $52 USD.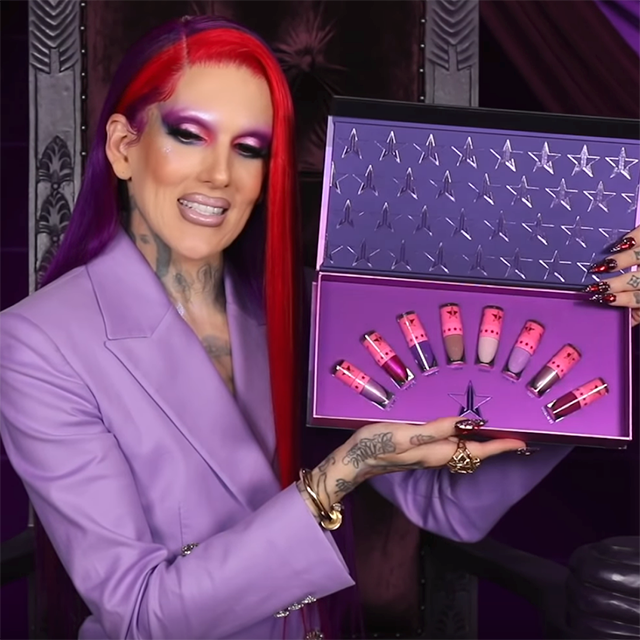 And We Can't Forget The Merch
In true Jeffree Star fashion, dropping an entire makeup collection just wouldn't be enough! If you're a diehard fan of the Blood Lust collection, you can also buy Blood Lust merch, including mirrors, hats, a bomber jacket, a bag, metal straws, and even weed grinders.
Jeffree Star also teased two brand new JSC products coming in 2020: a mascara and a liquid eyeshadow formula.
The Jeffree Star Cosmetics Blood Lust collection will be available on February 21st, 2020.