From Jeffree Star to Laura Lee, Manny Gutierrez Jr (professionally known as Manny MUA) has always been associated with controversial figures—making him one of the most polarising influencers on the internet. In recent months, it seems that Manny is living up to his reputation, with the beauty guru continuing to support problematic creators.
Lately, many TikTok users have felt let down by Manny. This comes after he shared a glowing review of James Charles' new makeup line, Painted. The brand launched with "10 Create Paints," along with 6 Detail Brushes and a sponge. Manny did his makeup on TikTok using four Create Paint shades— Pinky Promise, Cold Brew, Ink and Left On Red.
He concluded his video by saying, "My first impressions review… I actually think that these are fantastic. I like the way they dry down. They dry down to a nice matte finish. They are very thin but full coverage, and they blend really nicely and easily. So I am going to keep playing with them. I am going to keep trying them out. Overall, I am very impressed. Good job, Painted."
TikTok users were quick to call out the creator for dishonesty. Many viewers claim that Manny failed to point out some obvious flaws with the products throughout his makeup application. These users flooded his comment section, alleging that he gave Painted a positive review because he is friends with James or that it was a paid advertisement.
"Be so for real. The brown [is] PATCHY, the matte of the black still had shine. Be so for real," one user commented.
"James Charles is who you're gonna play in our face for?!?! 😩" another wrote.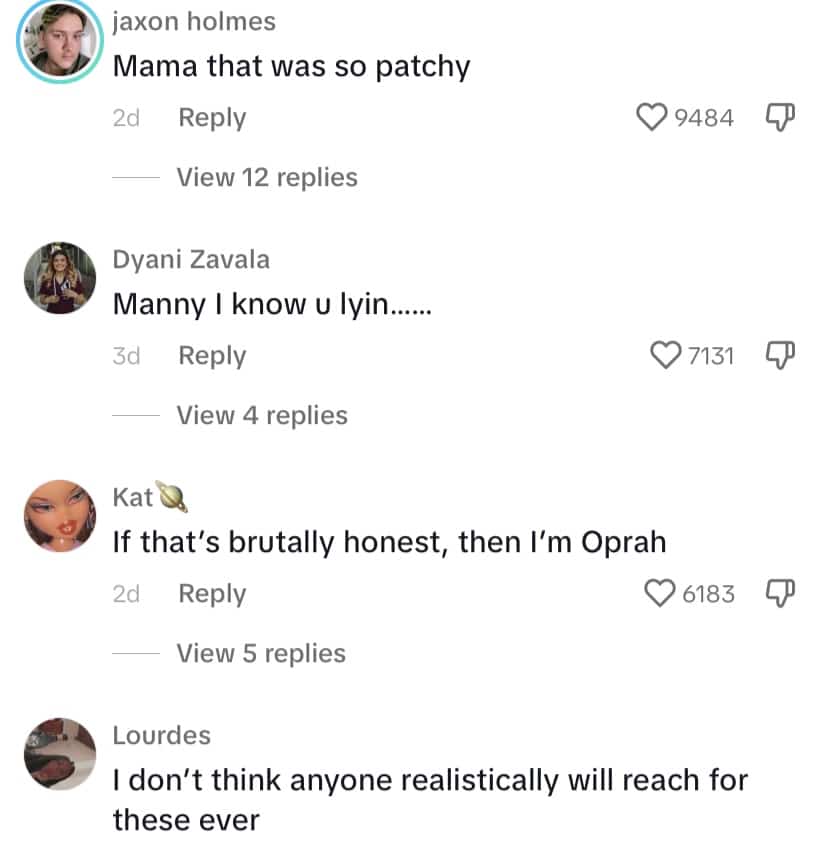 Manny even made a second video justifying his thoughts. He mentioned that he has vitiligo, a skin condition that sometimes leaves makeup looking uneven. He also clarified that he didn't use the Create Paint with an eyeshadow base, which would have helped the cream appear more opaque.
"It's not that [the Create Paint] is patchy. It is the part that is sheer as I am blending is showing more of my veins because of my vitiligo," he said.
Despite Manny's explanation, skeptical viewers believe he might be stretching the truth to support James. If this is the case, many beauty enthusiasts are disappointed that Manny continues to support someone who has faced numerous allegations of grooming and predatory behaviour toward minors.
This has become a point of concern for Reddit users. Within the r/BeautyGuruChatter subreddit, there is noticeable frustration regarding Manny's support for creators who exploit the fan-influencer power dynamic for personal gain.
"It is also extremely disappointing to see him supporting James Charles so much. I can't support anyone who is involved with that creep in any way," one Reddit user wrote.
"I have zero respect for someone who remains friends and supports predators (James Charles)- whether it be career reasons or not," another shared.
Of course, this isn't the first time Manny has been criticised for openly endorsing James since his cancellation. However, he isn't the only controversial influencer that Manny has backed in the past.
Manny recently showed his support for Jaclyn Hill when she revealed the upcoming closure of her jewellery brand, Jaclyn Roxanne, and her leisure wear brand, Koze. Jaclyn opened up about the decision in a YouTube video, noting that after the failed launch of her lipstick line in 2019, she decided to open other businesses to make a point. In a now-deleted comment under the video, Manny expressed support and pride in Jaclyn's business decisions, even though her companies have faced numerous controversies over the years.
One particularly troubling incident was related to the name Koze. YouTuber Kalyn Nicholson already had a lifestyle brand with the same name, which had been in business for five years. Kalyn was ultimately forced to close her company, as she had not trademarked the name and was not interested in entering into a lengthy and expensive legal battle with Jaclyn.
After receiving hate for supporting Jaclyn, Manny seemingly deleted his comment.
Manny also made excuses for Colleen Ballinger when she faced a wave of manipulation and grooming allegations in June of this year. Several drama channels, including Dustin Dailey and Rich Lux, came for Manny after he discussed the situation on Fool Coverage— a podcast with fellow influencer, Laura Lee.
In the now-deleted episode, Manny and Laura discussed their relationship and past interactions with Colleen. However, listeners criticised the creators for not thoroughly researching the topic and minimising how Colleen's behaviour affected minors.
"I do not think that MannyMUA and Laura Lee condone the behaviour of Colleen Ballinger, but I also don't understand why they can't get on camera and disavow [her behaviour]," Rich Lux says. "It's just one of those issues that you cant glance over."
Manny's continuous support of creators like James, Jaclyn, and Colleen has left many internet users frustrated and wondering about his motives. Some internet culture enthusiasts believe these creators have some kind of leverage over him, making Manny reluctant to criticise them.
"I think James Charles and Colleen must have some serious dirt on him because supporting someone is cancelled doesn't really gain you any clout," KatyaL8er theorises.
Meanwhile, other viewers think that Manny may want to keep opportunities and relationships open. From this perspective, condemning these creators could potentially restrict future opportunities.
"The man doesn't have any hard convictions except whatever will get him cross-promotion with influencers / brands, even with literal predators and puts money in his wallet. Only person he would never support is J Star and that's ONLY because he was personally hurt by him," a Reddit user shared.
Though Manny's motives remain unclear, it's safe to say that in 2023, blindly supporting problematic creators for clout does not go unnoticed.