YouTube / James Charles
https://www.instagram.com/p/B-sA6m7hyQR/
The answers we've been waiting for.
Jeffree Star has finally opened up about his involvement in last year's feud between Tati Westbrook and James Charles while appearing on the Mom's Basement podcast earlier this week.
Hosted by popular YouTubers KeemStar, FaZe Banks and Colossal Is Crazy, the trio didn't shy away from asking Jeffree the tough questions, spilling some serious tea.
The interview covered everything from Jeffree's involvement with Dahvie Vanity, to his interview with Chris Hansen, to what really went down with James Charles and Tati Westbrook— something fans have been asking about for over a year.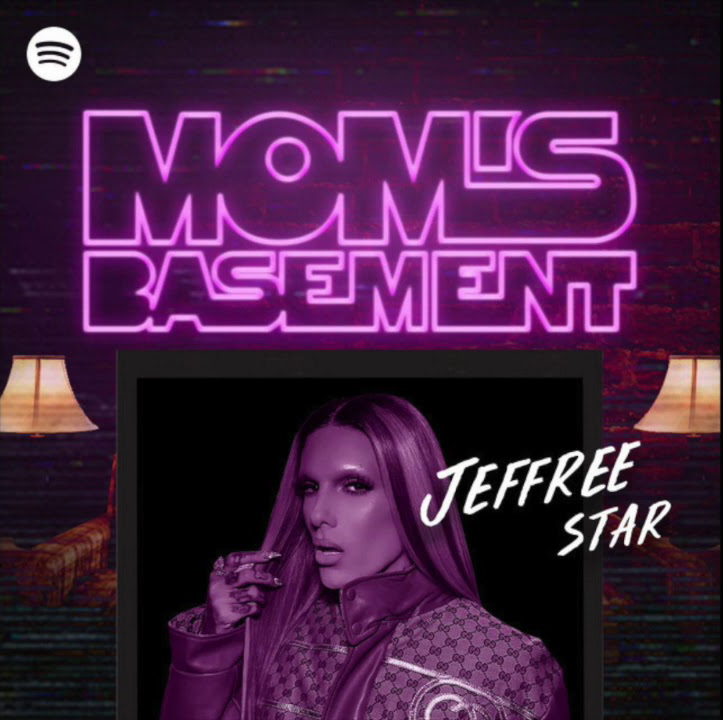 Last year, after Tati Westbrook ignited Dramagedon 2 with her infamous "BYE SISTER…" video, Jeffree inserted himself into the narrative by publicly siding with Tati.
In since-deleted tweets, the beauty guru wrote that "everything Tati said is 100% true."
He accused James of being a predator and insinuated that Jeffree's then-boyfriend, Nate, had banned James from coming to their house because of his behaviour. Jeffree also quote tweeted James' brother Ian, writing "Why is your brother a predator? Why'd you really move back to NYC? Exactly. Shut the fuck up."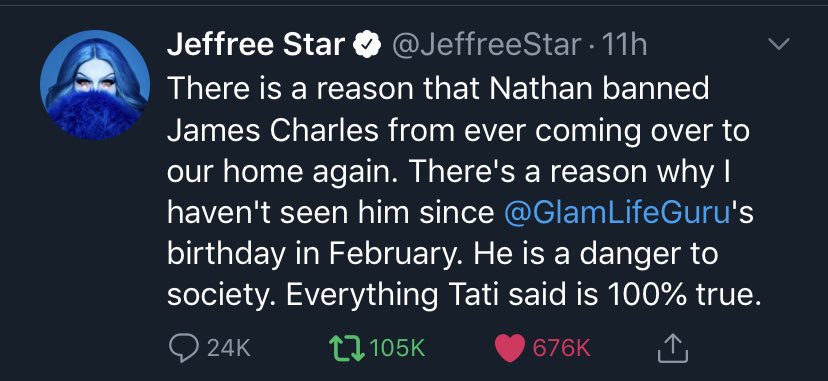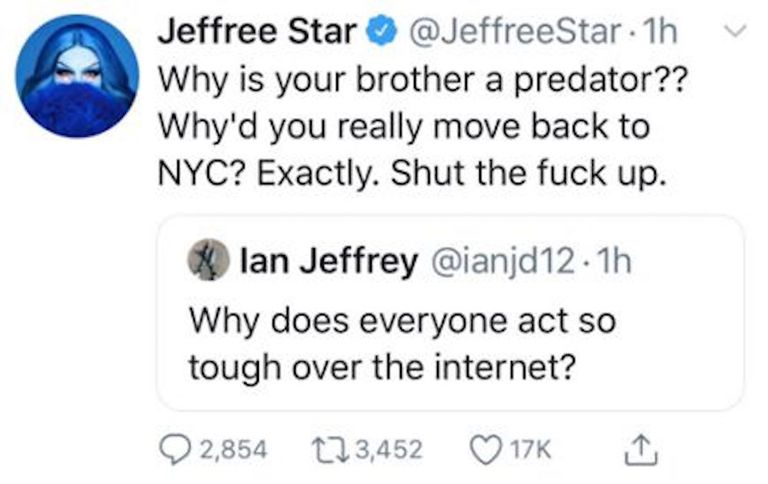 However, once the dust settled, it seemed Jeffree and Tati had their own falling out, as both viral stars unfollowed each other and have not publicly spoken about each other in nearly a year.
Fast forward to March 2020 and Jeffree confused fans even more when he began to publicly support James again.
In response to a video collab between James and TikTok star Charli D'Amelio, Jeffree tweeted, "Umm you look SO gorgeous!!! James killed it per usual."
Now, Jeffree seems to be putting all of the blame for last year's blow out on Tati Westbrook.
During the podcast interview, KeemStar put Jeffree on the spot, flat out asking him, "Is James Charles a danger to society? Is he a predator?"
Jeffree pauses and starts by saying the answer is very complicated. He claims that he, James and Tati have all made peace and that he made those accusations last year because multiple men had told Jeffree "some things" about James, which he chose to believe at the time.
However, things take an awkward turn when FaZe Banks pushes for more answers, comparing the situation to Jeffree's involvement with Dahvie Vanity.
Jeffree says if they turn off the podcast, he will play FaZe Banks a recording he has on his phone, insinuating he has evidence that James is a predator. "I'm not going to out a victim of James Charles," Jeffree says. "If it's real, because I don't know if it's real."
To those accusing Jeffree of ruining James' career, he defends himself by saying it was Tati's fault, not his.
"No, Tati did it by uploading a 40-minute about him and she should've never uploaded that."
Ooft.
The YouTuber then reveals that James allegedly blames Jeffree and Shane Dawson, who was making a documentary of Jeffree's life at the time, for trying to take down his career.
"For some reason, James thinks that me and Shane tried to ruin his life and orchestrated the whole thing. Like we f*cking care," he explains. "For what? We're our own superstars, we're in our own lane, we're doing our own thing together and we've made so much magic. Why would we ever want to bring someone down?"
On his current status with Tati, Jeffree confirms that he and Shane are not friends with the beauty guru saying, "Look, I don't think we should be fake at all— we are currently not friends with Tati."
And that's the tea, sis(ters).