@jamescharles / @rawbeautykrist / @petermonn
YouTube's tea community is coming for OG beauty guru RawBeautyKristi.
Kristi has established herself as one of the beauty community's most unproblematic and genuine creators, renowned for discussing anything from infertility and chronic illness to beauty. Over the years, her authenticity has paid off, with her pregnancy announcement video amassing over 9 million views. Her response to the Jaclyn Hill lipstick-gate saga was also well-received, accumulating 5 million views since 2019. 
Despite her reputation, Kristi has recently found herself on the wrong side of the tea community.
It all started last week after drama channel Peter Monn spoke out against Kristi when he discovered she still follows James Charles— someone who many internet users consider a "predator" after he was accused of grooming and soliciting racy photos from minors in 2021. 
Since news of the allegations broke, internet users have criticised James for his attempts to address them, most recently in a controversial Cosmopolitan profile where journalist Gabrielle Bluestone defended the influencer's behaviour.
In a September 4 video titled, "ALL OF THE PROBLEMATIC INFLUENCERS I HAD TO UNFOLLOW & SO MUCH MORE DRAMA!" Peter lists the creators he no longer wishes to be associated with due to their ongoing support for James. Alongside MannyMUA, Chris Olsen and Tana Mongeau, Kristi is among the influencers mentioned.
"MannyMUA, I'm not surprised by how he's acted in 2023… I have to say, after everything I looked at last night, Raw Beauty Kristi might be my biggest disappointment in 2024," he begins. "I have loved Kristi. She's been very supportive of me for years. I thought she was the real deal for a long time… [But] I'm going to talk about some people I had to unfollow last night, and it started with Kristi."
His decision to unfollow her came from her allegedly liking a post supporting James Charles' new makeup brand, Painted.
Peter explains why he feels he should unfollow these creators, noting that this is an essential first step to holding influencers like James accountable.
"I'm fully aware none of these people really care if I follow them or not, and it probably doesn't mean anything in the grand scheme of things, but in my heart, I want to do the right thing," he says. "I wanted to be able to follow these people because I really like them… but then I'm not any better than the people that I'm calling out that are supporting James and Colleen because I'm supporting the people that are supporting them."
When it comes to Kristi specifically, Peter found fault with her "hypocrisy," noting that she has spoken out against Colleen Ballinger and the 8 Passengers family channel for their behaviour with children in the past.
"I don't know what her need is to continue to follow [James] and like him… I don't know why she can ride so hard for Colleen Ballinger, but she can only support openly and publicly a self-proclaimed predator," Peter says.
Since first posting about Kristi, Peter has continued to speak about the beauty guru on his social media. In a video shared on September 7, Peter revealed that Kristi has allegedly been blocking fans and deleting comments criticising her for following James. He also notes that Kristi has since unfollowed the 24-year-old beauty guru. 
Peter also goes on to say that he contacted Kristi after the video and felt that she "knowingly lied to [his] face."
"Basically, what she said to me was that when all this stuff was going on with James Charles… Kristi was going through so much in her life at that time that she really wasn't on social media, and she wasn't paying attention," Peter recalls. " I said I think people will come for you and say there's no way that you didn't know what was going on with James Charles… I think she knows this too, and I think, and this is why she hasn't made the video."
Although Kristi allegedly claims she was unfamiliar with the accusations against James, Peter notes that she has "talked extensively about the downfall of the beauty community referencing Tati and James."
"She knew what happened. Kristi played dumb on the phone to me and acted like she had no clue," Peter says. "I know she was going through a really difficult time, but to come out and say she didn't know what was going on when she's spoken about it many times… is bulls—t."
He ends the video, urging Kristi to address the situation on her YouTube channel. At the time of publication, she has yet to do so.
Over the past week, the likes of Rich Lux and Dustin Dailey have also taken aim at Kristi, branding her as "a phony" and "fake." And it seems that Kristi's viewers have followed suit. 
Under Kristi's newest video titled, "LATTE MAKEUP TUTORIAL," internet users are disappointed with the creator for seemingly ignoring the criticism levelled against her. 
"So selling furry lipsticks are more of a sin than preying on children?" the top comment reads.
"Kristi, you know what people want to hear from you. You've been a safe space for many for years, so for us to learn that you've supported someone so hurtful really feels like a betrayal. This was sad," another says.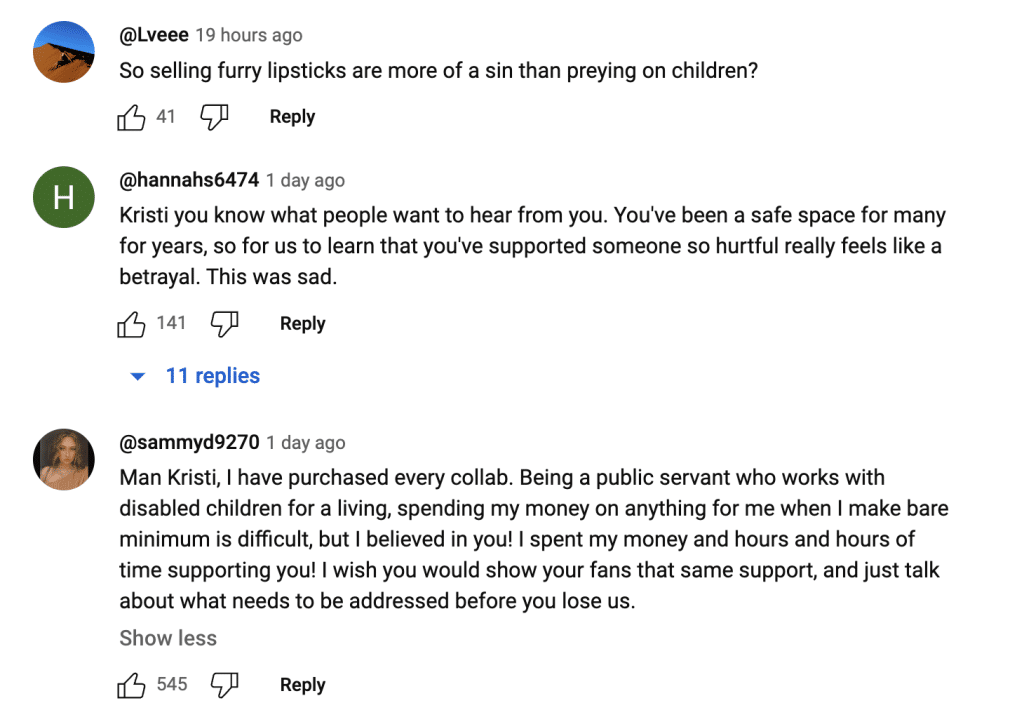 With users flooding Kristi's comment sections urging her to address the situation, it's clear that these beauty-focused tea channels still wield some influence in shaping public opinion— despite the beauty community's waning prominence on YouTube. But the question is, will they be able to stick it out, or are the golden days of drama channels already behind us?