@jamescharles
It's been one whole year since James Charles was cancelled.
On May 11th 2019, James Charles' career came crashing down overnight. While on tour in Australia, the beauty guru woke up on the sunny Gold Coast to Tati Westbrook's infamous "BYE SISTER…" video. Tati was James' mentor and close friend for years prior.
In the video, Tati accused James of being disloyal, money-hungry, and worst of all, she accused the then-teenager of using his fame to manipulate straight men into sexual relationships. Jeffree Star defended Tati's claims, calling James a "danger to society" in since-deleted tweets.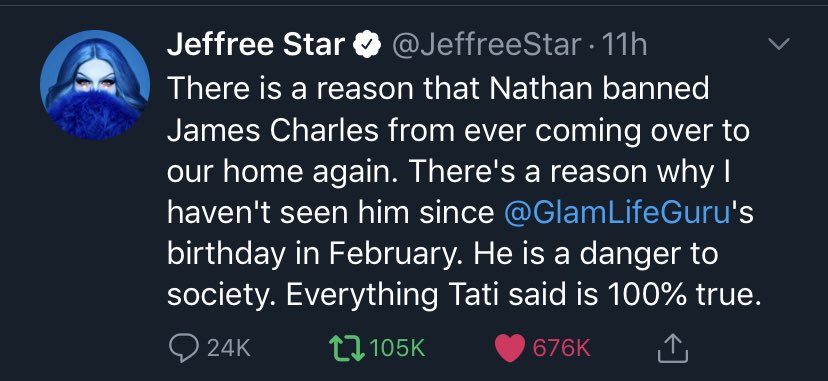 James immediately lost millions of followers and likely most (if not all) of his brand deals. Multiple boys came forward claiming James had tried to groom them and "turn" them gay. The internet was calling him a predator and mainstream media outlets picked it up.
Though many of Tati and Jeffree's claims have since been debunked, it was possibly the biggest mass-cancellation in YouTube history.
And one year later, James is ready to put that all behind him.
This morning the 20-year-old took to Twitter to commemorate his cancellation anniversary and acknowledge how far he's come.
He started by posting a side-by-side of his daily subscriber count from May 2019, when he was losing thousands of followers a day, to May this year, where he's gaining thousands.
"One year ago today… a cultural reset," he wrote.
James continued, noting how difficult this year has been but also how proud he is of his growth. "I am so proud of the person I am today. It made me stronger, smarter, but most importantly, more motivated than ever to work hard," he said. "I can confidently say I am finally happy again."
He shared some of his biggest accomplishments of the year, like building his channel back up to nearly 20 million subscribers and launching his YouTube Originals reality show, Instant Influencer. Pretty impressive all things considered.
James finished by thanking the people around him for supporting him and getting him through his "lowest point." He also alluded to having suicidal thoughts because of the backlash and said he is "grateful I'm still alive today."
We are so glad James is in a better place and we can't wait to see what he'll be up to next.
We love a sister comeback.
If you or someone you know is having suicidal thoughts, please call Lifeline Australia at 13 11 14.