@tanamongeau / @montylopez
https://www.instagram.com/p/CM15JtzAHE9/
Tana Mongeau is ready to expose Monty Lopez after the 46-year-old made degrading comments about her "body count" on social media.
Tana Mongeau is a 24-year-old YouTube creator with over 5 million subscribers. Monty Lopez is the father of 21-year-old TikTok superstar Addison Rae and boasts 5.3 million followers on the app.
It all started when rapper Yung Gravy made an appearance last week on Jeff FM, the podcast by former Vlog Squad member Jeff Wittek. During the episode, the artist said he "has a thing for MILFs" and was "going on a date soon" with Addison's mother, Sheri Nicole Easterling.
Though it's unclear if Yung Gravy's comments were a joke, it was recently revealed that Sheri and Monty had separated amid allegations that Monty was a cheater. Shortly after the allegations surfaced, Sheri changed her Instagram bio to "single mom".
In response to Yung Gravy's comments, Monty threatened the 26-year-old on TikTok for talking about his estranged wife. "Watch your mouth BOY! You gonna get Chris ROCKED," Monty wrote in a TikTok video dueting the clip of Yung Gravy on Jeff's podcast. In the comments, Monty challenged the rapper to a boxing match, writing, "@YungGravy Let's get in the ring! PLEASE!!! If [you] have [balls] I'll take them!"
It appears Monty's original duet of the clip has since been removed, however, he has reuploaded the duet twice at the time of writing, tagging Jake Paul, Austin McBroom, and Bryce Hall.
Austin and Bryce have both competed in influencer boxing matches, while Jake has made the transition from social media creator to professional boxer.
The father-of-three also tagged commentary personalities Josh Richards and Def Noodles, as well as influencer drama podcast, BFFs Podcast.

Monty then made a follow-up TikTok pretending to transform into The Hulk, writing, "When [@yunggravy] won't accept a boxing match!"
This is where Tana Mongeau comes in. The controversial creator jumped in the comment section, joking that she is "calling the police" over Monty's TikTok threat to Yung Gravy.
Monty responded to the 24-year-old, telling her to "take a bath". He then commented again asking Tana if she is calling the police over the number of people she's slept with, writing, "About your body count?"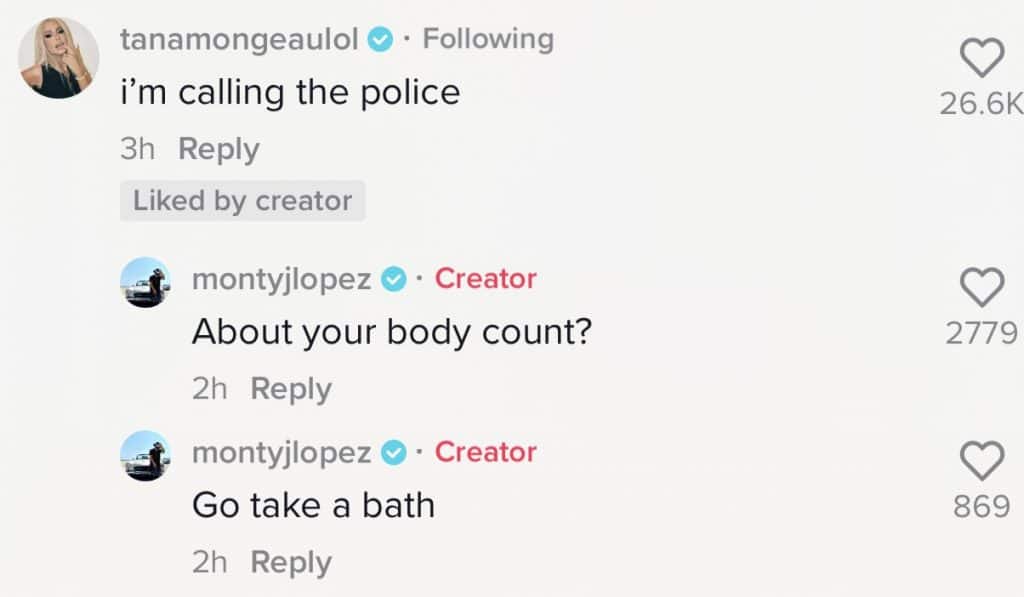 Monty then took to Instagram stories to continue making degrading comments about Tana's sex life.
In a since-deleted post, the 46-year-old asked his followers to vote in a poll on whether they think Tana has slept with more than 300 people or less than 300 people.
The story was captured by TikTok Room before it was removed.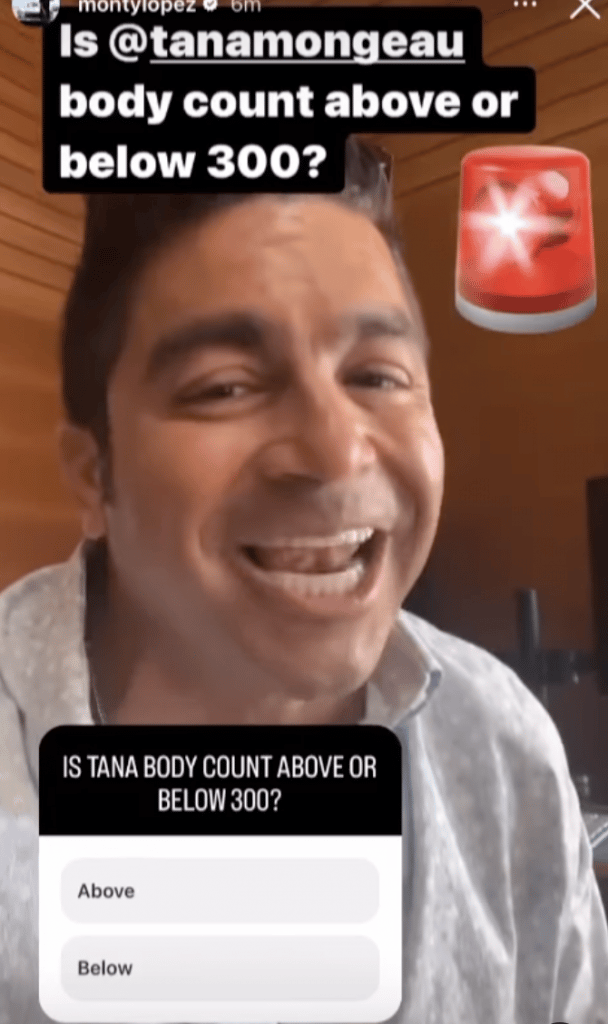 Never one to let someone walk all over her, Tana responded to Monty in a video she posted to TikTok and Instagram stories, threatening to expose Addison's father for his clout chasing, alleged drug use, and alleged inappropriate interactions with young women.
"First of all, why a grown man, a father, is even remotely discussing my 'body count' is beyond me," Tana said. "Y'all have obviously seen the paparazzi videos of him stalking me down for a selfie. And I'm getting tired of the incessant FaceTimes and texts like these."
Tana shared a screenshot of alleged text messages from Monty saying "hey" and then "wow" when Tana seemingly didn't reply.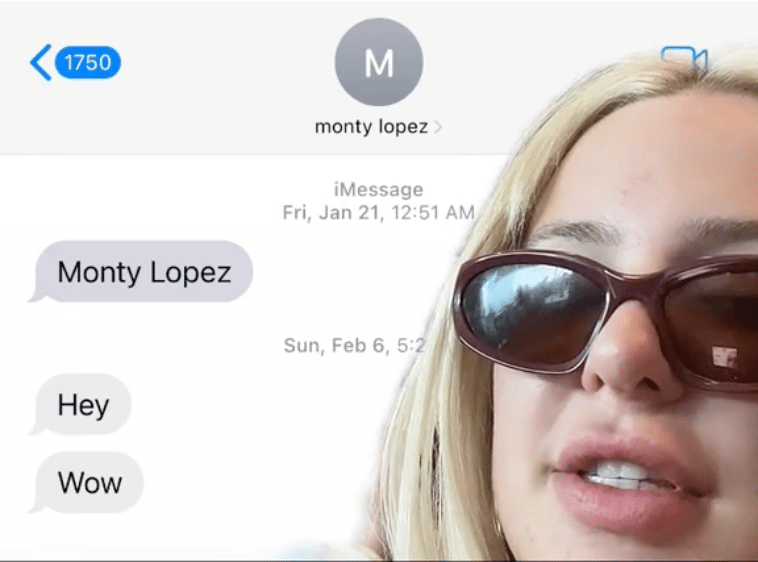 The influencer then posted a screenshot of alleged text messages from her friend which read, "Ewww it was Monty Lopez trying to rail me at the club like fully took his [shirt] off?"
"And I think all of my young friends are very tired of him acting like this," Tana said of the texts.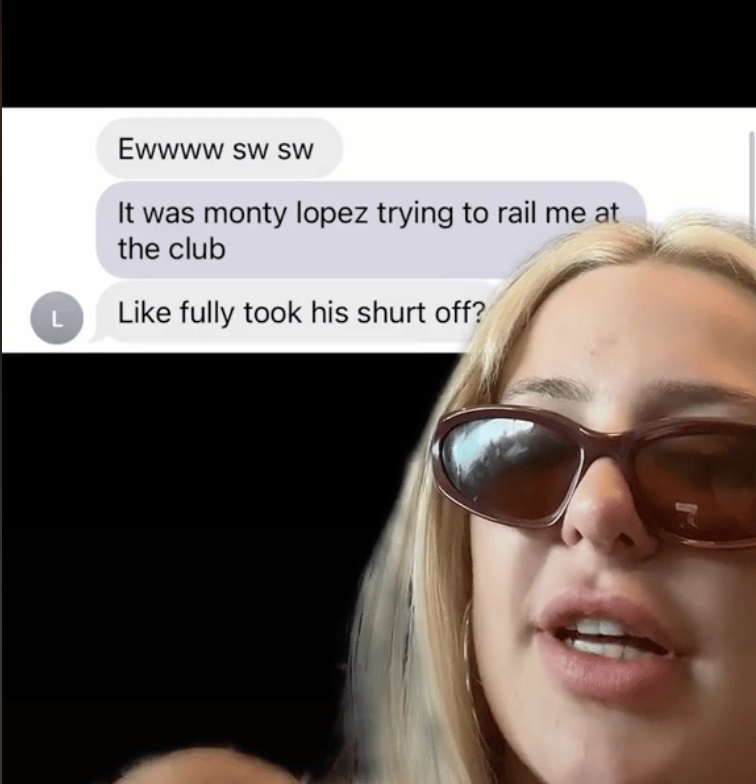 She continued, "So Monty, my dear, if you want war so be it. I feel kind of strange beefing with this man at his prehistoric age, especially when I've seen him put so many things up his nose at several teenage events."
"And I actually remember having to back you off my friends… inside of houses… in bedrooms… because they were scared."
Tana finished by saying her stories about Monty will "make good podcast content" to discuss on Jeff FM.
"See you in court… or jail," she ended.
This isn't the first time that Tana has publicly mentioned Monty's alleged drug use.
A few weeks ago, Tana appeared on Jeff FM and discussed seeing "a celebrity father doing a good amount of cocaine". She confirmed that the celebrity father was Monty and called his behaviour "just the tip of the iceberg."
Since posting her video, Tana has shared several DMs that she's allegedly received from young women claiming to have had creepy experiences with Monty when they were as young as 18 and 19 years old.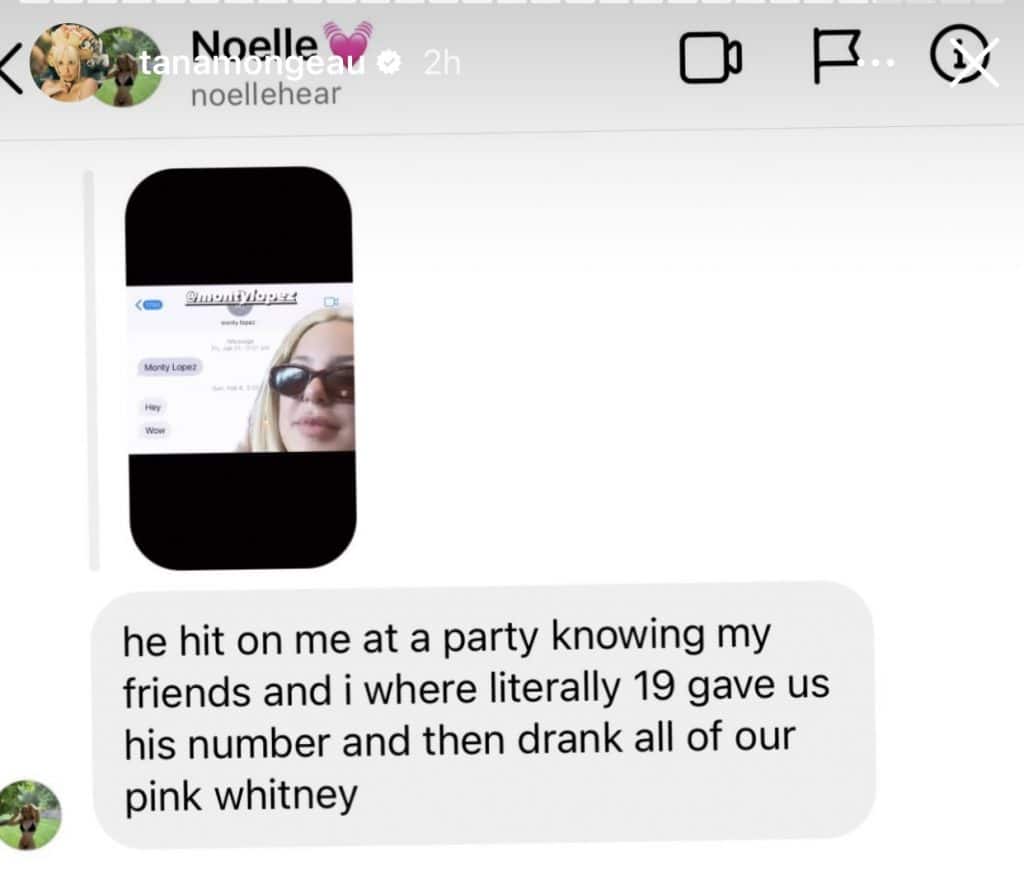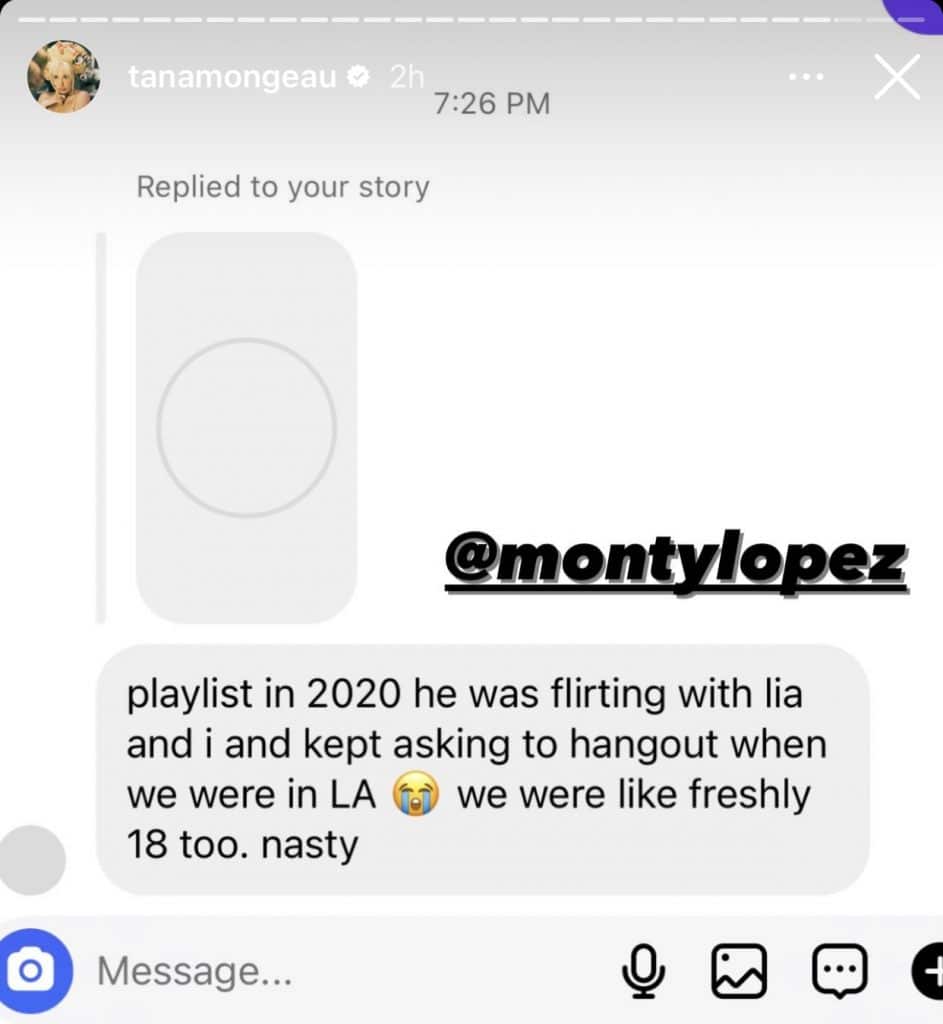 Monty Lopez has not responded to Tana's allegations at the time of writing.