@rice
https://www.instagram.com/p/B_YFAzbhLef/
Looks like there is still some bad blood between these exes.
Over the weekend, rapper and YouTube personality Bryan Le AKA RiceGum made some wild allegations about his ex-girlfriend, Abby Rao.
The viral star, who first shot to fame for his diss tracks targeting other online creators, tweeted out claims that Abby signed a contract before entering into a relationship with him. RiceGum claims that under this contract, he "owns" a percentage of her.
While he doesn't clarify exactly what that means, later tweets insinuate RiceGum is entitled to a percentage of Abby's earnings post-breakup.
Abby responded in a quote-tweet, alleging that she signed the contract under the impression that it was simply an NDA. She says the clause was hidden in the contract and when she found it months into their relationship, RiceGum reportedly said it came from his team. She challenged RiceGum to reveal the contract because "it doesn't exist" — presumably because he tore it up after she found it.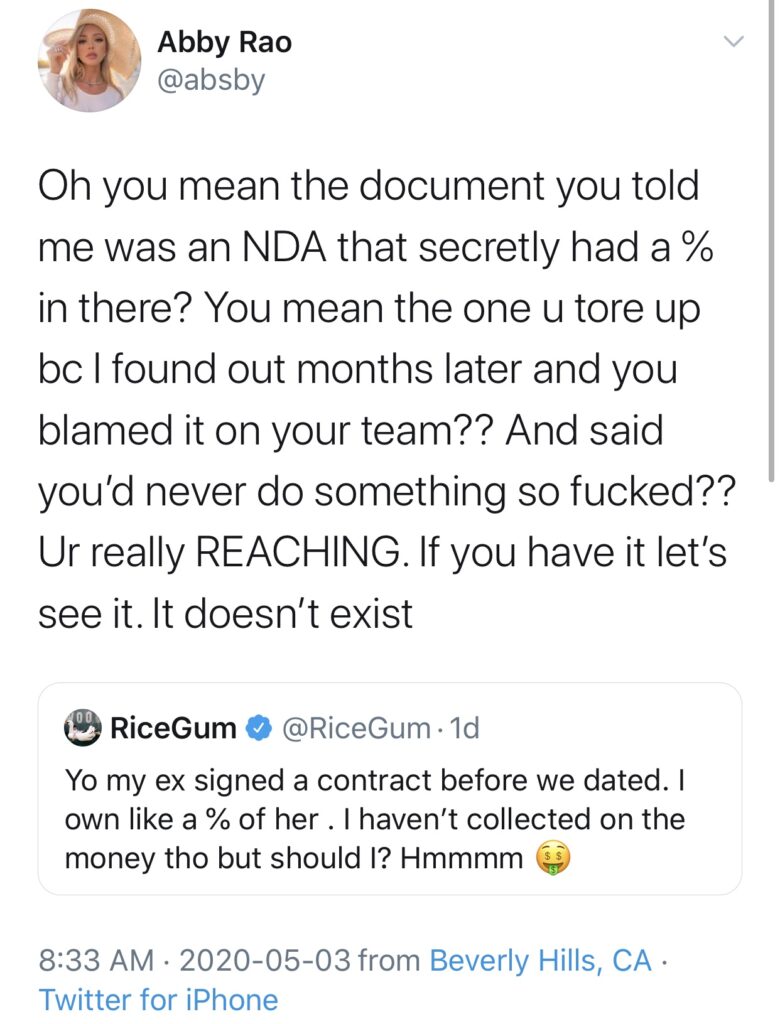 RiceGum rebutted, saying he was the one to bring up the clause with Abby and at the time, she agreed that "it was fair." He also claims he did not tear up the contract.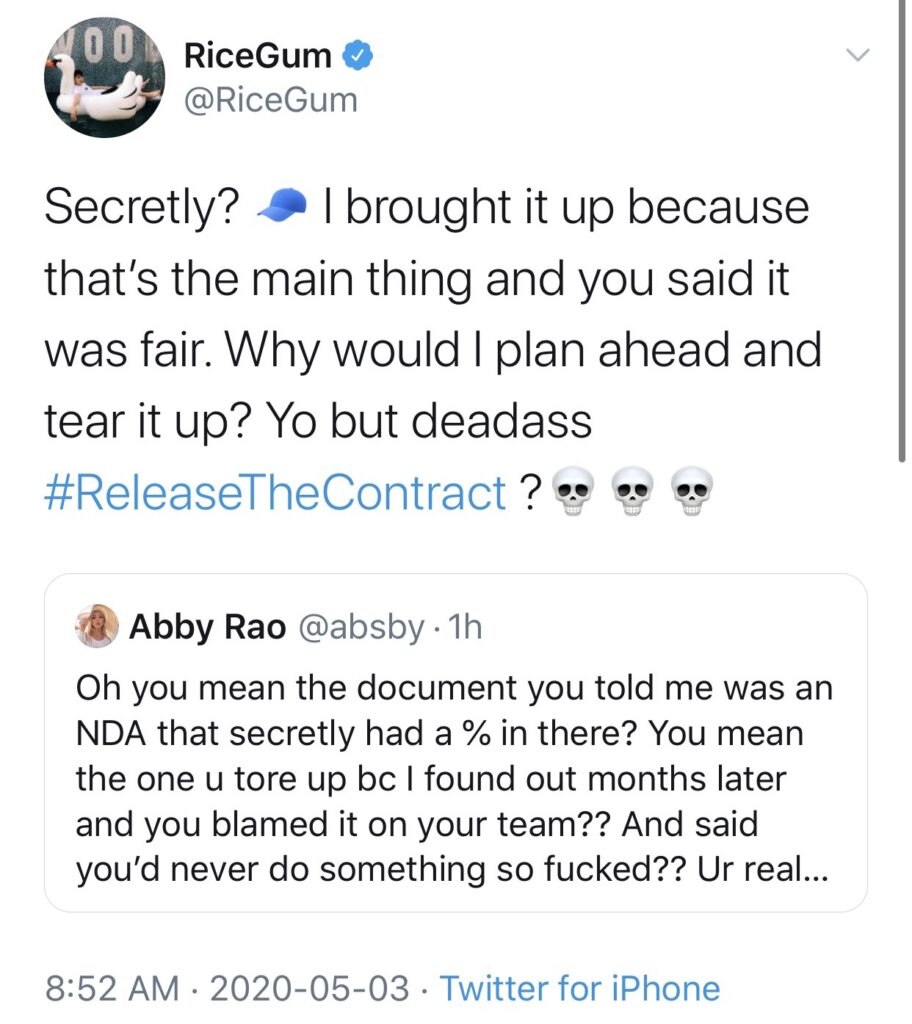 RiceGum's original tweet was seemingly in response to a video Abby posted to her YouTube channel last week, where she addressed the hate she's been getting from the creator's fans since their November split.
The video, filmed in the picture-esque backyard of the Clubhouse Beverly Hills (more on that later), states that she's endured 6 months of online harassment and abuse from RiceGum fans who say their ~fave~ paved the way for Abby and that she doesn't deserve a platform now that they're broken up.
Despite these comments, Abby told Insider that she learned so much from watching RiceGum work, but that she really put her career on the back-burner during their relationship. She revealed that her ex's behaviour on Twitch (where he is now banned) was the demise of their relationship.
"He started doing these live streams with girls and just the conversations, and the narrative of the content was just not something I was comfortable with," she said.
This behaviour allegedly included duping girls into believing he wasn't streaming live then manipulating them into sending him racy messages and videos that he would then share with his viewers without their consent.
Since the split, Abby has moved out of the Clout House and into her own creator house, the Clubhouse Beverly Hills, with her bestie and former Hype House member Daisy Keech.
The Clubhouse currently has eight 'talent' members and four members of their dedicated media team who help create content for the house.
We love to see Abby happy and thriving despite the negativity. And we'll be waiting with bated breath to see this alleged "contract."
#ReleaseTheContract