Instagram / @addisonrae.omer
Internet users are speculating whether Addison Rae is still with her longtime boyfriend, Omer Fedi.
Whispers of their relationship first started after the two were seen leaving Machine Gun Kelly and Travis Barker's surprise rooftop concert together the weekend of June 20, 2021.
Shortly after that, Addison and Omer posted a series of Instagram stories, hinting they were together.
Omer first shared a picture of a woman's feet in heels cuddled up next to him, leading many internet users to believe it was Addison. Later, the pair posted matching Instagram stories showcasing a silhouette of a couple embracing.
Since then, Addison and Omer have been spotted together on red carpets, on dates with Kourtney Kardashian and Travis Barker and just about everywhere in between.
Most recently, Addison posted a video on Instagram in which she and Omer shared a kiss. The pair were also spotted last month on a lunch date.
Having said that, Addison's relationship status has recently become a popular topic of discussion among internet users.
The speculation began with a Deuxmoi post, which appeared to be related to the TikTok star-turned-singer. The subject line of the submission led many to believe that the tip was about Addison, as it made a direct reference to her song 'Obsessed.'
"This singing and dancing queen allegedly broke up with her musical boyfriend and has already moved on. She's been spotted at a new guy's show in LA this month," the submission reads.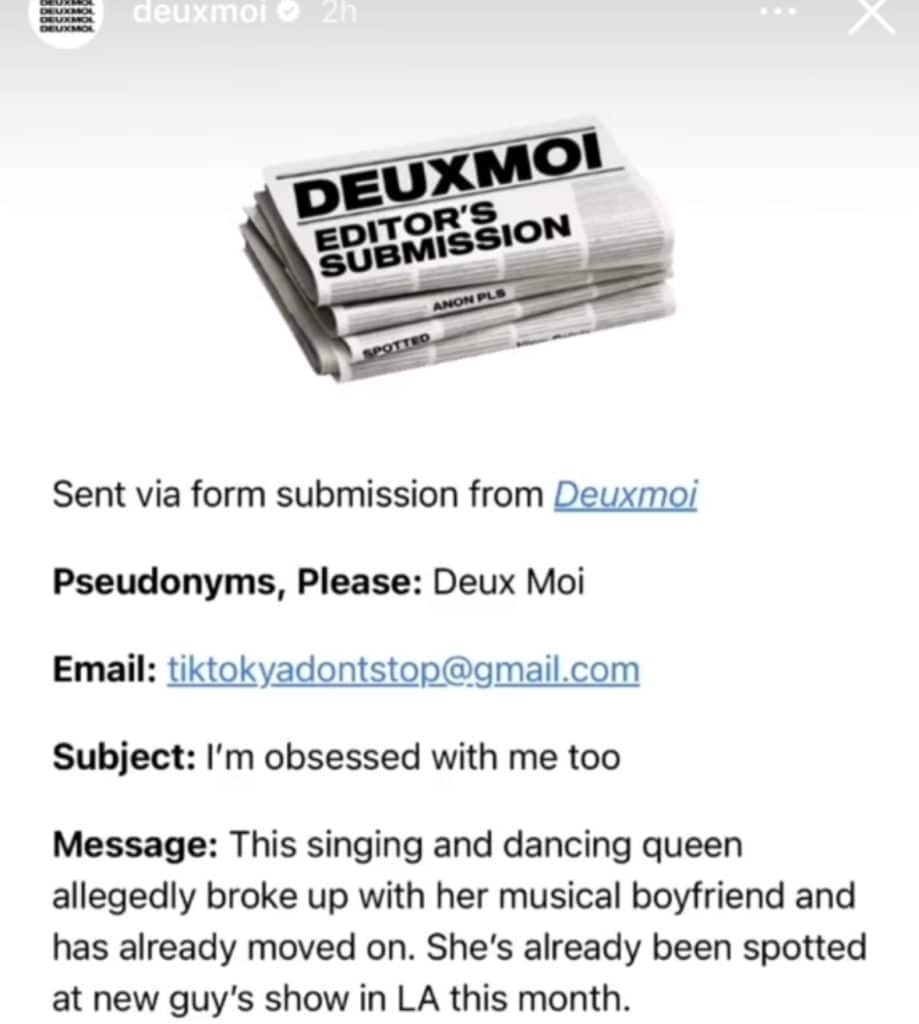 Rumours soon followed that Addison was dating an Australian DJ who goes by the stage name Perto.
According to the influencer updates account, @TeaTokTalk, "Fans first noticed that Perto had been liking every single one of Addison's posts, including commenting on some posts with Addison returning the favour by liking his little heart comments."
The post also mentions that Addison allegeldy unfollowed Perto on Spotify when fans grew suspicious of their connection. However, it's worth noting that at the time of publication, Addison is still following Perto on Instagram.
As reported by HollyWire, Addison addressed the breakup rumours and the speculation surrounding Perto on her Instagram story last month. In the post, she shared a photo from a vacation with Omer.
Nevertheless, internet sleuths remain unsatisfied.
Earlier this month, fans claimed that Addison liked a suspicious Tweet— one creating the impression that she is dating again.
"Dating is like, here's my sad, stupid life, i guess. Take it or leave it," the post reportedly read.
Addison has since deactivated her X account. Given that she is no longer on the platform, Centennial World couldn't confirm the accuracy of these claims.
All that to say, Addison and Omer have every right to keep the details of their relationship private; however, the world of social media means that both fans and haters will continue to show a keen interest in their relationship status.
Despite neither Addison nor Omer addressing the recent rumours, online sleuths are steadfast in their belief that something has gone down between the two.
Check back for updates.