Instagram / @mynasnacks
Pokimane has switched streaming for snacks with the launch of her newest venture, Myna Snacks.
While Pokimane— whose real name is Imane Anys— is not the first streamer to create a food or drink company, Myna Snacks is billed as a "quality" and "feel-good" snack brand.
"Most snacks were filled with things I couldn't feel good about. So we created Myna," Pokimane says of the company.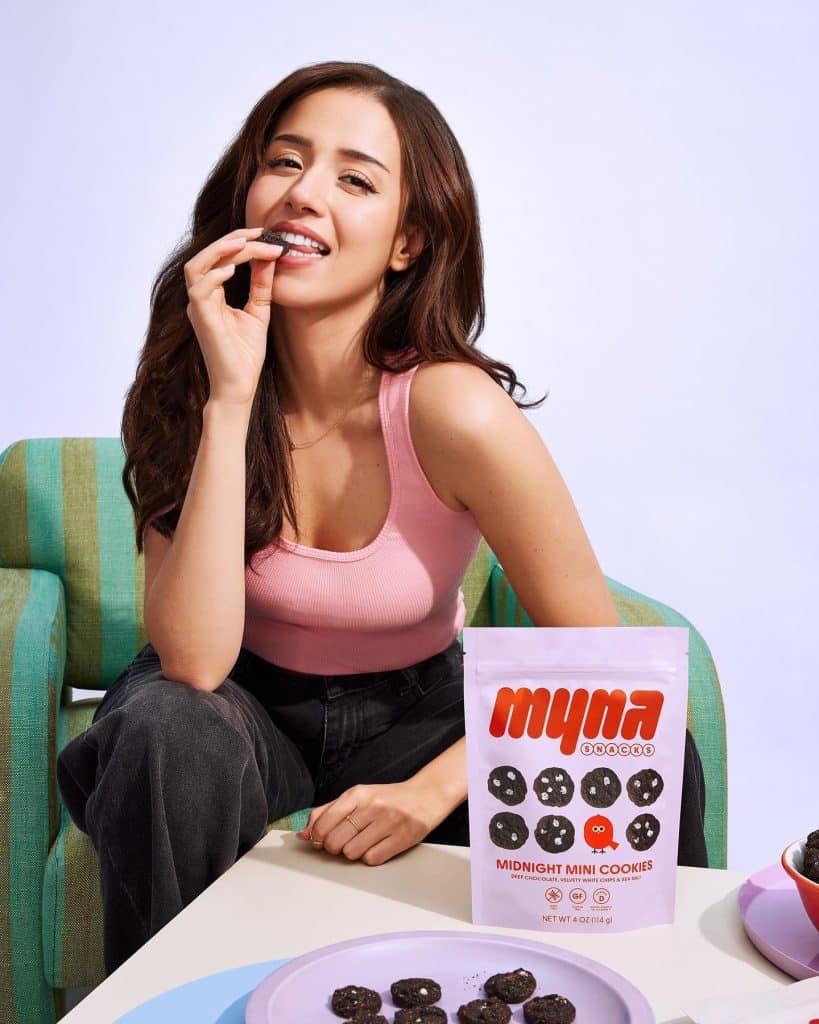 At the time of publication, only one product is available via the Myna Snacks website: the "Midnight Mini Cookies."
Described as a "deep chocolate [biscuit] with velvety white chips and sea salt," it is safe to say that many of Pokimane's followers are excited to try the first product. However, others criticise the streamer for the price point, claiming the cookies are too expensive.
The Midnight Mini Cookies are priced at around $7 per bag, where customers can purchase them in packs of four, eight, or twelve bags.
X users like @Atelisi have called out Pokimane, noting that the cookies seem similar to a cheaper product already circulated by Creations Foods— a food manufacturer in the United States specialising in healthier snacks.
"Private/White label products are common, and I had an inkling this was the case with Myna Snacks," @Atelisi writes in an X thread. "Seeing that they claimed they were from PNW [Pacific Northwest], I searched for private-label snack companies. I found Creations Foods, a PNW-based company."
They note that the biscuits by Myna Snacks appear similar to Toatzy's Midnight Mini cookies, a brand that is allegedly available at Costco. @Atelisi even claims the ingredients are "nearly identically with one another."
"This would mean that Myna Snacks is possibly a cash grab attempt where all they needed to do was establish the company and branding," they write. "No work into the cookies themselves was put into it, and the claim of "creating" the cookie is (allegedly) a lie."
Pokimane later issued a statement on X to clarify the rumours. She confirmed that Myna Snacks worked with Creations Foods during production; however, she assures her followers that the Midnight cookies from Myna Snacks are an original formula.
"We own our formula…The cookies they are being compared to were also made by our manufacturer, Creation Foods," she begins. "While the ingredients list may look similar, they are entirely different in terms of ingredient quality, quantity/ratios, sourcing, the size/texture of the cookie, and of course the added Vitamin D."
She also addressed followers' concerns with the cost, writing that "making a healthy and quality snack with real, gluten-free ingredients and added vitamins is not a cheap practice…any profits we make goes directly back into creating more quality products."
Just as the controversy seemed to come to a close, Pokimane addressed the pricing again in a November 18 Twitch stream. In the live, she ridiculed her "broke" fans for complaining about the cost of the cookies.
"When people are like 'oh my god, $28 for cookies'. It's four bags, that's $7 per bag." she begins. "I know, I know math is hard when you're an idiot. But, if you're a broke boy, just say so."
Unsurprisingly, fans were disappointed with her response, rebuking her for being "out-of-touch."
"Pokimane being so out of touch with the financial reality the majority of her fans are in is crazy. Making fun of people who may not be able to afford $7 bags of cookies is wild. Way to gaslight them into believing THEY'RE the problem," one X user writes.
Pokimane is not the first influencer to be criticised for being 'ignorant' or 'disconnected' from the struggles the average consumer is facing. She joins the likes of the D'Amelio sisters and Brianna Chickenfry, who have also received scrutiny for downplaying the experiences of the working class in recent weeks.
That being said, fans of the streamer have rallied to her defence.
Some have noted that the Midnight Cookies fall in the typical price range for gluten-free and "healthier" snacks.
Meanwhile, others, including streamers like Nadia Amine, have raised concerns about the level of backlash Pokimane is facing, claiming that it is disproportionate to her male counterparts in the streaming world. 
Nevertheless, Pokimane has since apologised to her fans for the remark, clarifying that it was intended as a "joke."
"While what I said was 100% intended to be a joke, I see why it came off as insensitive, and I apologise for that," she shared in a post on X. "I also understand the current price of the cookies may be expensive for some, and promise we'll continue to consider pricing to keep Myna as affordable as possible."
She also noted that her remark in the stream was in response to "one rude chatter" and was not intended for the general consumer.
While Pokimane continues to receive hate from internet users, the pricing for the Midnight Cookies has not been altered at the time of publication.