Updated January 20, 2020
Trisha Paytas is done with YouTube's most controversial personalities.
Off the back of a tumultuous few days online, the 32-year-old OnlyFans star has cut ties with her longtime BFF Shane Dawson for continuing to defend Jeffree Star.
"I will no longer support Shane in any way. I'm not going- I'm not going to hate-monger him, you know, I truly believed he had changed from all the shit he got cancelled for," she said in her latest video addressing the drama. "I blindly defended him and all the shit he got cancelled for because I was like, you know, that's my longtime G.O.A.T."
Trisha goes on to say that she does believe Shane has changed, but not for the better. She then describes Shane's reaction to her feud this week with Jeffree and his hairstylist, Hair by Jay, claiming Shane attempted to invalidate the trauma they put her through and sweep it under the rug.
"On top of it today, writing me a whole long thing – 'I'm here if you want to talk but also if you just want to come over and Postmates and let's just forget the whole thing,'" she of a message she received from Shane. "Forget the whole thing?! This is something that traumatised me for a full year and Shane and Ryland knew about it two days after this happened!"
The traumatising event Trisha describes is a trip to Las Vegas she took last February with Jeffree and his friends. Months later, multiple people on the trip came forward to expose Jeffree's toxic behaviour that weekend— including making fun of Trisha's weight, skin, finances, and substance abuse issues, as well as intentionally excluding her from outings— which pushed Trisha to leave the trip early.
The vlogger finally addressed the Las Vegas trip this week after Jay slammed her on IG live for being offended by what happened on the trip. This started a back-and-forth on Twitter between Trisha and Jeffree.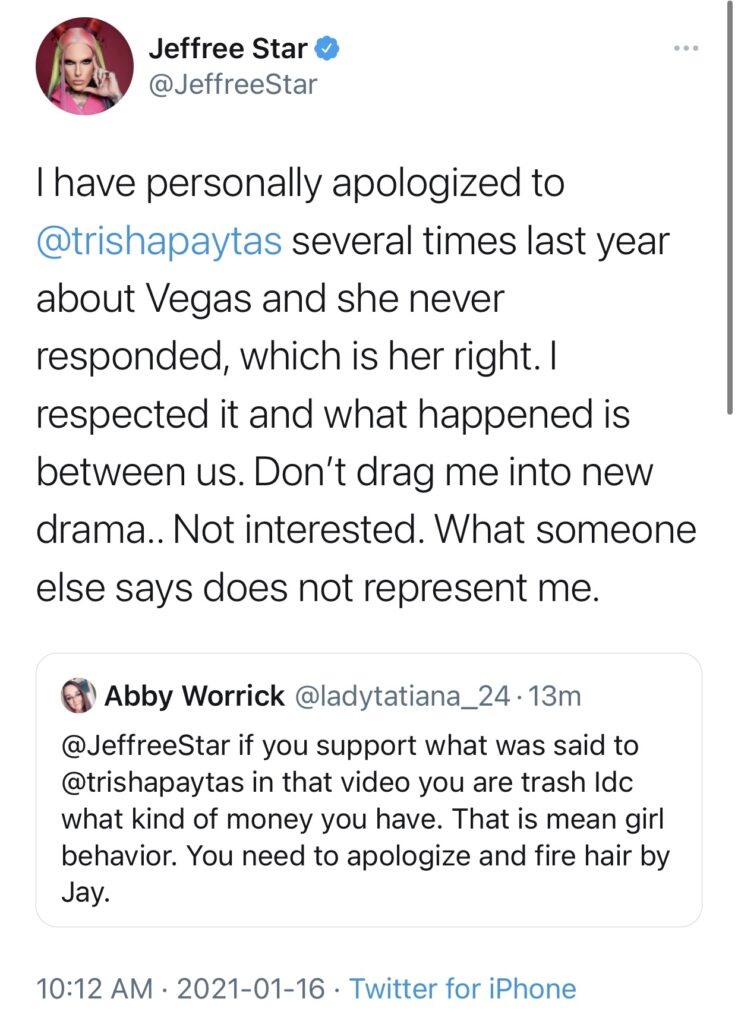 Upon Trisha's tearful video, the problematic star blocked Shane Dawson and his fiancé Ryland Adams on Instagram, confirming she has ended their 12-year friendship.
"Shane and Ryland didn't unfollow me," she tweeted in response to fans who noticed the couple were no longer following Trisha. "Just to set the record straight – I blocked them. There's no malice behind it, I did it for my own peace. It's not drama. It's very personal and I want to move on. So speculation can stop as to why they unfollowed, they didn't."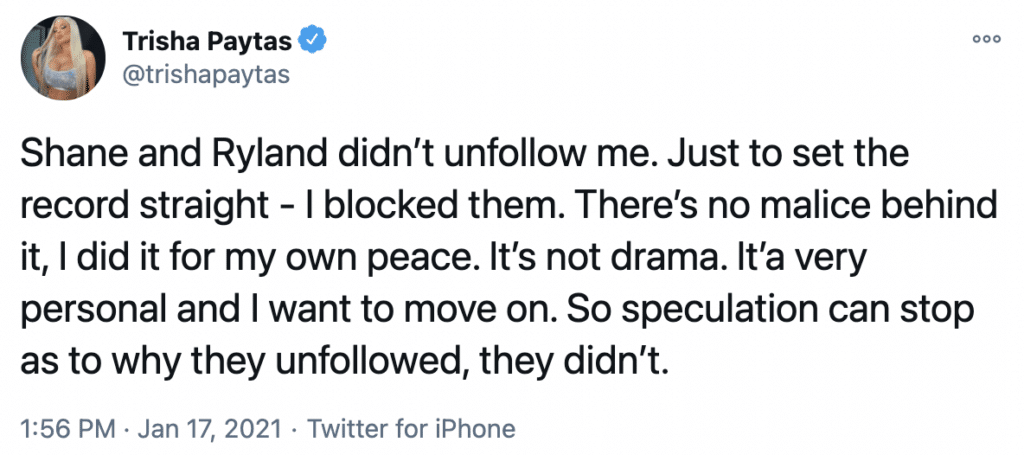 Days later, DJ Oscar Wylde backed Trisha up in her decision to cut ties from both Shane and Jeffree.
In a series of tweets, the music producer shows his support for Trisha while also revealing he gave Jeffree "tons of chances" and that his empathy was "taken advantage of" while running in those circles.
Oscar then claims that Jeffree asked his opinion on when to "cut ties with Shane" after Tati Westbrook uploaded her video in 2020 exposing the truth behind the BYE SISTER scandal. ICMYI, Tati's video accused Jeffree and Shane of being the puppet-masters behind attempting to take down James Charles' career.
He says he's speaking out now because he's "not going to sit and let people's friendship over 10+ years go to shit because of lies."
Trisha has since thanked Oscar for his support, responding to several of his tweets.
She says her credibility is "always questioned" and that what she experienced with Jeffree and his friends was "beyond mean girls drama" and "traumatizing".
Shane has not addressed the controversy at the time of publication.