@jeffreestar
Updated January 17, 2020
Trisha Paytas and Jeffree Star are feuding on social media over the demise of their longtime friendship early last year.
It all kicked off after celebrity hairstylist Hair by Jay claimed Trisha lied about some drama that went down when the three took a trip to Las Vegas in February 2020. ICYMI, Trisha claims Jeffree invited her to Las Vegas with a group of his friends and treated her poorly the entire time— including making fun of her weight and intentionally excluding her from outings— which prompted Trisha to leave the trip early.
In an Instagram live from earlier this week, Jay attacks Trisha for being offended by their comments about her appearance, spending habits, and substance abuse issues. He insinuates that Trisha should be grateful to Jeffree as he paid for most of the trip and bought Trisha gifts.
Despite accounts from former friends of Jeffree who have corroborated her claims, Jay's accusation sent Trisha on a rant across YouTube and social media in an attempt to set the record straight.
In a tearful video titled "why I'm scared of jeffree and hairbyjay," the 32-year-old explains that she's "genuinely scared" of Jeffree and his "wig guy" Jay. She claims Jay overcharged her for wig services on the trip and accuses him of doxxing her by leaking her phone number and business name in text messages shown on live. She also says that during the same trip, Jeffree slapped her hand away when reaching for nachos, exclaiming, "Don't eat".
As for her relationship with Shane Dawson— a close friend to both Trisha and Jeffree— the controversial influencer admits she was angry with Shane for continuing to support Jeffree even after he learned about how Jeffree had treated Trisha in Vegas. Trisha says she doesn't support Shane "constantly promoting" Jeffree Star.
Now, Jeffree Star has addressed both Trisha's claims and Jay's scathing Instagram live in response to fan tweets about the drama.
In a series of quote tweets, the beauty mogul claims he has apologised to Trisha "several times" about what happened in Vegas and she didn't respond, "which is her right." He insists that what Jay said on live "does not represent" his views and goes on to call Jay's comments "fucking disgusting".
On why he didn't address Jay's story until now, Jeffree claims he's been offline in Wyoming. He reiterates that he "is horrified" by what his hairstylist said and played no part in that Instagram live.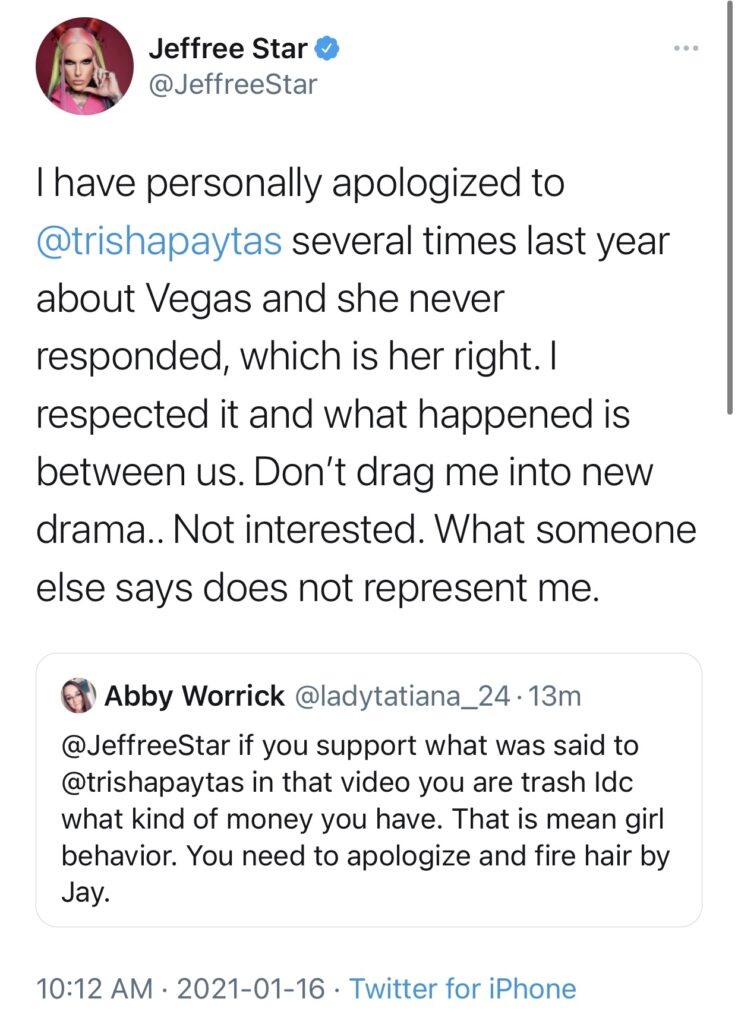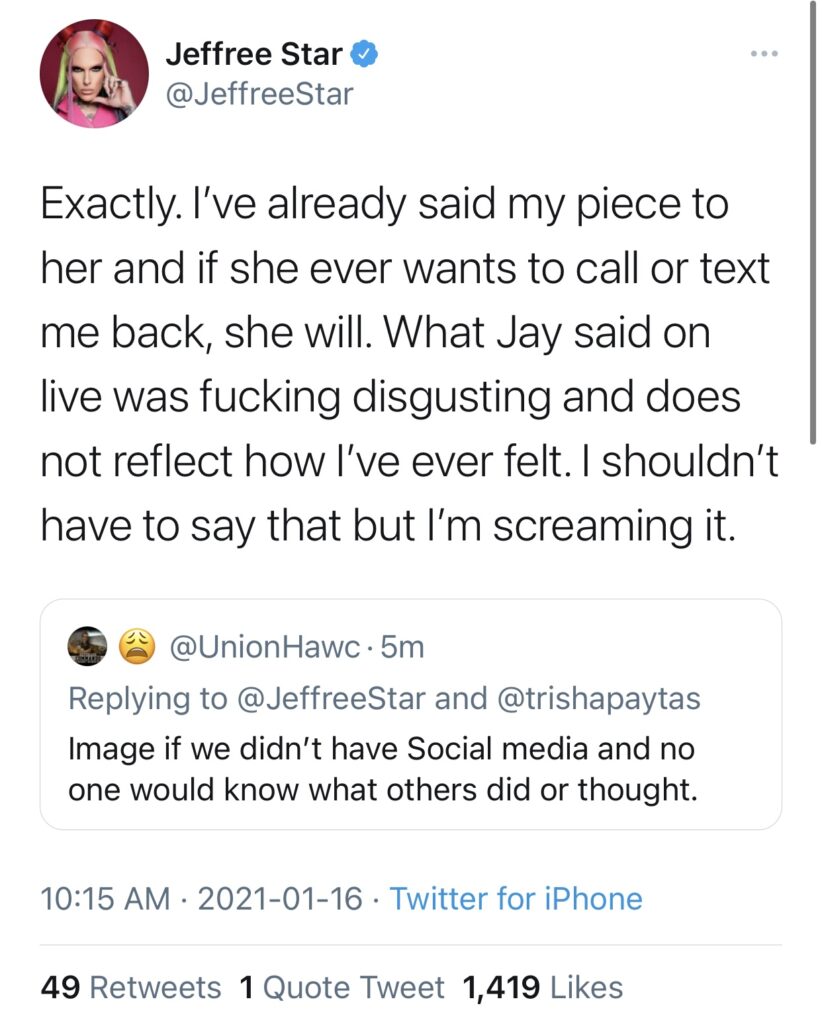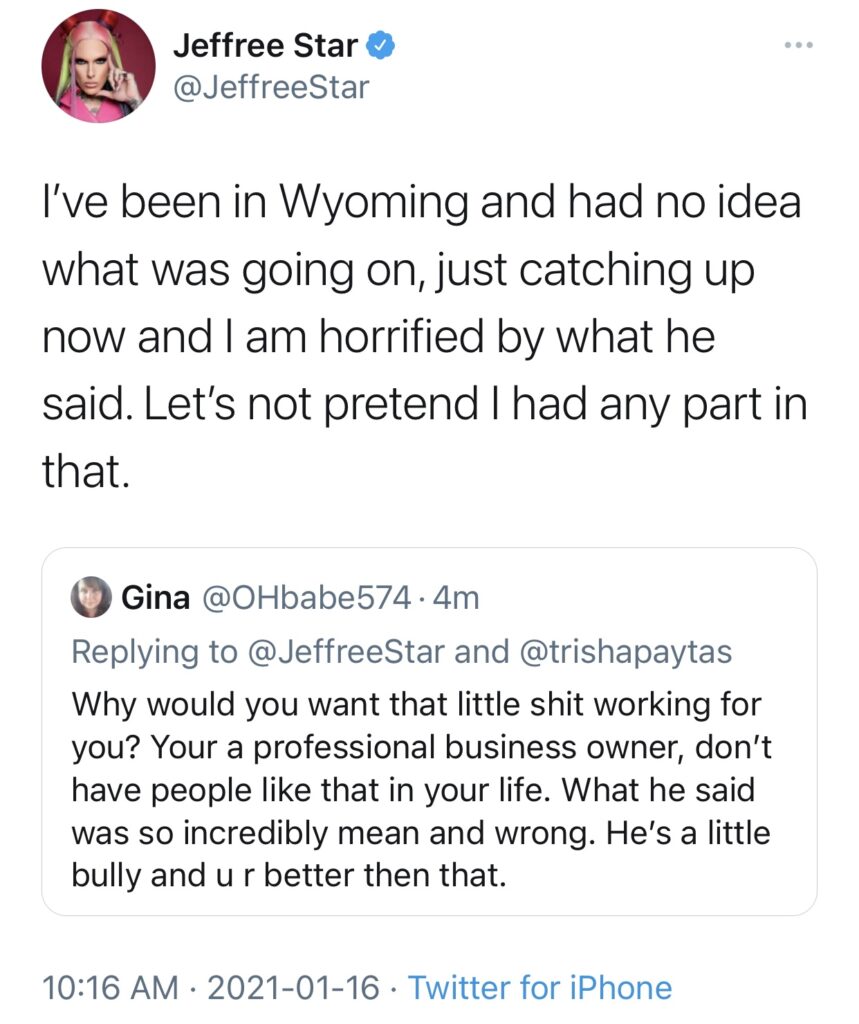 Trisha responded to Jeffree's claims on Twitter, writing, "If you didn't want to be involved in the drama why is he speaking your name in the video [Instagram live] on your behalf? Confirming all the horrid shit you guys said about me??? I have been cool but he is speaking on your behalf multiple times in all his feeds."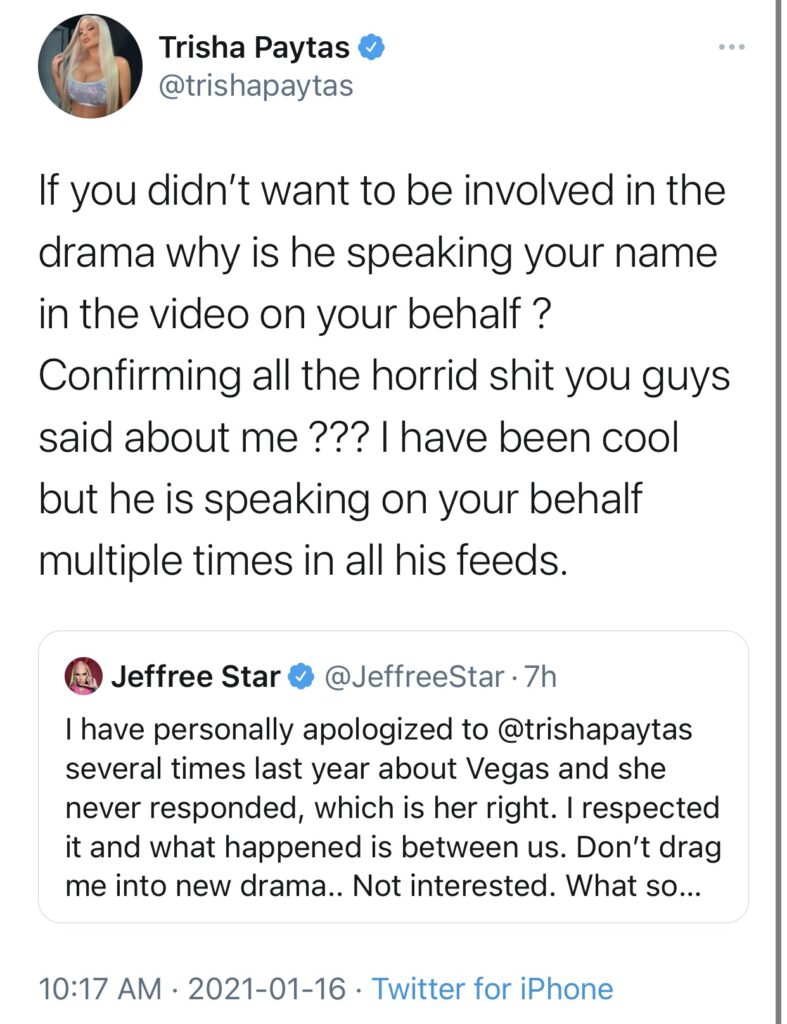 Jeffree quote tweeted Trisha's reply reiterating that she's ignored his "messages & texts for months" and accuses Trisha of bringing this up for the "internet circus." He finishes by writing, "Love you girl, you can call or text me anytime".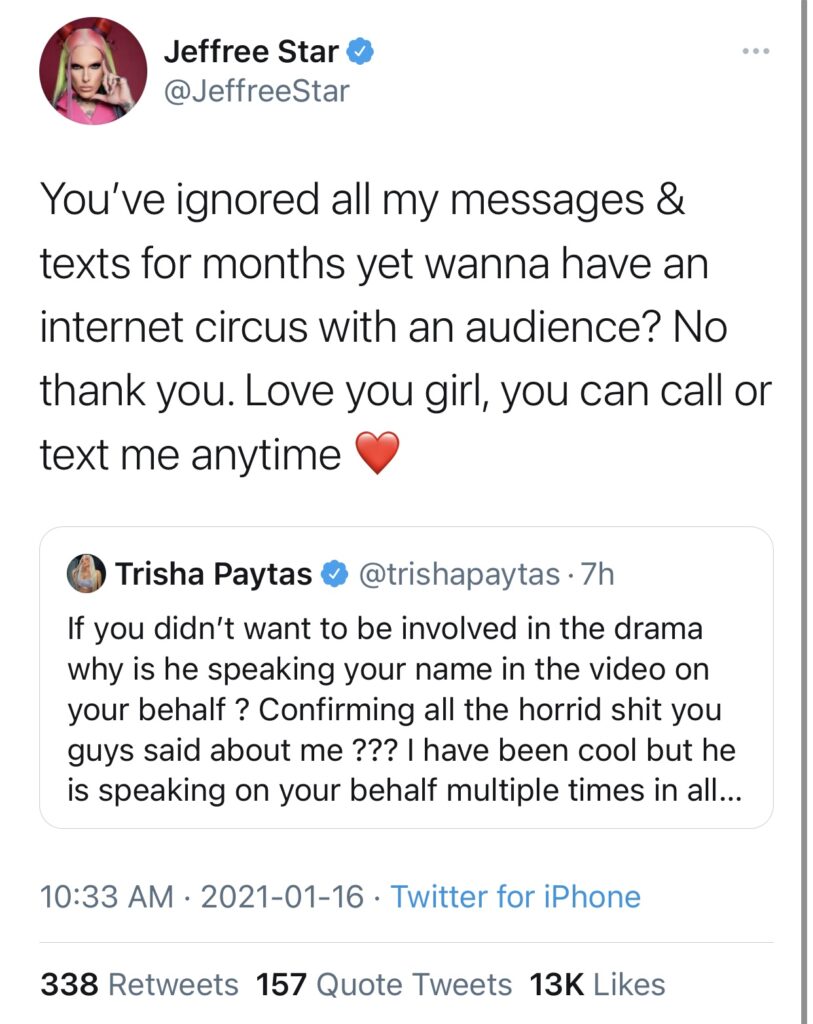 Jay has addressed his scathing comments about Trisha as well via Instagram live yesterday. The hairstylist says he heard Trisha's side of the Las Vegas story for the first time while on the IG live, which prompted him to go off in the moment. He didn't expect it to go viral and he admits he did not necessarily react well.
He seemingly takes no accountability for what he said about Trisha and many feel he did not deliver a sincere apology.
Trisha has not addressed Jay's "apology" at the time of publication.