https://twitter.com/defnoodles/status/1347658933201031168
Updated January 9, 2021
The 2021 chaos keeps coming.
Despite no actual evidence, the internet has become obsessed with the rumour that Kanye West left his wife Kim Kardashian for beauty YouTuber Jeffree Star.
Here's how this bizzare theory started.
On January 5th 2021, Page Six confirmed that Kim and Kanye are getting a divorce. The news spread fast, as did speculation about their split. Some reports claim that Kim filed for divorce last week, others claim she's already moved on with CNN's Van Jones.
But possibly the most outrageous claim of them all came from TikTok user Ava Louise who insisted the imminent divorce was no surprise because "Kanye's been hooking up with a very famous beauty guru. Male beauty guru."
"A lot of people in the [L.A.] scene have known for a while," she finishes.
Ava previously went viral on TikTok for licking an airplane bathroom toilet seat for the "coronavirus challenge."
While Ava didn't outright say Jeffree's name out of fear of being sued— which she indicated in the caption is a hint in and of itself— Ava was liking comments that name Jeffree Star. She also jumped in her comment section to address how she obtained this alleged information, saying her friend is a "big lawyer" in Los Angeles who met with Kim months ago and was "given evidence".
She said she can't release receipts but that her source "is good I believe them".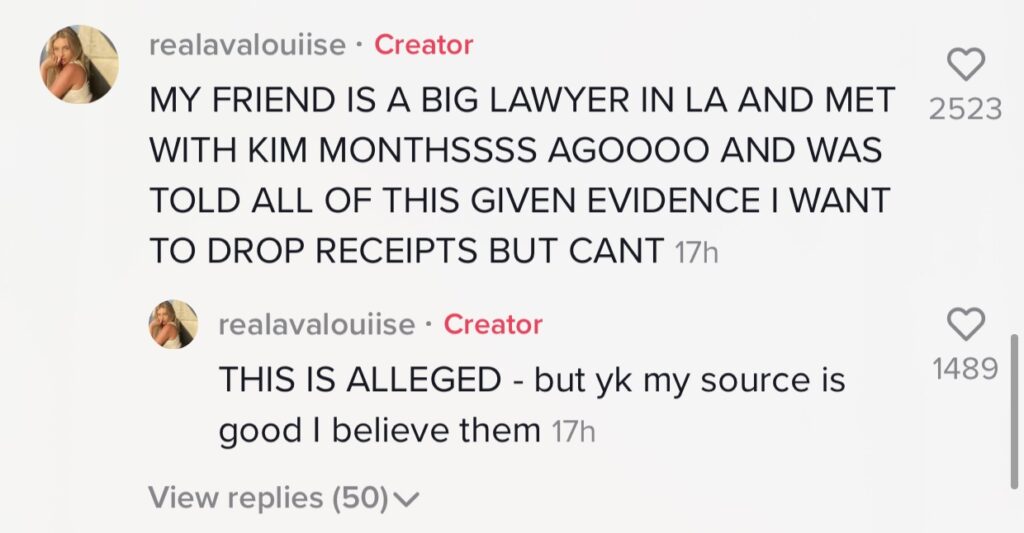 Though Ava couldn't provide proof of Kanye and Jeffree's reported affair, many note that both men have spent significant time in Wyoming over the last year. The beauty mogul is currently in Wyoming at the time of publication, and Kanye is allegedly residing at his ranch in the state as well.
Other points of alleged evidence swirling around the internet include speculation that the Kardashian-West family live in the same Calabasas gated community as Jeffree, therefore they likely know each other. Jeffree also used to speak frequently of a rapper in his previous YouTube videos in years past, which many now believe was Kanye.
When asked by YouTube drama reporter, Daniel Keem AKA KEEMSTAR, to comment on the rumours, Jeffree dodged the question and replied, "I'm having the best time in Wyoming, come visit sometime!"
Drama channel Dustin Dailey also texted Jeffree for comment on the rumours.
In his latest video he says: "I texted Jeffree and I said 'Sis, I have to ask, this TikTok is blowing up, did you take Kim's man, girl?'"
Dustin claims that Jeffree "immediately" texted him back joking, "He's right here now, would you like to say hi? Pink Yeezys coming soon." He then says Jeffree FaceTimed him and Jeffree told Dustin point-blank that the rumours are not true.
Jeffree quickly responded to the rumours himself in a new vlog titled, Addressing The Kanye Situation,' in which the beauty mogul says these are, in fact, just rumours.
Now, Ava Louise herself has finally set the record straight, confirming via IG stories that her initial TikTok was a hoax. The influencer revealed that she fabricated the rumour after a friend posted a voice note they received from Ava where she can be heard saying she made the entire scandal up.
Ava also claims she made around $15,000 in the three days since she went viral for the hoax.
Despite the confirmation, many have criticised Ava for weaponising the LGBTQIA+ coming out experience for gossip.
Celebrity gossip is fun, but not at the expense of an entire community.