Kylie Jenner / YouTube
https://www.instagram.com/p/CZrbz4ZF0xj/
https://www.instagram.com/p/CZ2Of-pv6IX/
And just like that, Kylie Jenner and Travis Scott's son is no longer called Wolf Webster. 
Hours after posting a 10-minute video tribute 'To Our Son' on YouTube, Kylie took to Instagram to make a surprising announcement.
"FYI our son's name isn't Wolf anymore," the beauty mogul said, "We just really didn't feel like it was him".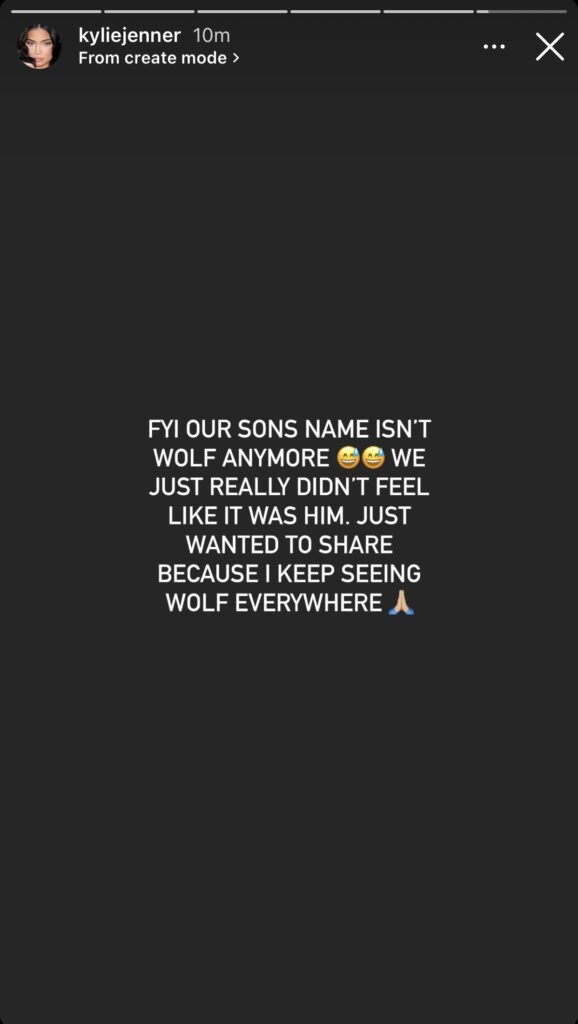 The littlest Kardashian cousin was born on the marvelled 'Twosday' this year — Tuesday, February 2nd, 2022, only one day apart from his big sister Stormi.
After months of Easter egg hunting and an alleged trademark registration, fans were convinced that Kylie's baby boy would be called Valentine. Then, after his birth announcement on February 7th, people swayed to the name Angel, seeing that Kylie's family and close friends were commenting angel emojis. But alas, on February 12th, Kylie announced her son's name was Wolf Webster.
TMZ later obtained a copy of Wolf's birth certificate, which confirmed his full name was Wolf Jacques Webster, paying homage to Travis, whose birth name is Jacques Bermon Webster II.
In her Instagram story announcement, Kylie said that she "just wanted to share because [she] keep[s] seeing 'Wolf' everywhere," likely from social media responses to her YouTube video.
As for what baby boy's new name is, it looks like fans are back to square one, with Kylie keeping quiet on that front. Let the sleuthing begin (again)!