@devotedly.yours / @selenagomez / @mizft
Kylie Jenner is facing backlash from fans for seemingly throwing shade at Selena Gomez amid an alleged feud that also involves Bella Hadid and Hailey Bieber.
This drama is petty and convoluted (the best kind). Strap in.
Selena Gomez posts about wishing she looked like Bella Hadid
On February 21st, Selena debuted a fresh brow lamination on her TikTok stories.
In a text overlay, the Rare Beauty founder wrote "I wish I was as pretty as Bella Hadid" and went on to say that her brows were accidentally over-laminated— indicating her severe brow lamination resembled the model's signature high brow line.
Selena then posted a photo of Bella on her Instagram stories as her "Girl Crush".
Kylie Jenner seemingly shades Selena Gomez's post about Bella Hadid alongside Hailey Bieber
Just hours later, Kylie posted a screenshot on Instagram stories of a FaceTime call with Hailey Bieber where both women zoomed in on their eyebrows. Kylie provided no context for her story but users were quick to jump on social media to accuse the stars of mocking Selena's eyebrows.
Despite Hailey's tumultuous relationship with Selena in the past, the two appeared to make nice in October 2022 after years of alleged animosity over how quickly Justin Bieber moved on from Selena to marry Hailey.
Hailey is a longtime friend of the Kardashian-Jenner clan, hence why some were inclined to believe that Kylie would participate in mocking Selena in support of her friend.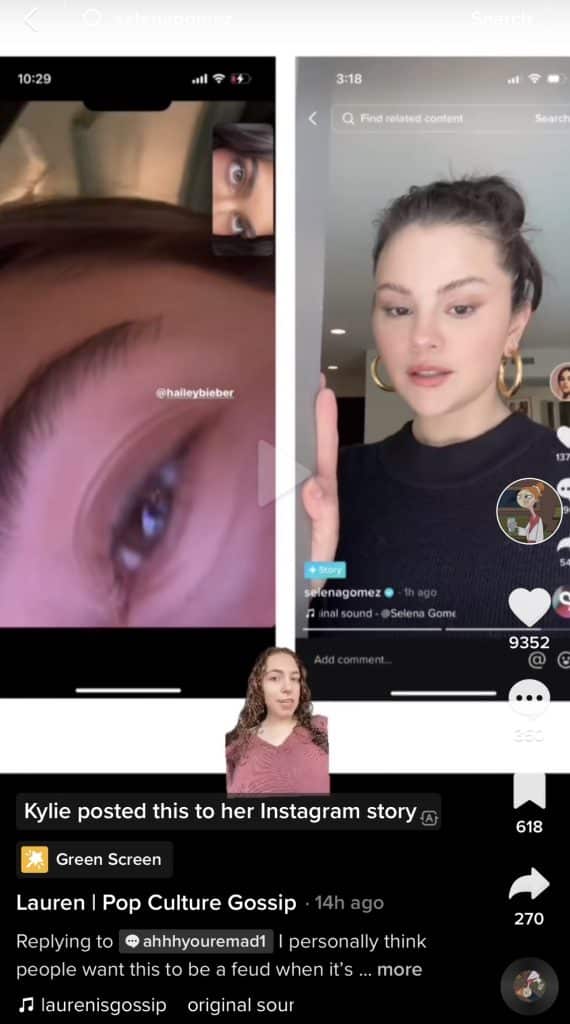 Kylie also posted a glam selfie to her Instagram stories, writing "this was an accident ?????" over her brushed-up eyebrows. Fans were further convinced this was another dig at Selena's video, as the singer said her severe brow lamination was accidental.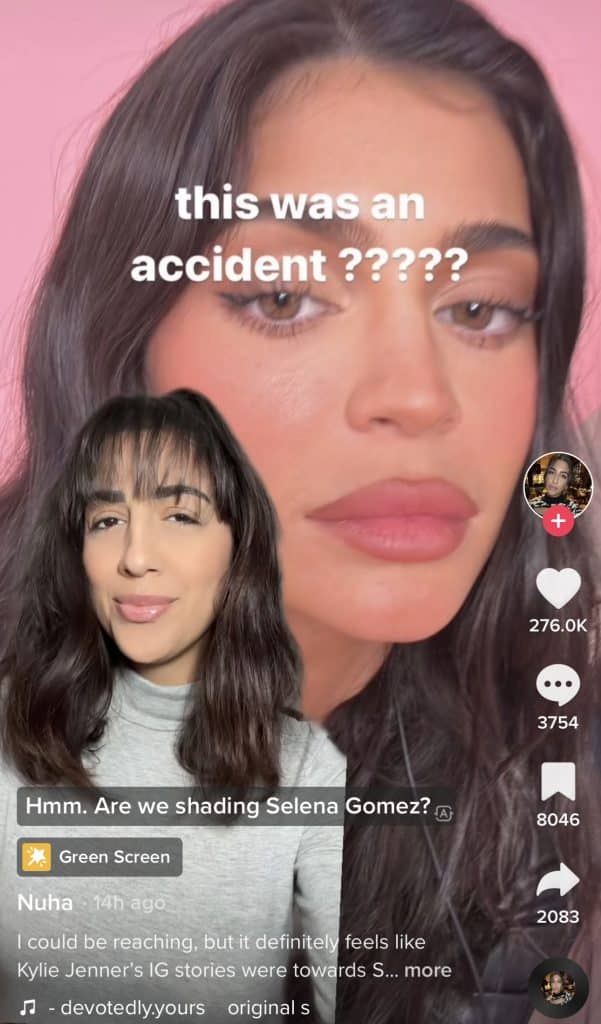 Kylie Jenner responds to allegations that she and Hailey Bieber were shading Selena Gomez
As several pop culture accounts began covering the alleged shade being thrown Selena's way, Kylie denied the allegations.
In a TikTok comment posted on a video by Nuha of @devotedly.yours, Kylie wrote, "this is reaching. no shade towards selena ever and I didn't see her eyebrow posts! u guys are mkaing something out of nothing. this is silly."

Nuha replied to Kylie's comment in a video, defending Selena and saying she feels protective over her as a fan. Selena commented a heart emoji on Nuha's video.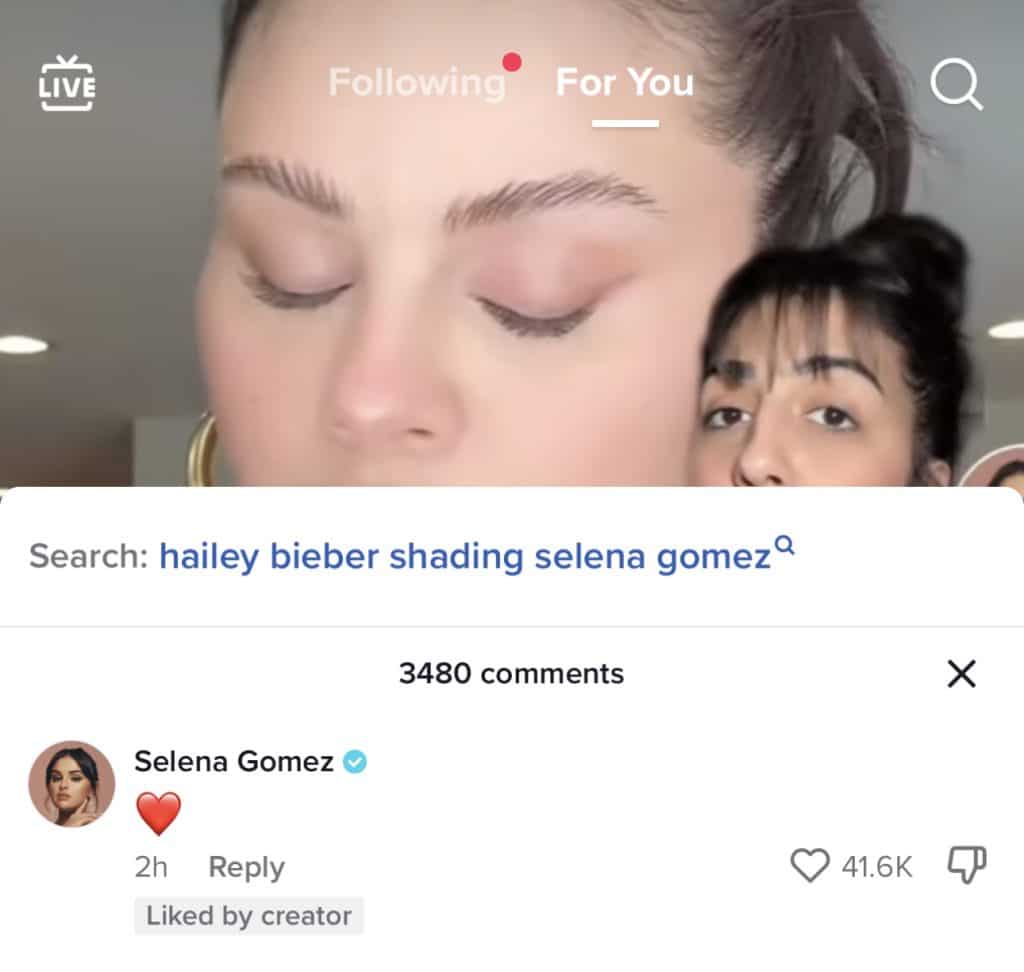 Fans react to the drama
Creator AJ Krakovsky of @mizft has since made two videos on the situation, saying he no longer believes that all the alleged shade thrown at Selena from Hailey and the Kar-Jenner family over the years "has just been a coincidence".
He suggests that Kylie could be jealous because Selena surpassed her in Instagram followers on the same day she posted the eyebrow Instagram stories. Selena is now the most-followed woman on Instagram— a title that Kylie previously held.
"The day Selena passes [Kylie] up in followers on Instagram is the day [she's] in a controversy with her and Hailey Bieber?" he says. "Stop acting like you're above being messy."
Thousands of fans seem to share the same sentiment as AJ, calling Kylie and Hailey "mean girls".
Selena Gomez responds to Kylie Jenner's comment
In response to Kylie's comment on Nuha's video, Selena said she agrees that the situation was blown out of proportion.
"Agreed @kyliejenner It's all unnecessary. I'm a fan of Kylie!" she wrote.
While there may not be any more bad blood between the stars, it doesn't seem like Selenators will be ready to bury the hatchet with Hailey and her girl gang any time soon.