@kyliejenner
https://www.instagram.com/p/CRATW82jROw/
https://twitter.com/BringHenryHome/status/1457084592435781632
Updated: November 8th, 2021
Kylie Jenner is facing scrutiny following boyfriend Travis Scott's Astroworld concert that left eight dead and hundreds injured.
The Houston, Texas festival was shut down Friday night when a crowd surge caused panic amongst concert-goers. There were approximately 50,000 people in attendance.
"We had at least eight confirmed fatalities tonight," Houston Fire Chief Sam Pena said in a press conference. "Eight confirmed fatalities and we had scores of individuals that were injured here at this event."
"What we do know is that at approximately 9 o'clock, 9:15, the crowd began to compress towards the front of the stage and that caused some panic and it started causing some injuries," he said. "People began to fall out, become unconscious, and it created additional panic."
Seventeen people were transported to the hospital, and 11 of those were in cardiac arrest. Around 300 people were reportedly treated for injuries on-site at the event.
Amongst those in attendance were Kendall Jenner and the rapper's girlfriend, Kylie Jenner. Kylie, who is pregnant with the couple's second child, is now facing backlash for an Instagram story she posted at the event.
In the since-deleted clip, Kylie pans across the dense crowd and an ambulance can be seen attempting to get through. Considering the fatalities and the number of people that ended up injured and unconscious, fans have taken to Twitter with their shock and disgust that Kylie would post such a video when there are clearly first responders struggling to reach people. The beauty mogul allegedly did not remove the Instagram story until hours later.
Several videos circulating the internet taken by concert-goers also show attendees attempting to get the attention of Travis Scott and event producers, including two fans who climbed up onto an AV platform and alerted the camera operators that "someone is dead" in the crowd and begged them to stop the show.
Other videos show the rapper watching paramedics and police officers remove unconscious bodies from the crowd while continuing to perform.
Travis Scott issued a statement via Twitter on Saturday, saying he is "devastated" over what happened at the concert and he is "committed to working together with the Houston community to heal and support the families in need".
A day later, Kylie took to her Instagram stories to respond to the backlash.
"Travis and I are broken and desvestated. My thoughts and prayers are with all who lost their lives, were injured or affected in anyway by yesterday's events," she wrote. "And also for Travis who I know cares deeply for his fans and the Houston community. I want to make it clear we weren't aware of any fatalities until the news came out after the show and in no world would have continued filming or performing. I am sending my condolences to all the families during this difficult time and will be praying for the healing of everyone who has been impacted."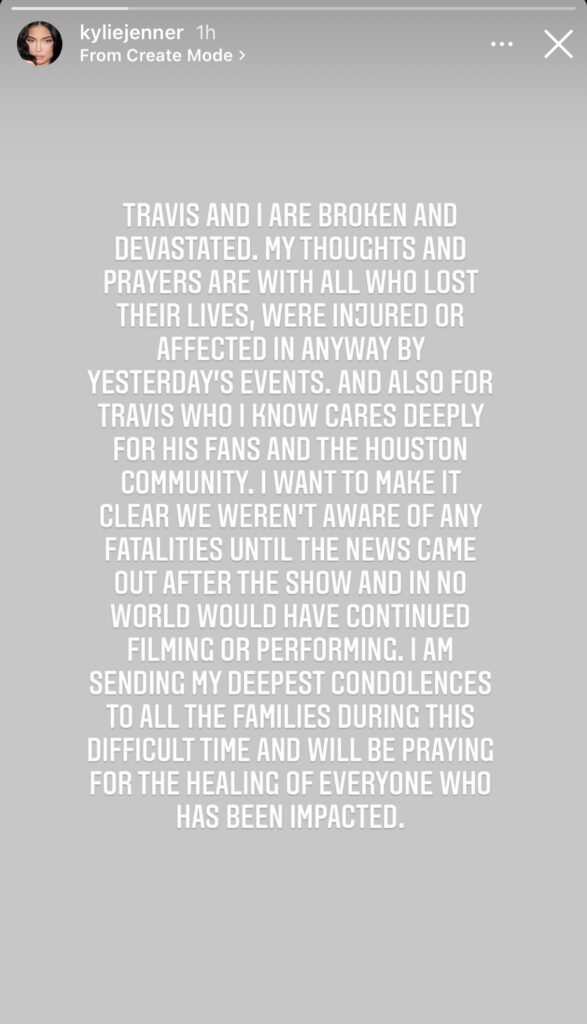 Kylie and Travis have not indicated if they will be offering any financial support to the victims at the time of publication.