Has Bryce Hall already moved on from Addison Rae?
Despite refusing to confirm his split from the He's All That actress, Bryce is allegedly "hooking up" with influencer Josie Canseco, according to a tip sent into anonymous celebrity gossip Instagram account Deux Moi.
"Bryce Hall and Josie Canseco (Logan Pauls Ex) hooking up in front of everyone at parties for the last month seems like an interesting play at Los Angeles love," the email reads. "Bryce wants the internet to think he's still on good terms with Addison so his fight gets views."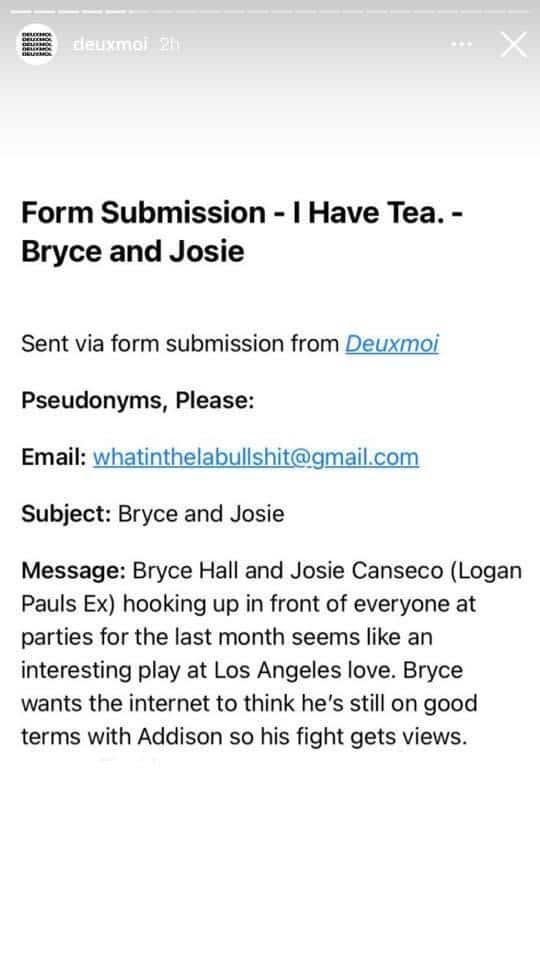 Josie split from Logan Paul around November 2020 after just a few months of dating, though she's remained close to his inner circle.
On February 28th, the model made headlines while dining out with Tana Mongeau— Logan's ex-sister-in-law— at Saddle Ranch. According to Instagram stories posted by Tana, Bryce sent Tana and Josie red roses and alcohol shots to their table amid allegations that he cheated on Addison.
Upon leaving Saddle Ranch, Bryce got into an altercation with The Hollywood Fix over the paparazzi filming him hanging out with Tana and Josie. He allegedly did not want the reporters to post the footage.
One day later, Addison tweeted that she was going to buy herself flowers, seemingly in response to Bryce buying Tana and Josie flowers. "Preferably not white or red roses," she wrote.
While neither Bryce nor Josie have confirmed the rumours, Bryce is slated to fight in the YouTubers vs. TikTokers boxing match against Austin McBroom of The ACE Family on June 5th 2021.
So if Deux Moi's anonymous tip is legitimate, we will possbily hear more about this new influencer love affair in June.