Bryce Hall / Addison Rae
https://www.instagram.com/p/CL3g6tbF3Lg/
https://www.instagram.com/p/CL4KuFmFhgA/
https://www.instagram.com/p/CL8KL1NlCz_/
Updated March 26th, 2020
If you're heavily invested in TikTok relationships and their subsequent drama (guilty!), then you're likely aware that Bryce Hall and Addison Rae are rumoured to be on the rocks.
For weeks the couple's status has been the subject of intense speculation after Bryce took a trip to Las Vegas and allegedly cheated on Addison. Since the initial accusations, more rumours began floating around about the validity of their relationship, leaving fans to question what's real, what's fake, and WTF is actually going on with TikTok's favorite couple.
Here's a full breakdown of Bryce Hall and Addison Rae cheating rumours. Strap in.
What happens in Vegas… makes it onto TikTok Room
Back in February, Bryce took a private jet to Las Vegas with a group of influencers, adult entertainers, and his management team. An adult actress by the name of Dana Wolf texted a friend that she allegedly slept with the 21-year-old viral star.
On February 27th, Addison tweeted and deleted a cryptic message, "Disappointed but not surprised." Fans immediately assumed the tweet was referring to Bryce's behaviour in Vegas.
On March 1st, a text conversation was leaked to several drama channels in which it appears that Dana admits to hooking up with Bryce twice.
Several people who partied with Bryce in Vegas came forward in defense of the TikTok star, claiming he did not cheat.
Bryce and Addison dine at Saddle Ranch…separately
To add fuel to the fire, Bryce and Addison were both seen dining at Saddle Ranch in L.A over the weekend, however the two were reportedly there separately. Bryce was seen with several influencers including Tana Mongeau, while Addison was seen with Dixie D'Amelio.
According to Instagram stories posted by Tana Mongeau, Bryce sent Tana and her friend, model Josie Canseco, red roses and alcohol shots to their table.
Upon leaving Saddle Ranch, Bryce got into an altercation with The Hollywood Fix over the paparazzi filming him hanging out with Tana and Josie. He allegedly did not want the reporters to post the footage.
Bryce and Addison take to Twitter
On March 1st— the same day the alleged text messages were leaked— Addison tweeted that she was going to buy herself flowers. "Preferably not white or red roses," she wrote.
Fans suggest this could be a dig at Bryce, who bought Tana and Josie roses at Saddle Ranch one day prior.
Bryce took to Twitter himself one day later, defending that he "did not cheat on Addison."
What's the deal with 'Saiviantha?'
In posts about the rumours on TikTok Insiders, a fan theory emerged that the person texting with Dana Wolf was a girl named Samantha Salvador AKA @saiviantha.
According to a comment left on TikTok Insiders, Samantha posted a story thanking Bryce and J Rod "for a great time in Vegas." Samantha also allegedly followed Dana Wolfe. The initials "DW" were seen in the text message screenshots, leading some to believe that Samantha was the one who leaked her own messages with Dana.
Today, Samantha took to Instagram stories to clear Bryce's name. The influencer explains that she was connected with Bryce and his management for "networking" purposes and spent about six hours with the group, leaving around 2AM.
"There was nothing that happened that I constituted as disloyal at all," she says. "He was on FaceTime with Addison multiple times and yeah, even serenaded her with the piano."
Then Keemstar got involved
In an episode of Drama Alert, Keemstar shared that he received text messages from an unknown number alleging they had dirt on the Bryce Hall cheating scandal and asked for payment. Keemstar claims he called Bryce after receiving the messages and Bryce denied the rumours. Bryce also apparently told Keemstar that he would be taking legal action.
After days of speculation and cryptic messages, Addison was filmed crying in her car after The Hollywood Fix asked her about the cheating rumours, while Bryce has avoided questions about the situation from the paparazzi the last two days.
Addison speaks out
On March 3rd, Addison took to Instagram stories to address the drama surrounding her relationship.
"I love y'all and am always so grateful for the kind words and support you show me," she wrote. "Sharing my life with y'all makes me happy, but some thing I choose to handle offline."
She went on to say that if and when she wants to share details about her personal life, "I will make that decision." She finished by thanking her fans for their love and support.
"Hate is never the answer," she signed off.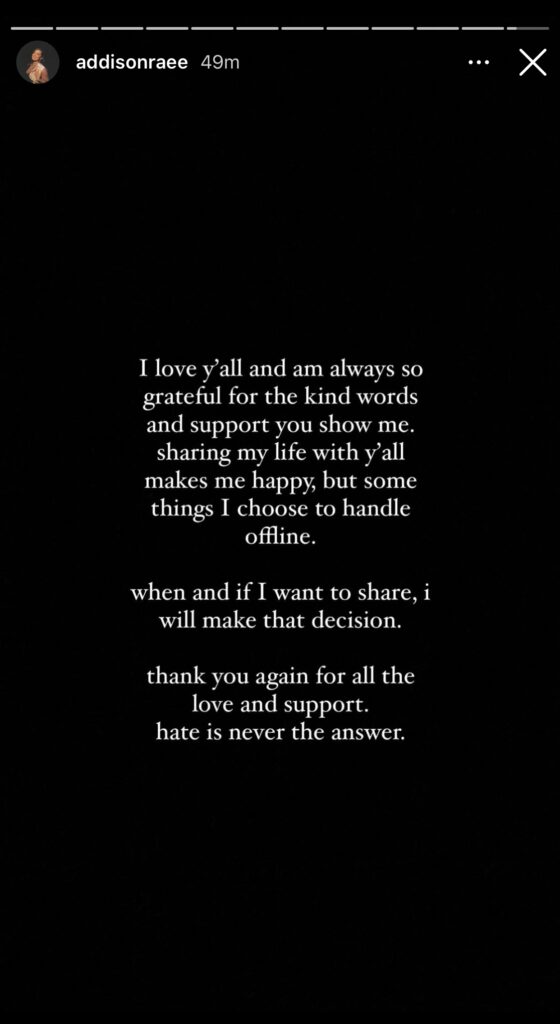 On March 13th, fans noticed the She's All That reboot star has deleted almost all photos with Bryce from her Instagram.
Addison and Bryce confirm split
On March 26th, Bryce Hall confirmed their split in a YouTube video. Bryce maintained that he "never cheated on Addison" and he will not be elaborating on the reason for their breakup further.
Shortly after, Addison confirmed their split to paparazzi, saying she wishes him "the very best and he's amazing."
Looks like TikTok's power couple is officially done.