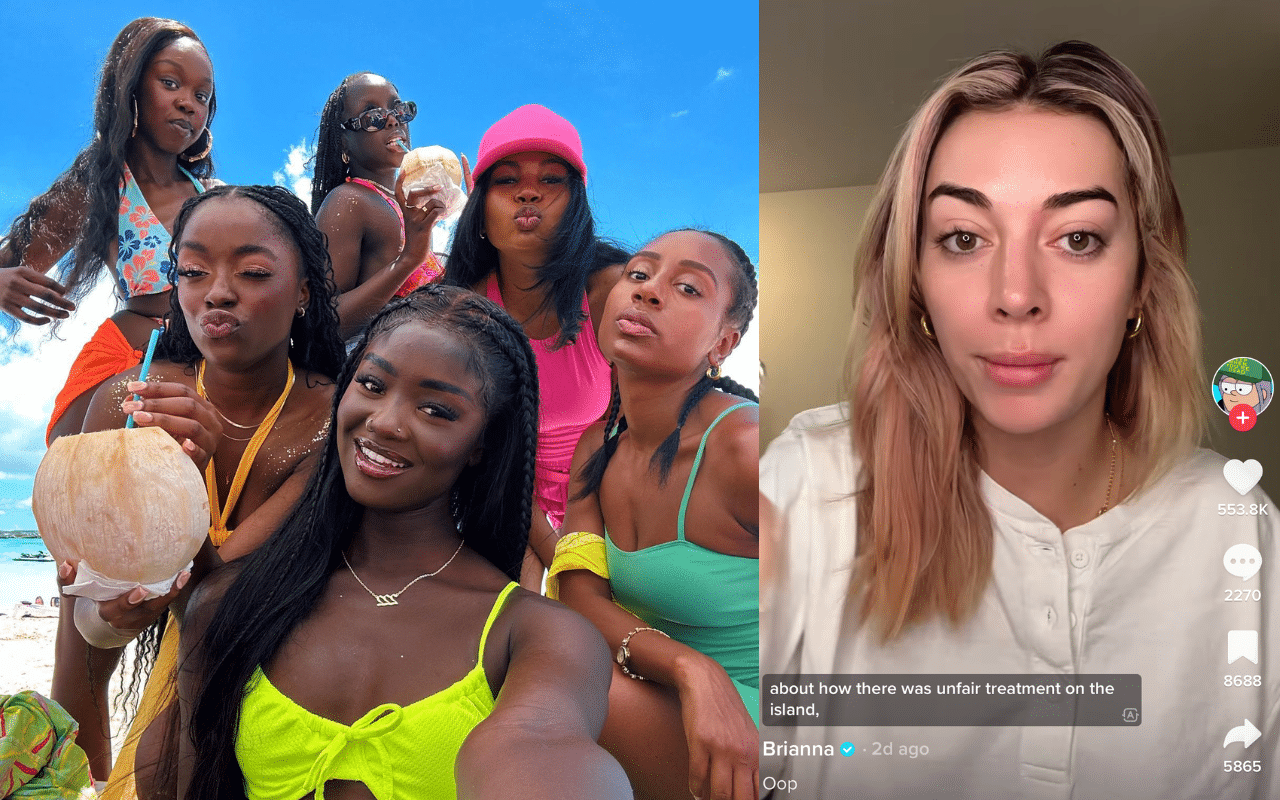 @golloria / @briannachickenfry
Influencers are giving their two cents on the ongoing Tarte Cosmetics brand trip controversy.
Last week, Tarte hosted an influencer trip in the Turks and Caicos called "Tarte Island" (a play on the reality show Love Island). The brand split the trip into two "seasons", where one group of influencers attended the first half of the week and another group of influencers attended the second half.
Attendees included Tana Mongeau, Stassie "Stassie Baby" Karanikolaou, Alix Earle, the Mian twins, Shawtysin, and Brianna LaPaglia.
Despite all the fun in the sun that they appeared to be having, some creators have spoken out about unequal treatment on Tarte Island.
Shawtysin took to TikTok earlier this week to share her experience on the trip. Though she prefaced her video by saying she is grateful for the opportunity and understands it sounds like a first-world problem, her assigned room was significantly smaller than those of the other influencers on the trip.
"I'm a brown minority creator […] and a lot of the time, I get the short end of the stick. Whether it's getting paid less for the same advertisement or not getting paid at all. I 100% agree that [my] room [was] more than enough. I don't even have a bedroom myself that is the size of the room I got. However, I do believe I am worth what I am worth," she said. "It was never about the size of the room. It was just about getting treated equally to my counterparts."
In a follow-up video, Shawtysin said she only found out about the incoming "season two" cohort while on the trip. However, she later realised that some influencers were asked to stay for the second half of the week, while others, including Shawtysin, were sent home.
"It made things feel like it was unequal and it almost felt like a competition, where people got disqualified and people got to stay," she explained. "Some people only got invited last-minute to stay for season two."
Just days after Shawtysin spoke out, creator Bria Jones accused Tarte of being misleading in their communications leading up to a brand trip in Miami to watch Formula 1 this weekend.
In her video, which has since been deleted along with her account, Bria claimed that Tarte invited her on the influencer trip and told her that she would be sitting in the front row on race day, Sunday, May 7th.
Bria said that she later noticed her plane ticket home had been booked by Tarte for Saturday, May 6th— one day before the actual race.
She then reached out to other influencers invited on the trip to ask what day they were flying home and confirmed they were all booked on flights for Monday, May 8th.
"I'm being treated like a second-tier person or like I'm being ranked. It just feels like a sorority situation and I'm not doing that shit. I don't care if it means that I no longer have a relationship with the Tarte team," Bria said in her video. "I don't agree with how they're doing this."
Bria returned to social media on Saturday, saying she's since been in contact with the Tarte team and they confirmed there had been miscommunication "on both ends."
"I recognise my mistake in responding so quickly and publicly, but Tarte has done a great job of working through the situation with me. So I know we're both glad to be moving forward in a positive way," she said on her Instagram stories. She finished by saying she will be taking a break from TikTok for the time being.
With two creators of colour having accused Tarte of unfair treatment in relation to influencer trips in the past week, the brand is facing intense backlash from the TikTok beauty community. This led Maureen Kelly, founder and CEO of Tarte Cosmetics, to address the accusations in a video.
Addressing Shawtysin's claims, Maureen said she values having as many influencers in attendance as possible and sometimes, that means not everyone can have the same room.
On Bria's accusations, the founder clarified that each cohort of influencers invited on the F1 trip would spend one day at the race track, attend one dinner event, and party for one night at a club. Each group was invited for the same number of days and included a mix of "big creators and up-and-coming creators and nothing was decided based on the follower count," she said.
Maureen explained that some influencers expressed wanting to attend the Sunday race, so the Tarte team "quickly adjusted" and acquired extra tickets so that every creator can attend "whichever day that they want."
See Also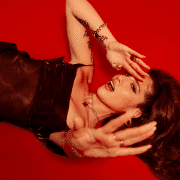 Amid the mounting criticism over Tarte's treatment of these creators, Brianna LaPaglia— professionally known as Brianna Chickenfry and co-hosts the wildly popular BFFs Podcast— took to TikTok to share her experience in the Turks and Caicos and defend the brand.
In her video, the podcast host claimed she had the "literal worst room on the island" as it was tucked away in the basement. She also said her bathroom was broken so she couldn't use her own toilet or shower for the first two days.
"Going into this trip, I knew there was going to be tiers to it because there were people with upwards of like, 20 million followers on my season, down to like 100,000. At the last Met Gala, do you expect Kim Kardashian and Addison Rae to get the same exact treatment? No, I'm not an idiot," she said. "The people that are going to get more eyes on their videos, the people that have 11 million followers, are obviously going to get the crazy sick fucking room because they're going to get way more views."
She went on to explain that they were staying in a villa where all the rooms were different, unlike a hotel.
Despite saying that the influencer hierarchy is "just life," she admitted Tarte's decision to make the trip tiered was a "weird concept".
"That's just in general what influencing is. It's a weird fucking concept. […] Although I was thrown in the dungeon, I was treated equally throughout the trip. I think everyone was treated equally throughout the trip," she said.
Brianna's video has not gone over well with some TikTok users, who called her take "tone deaf" and told her not to discredit another creator's experience.


Others have commented telling Brianna not to accept unfair treatment, as everyone invited should be given equal accommodation.

Maureen was forced to issue a second apology via TikTok days later after her initial statement faced backlash for missing the mark.