Instagram / Trisha Paytas / Jaclyn Hill
Trisha Paytas is ready to right her wrongs.
The controversial YouTube star has publicly apologised to Jaclyn Hill after making several slanderous claims about Jaclyn on social media last year.
The exchange began when Jaclyn shared a video of Trisha re-creating her boyfriend's chicken lo mein recipe on her YouTube channel.
"This is too cute! @trishapaytas made Jordan's chicken low mien! I think they need to do a collab," the 30-year-old tweeted. When a fan questioned Jaclyn's support of Trisha, she responded saying, "I have never had a problem with Trisha. And she apologized in her intro for anything bad she's ever said about me, so moving on".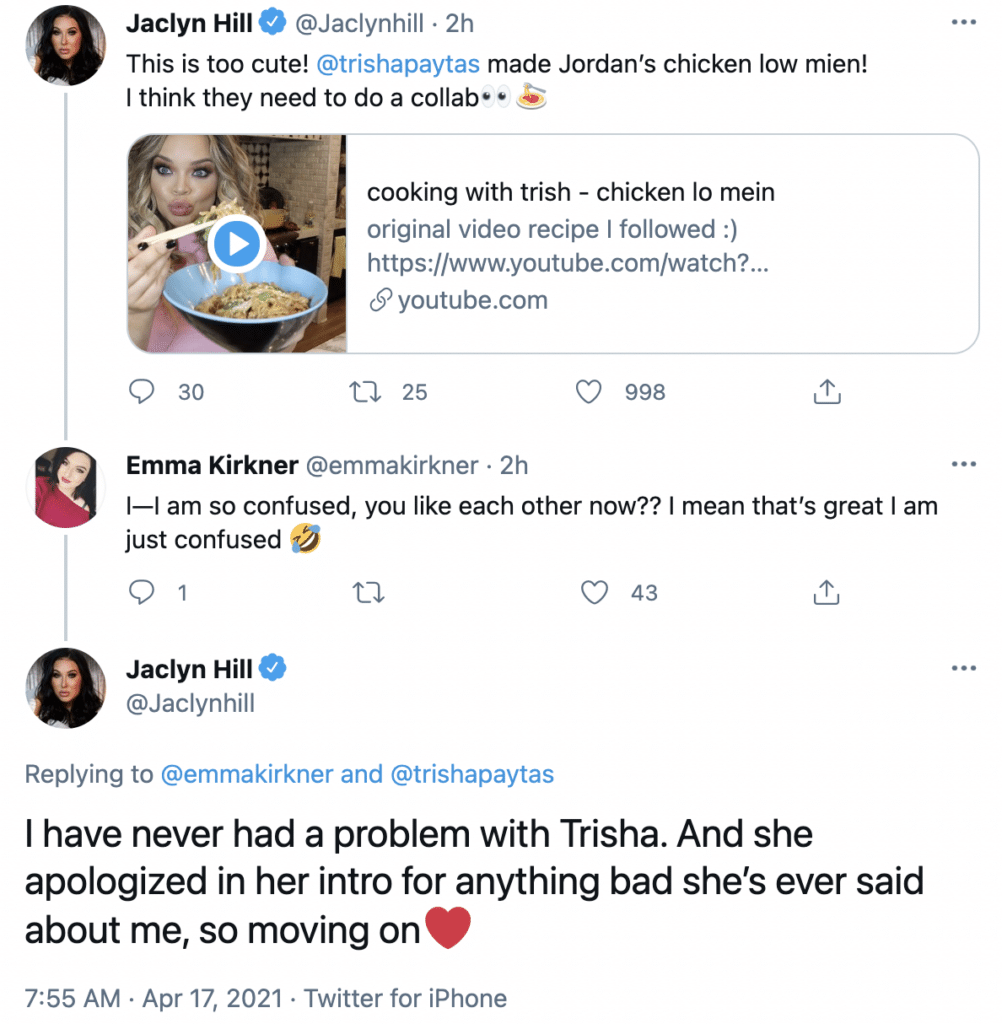 Trisha then quote tweeted Jaclyn's kind words, writing, "me being nasty towards u is the most embarrassing thing ever". Trisha apologised for Jaclyn and said when she lashed out she was "in a bad (high af) place". The 31-year-old has been open online about her struggles with substance abuse, including a 2019 relapse that left her "hooked on drugs" after hurting her knee.
"You've always been sweet to me before and literally did nothing ….like I really am sorry af. And I just always wanted to be ur friend."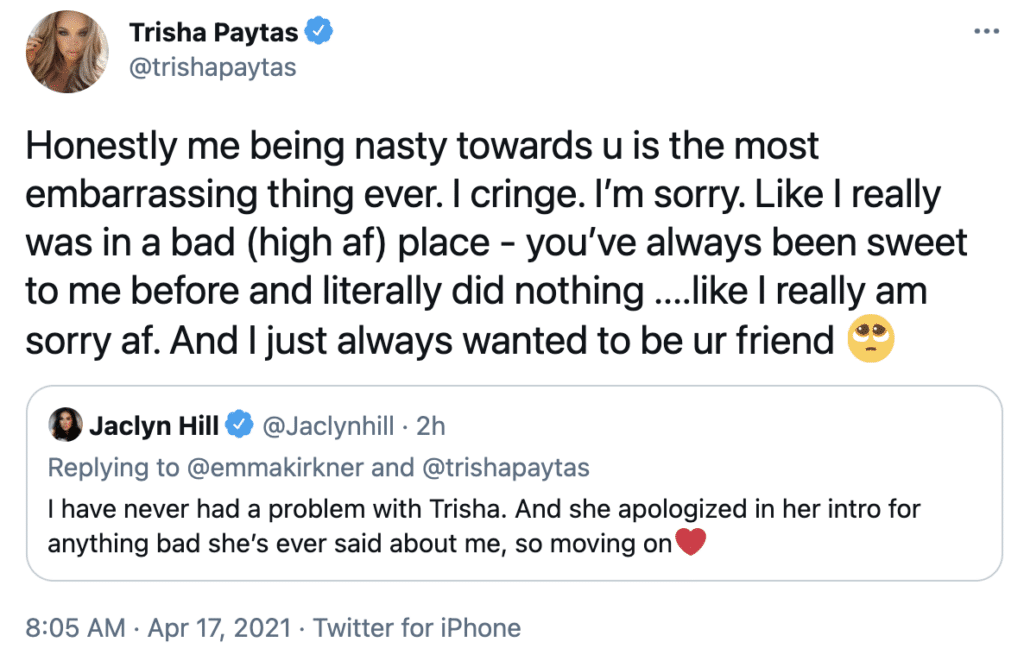 Trisha went on to tweet that Jordan Farnum's channel is the "reason I'm trying to cook" before admitting her "hate" towards Jaclyn last year was "from a place of jealousy" and "because I was trying to look cool for someone else."
Jaclyn responded to Trisha's olive branch, writing, "Wow Trisha! Thank you!!! I'm literally emotional reading this. It wasn't easy seeing you say those things in the past but I always knew it's cause you didn't actually know me personally! This is really big of you & so so kind!"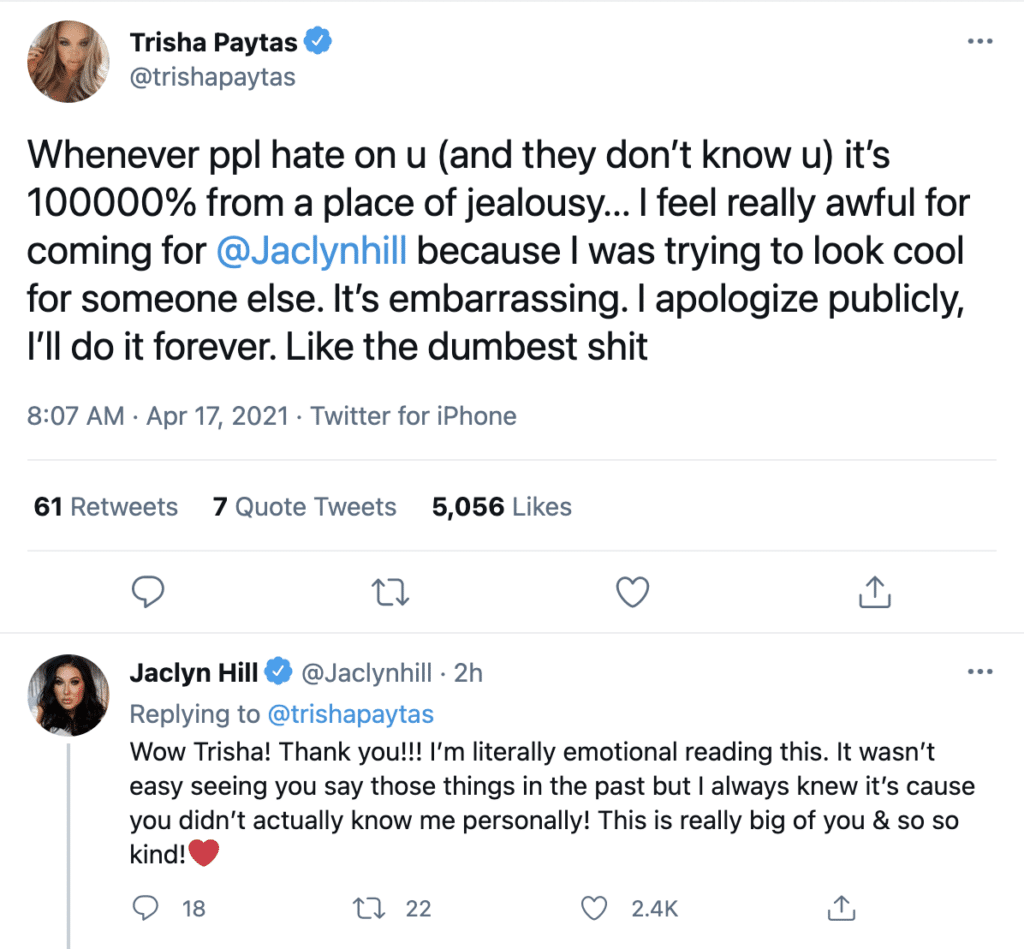 The apology comes after months of drama between Trisha and Jaclyn, starting with a photo Trisha posted in December 2019 hugging Jaclyn's ex-husband Jon Hill. ICYMI, Trisha and Jon spent multiple days partying together (and documenting it for Instagram) at the tail-end of 2019, leaving fans very confused about their relationship. Trisha later explained that Jon slid into her DMs before Christmas and they would spend hours talking every day. She then asked Jon to visit her in L.A. so she wouldn't have to spend the holidays alone, and to Trisha's surprise, he was on a flight the next day.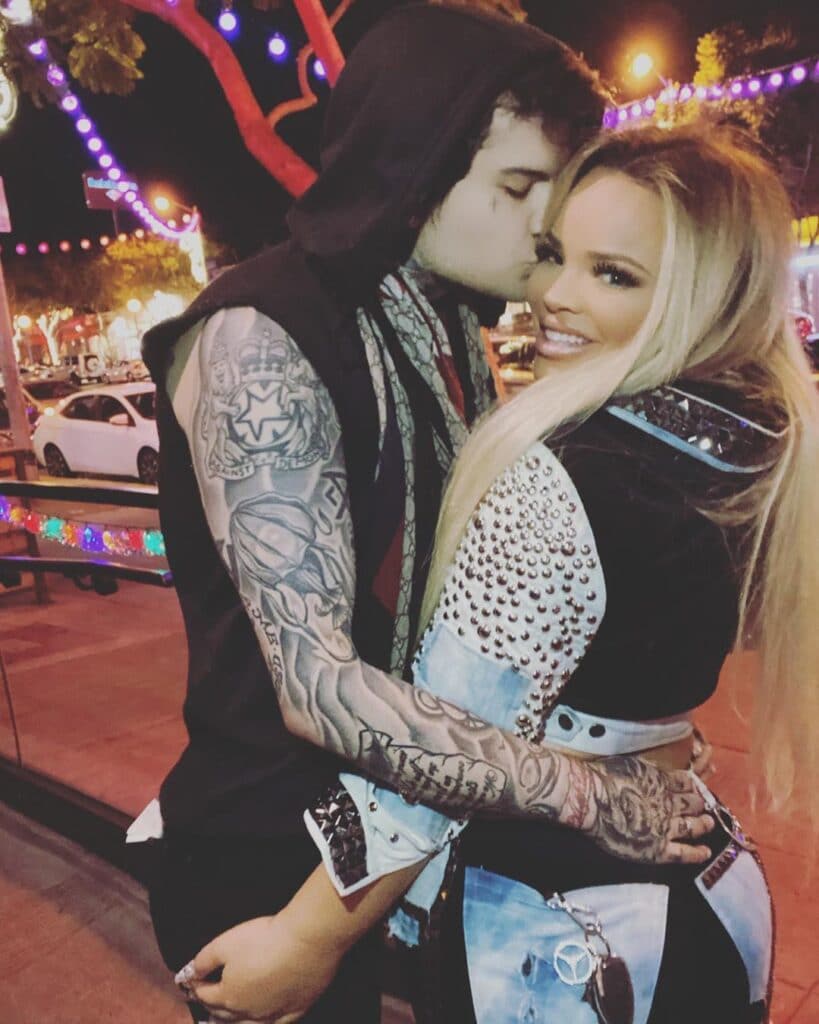 Fast forward almost an entire year when Trisha addressed the Jon Hill saga and his divorce from Jaclyn on her now-defunct podcast, The Dish with Trish. While chatting with her sister, Trisha made heavy claims, saying Jaclyn is awful to her ex-husband and that Jeffree Star reportedly called Trisha and Jon's relationship "disgusting."
"Look, I don't know Jaclyn Hill, but to me, she has been a bitch," Trisha said. "She's talked shit."
Trisha then claimed that Jaclyn told Jon that Jeffree Star "talked shit" about Trisha and Jon spending time together. "She's kind of like a fake behind-the-scenes— she's like 'I had such a hard year' but also telling Jon 'Um, Jeffree said that you guys were fake…and trash and disgusting and embarrassing.'"
Trisha also called out Jaclyn's new boyfriend, Jordan, for being "embarrassing" and says she "hate watches" his YouTube channel.
In a series of Instagram stories posted on October 9th 2020, Trisha exposed the cosmetics queen for allegedly trying to sue people around Trisha— but not actually Trisha herself— for what she said on the podcast.
"Guess what? You can't sue someone for talking about you if you're a public figure," Trisha said. "Jaclyn Hill threatening to sue people I know because I talked about her in a video? Then come for me!"
The OnlyFans creator went on to call Jaclyn a "bitch to her ex-husband" and said Jaclyn makes everyone around her sign an NDA.
"This has nothing to do with any of her exes…this is about her saying shit about me, saying my friend Jeffree called me a mess, a drug addict all this stuff when I was hanging out with a mutual last year," Trisha explained. "That's my issue."
Trisha has also apologised to Jaclyn in a new YouTube video which you can watch here.