@jeffreestar
Controversial beauty mogul Jeffree Star has been accused of physical and sexual assault, as well as hush money bribes to stay silent on the topic, according to a new investigation by Insider.
Published Thursday, the Insider piece details Jeffree's dark history of violence, coercion, and sexual abuse throughout the late 2000s at the height of his music career. Journalist Kat Tenbarge spoke with multiple alleged victims and witnesses to Jeffree's heinous acts, some who went on record with their full identity and provided tangible evidence of their allegations against the viral star.
In the lengthy exposé, former friends, colleagues, and fans share stories of the YouTuber preying on men— including drugging and forcing oral sex on a teen, using a short-range stun gun to intimidate people around him, and frequently groping men at his music performances.
After being contacted by Jeffree Star's lawyer prior to the article's publication, Tenbarge reports that some sources retracted their statements, including Gage Arthur who alleges Jeffree attacked him with a taser gun after rejecting his advances when he was just 17-years-old. Arthur claims Jeffree then gave him Ambien pills until he was intoxicated and performed non-consensual oral sex on him.
In a screenshot obtained by Insider, it appears Arthur messaged another source who's gone on-the-record, writing, "The events I discussed with Business Insider were from many years ago. I am not sure I am remembering things correctly, and I may have misinterpreted things. I've decided to retract my communications to Business Insider and told them they don't have authority to publish anything I discussed with them."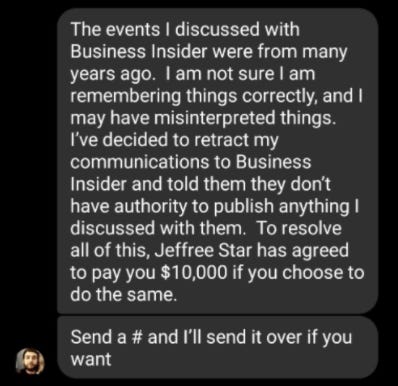 He then admits that Jeffree offered hush-money to victims and witnesses who revoked their statements. "To resolve all of this, Jeffree Star has agreed to pay you $10,000 if you choose to do the same. Send a # and I'll send it over if you want," he finished.
Though some of these claims may not be surprising to those who've followed Jeffree over the years, many are now convinced that yesterday's public feud with ex-boyfriend André Marhold was a PR move to distract fans from the release of the Insider article.
Others commend Tenbarge and Insider for exposing a side to Jeffree's past the public had not yet seen.
In May this year, Jeffree copped backlash for his involvement with musician Dahvie Vanity— who has been accused of sexual abuse towards underaged girls, some as young as 12 years old. Jeffree was reportedly an eye-witness to many of Dahvie's encounters and assaults. In an attempt to clear his name, Jeffree sat down for an interview with journalist Chris Hansen via YouTube live, but despite his best efforts, Jeffree's defense was not well received.
Amongst mounting criticism of the star, Jeffree took to Twitter one month later to address some of the photos and screenshots that began circulating from his past. Many were calling for his "cancellation" after old photos resurfaced of Jeffree causing self-harm (which he posted himself) and posing with a confederate flag. There was also a screenshot circulating from a social media profile page of Jeffree's called Lipstick Nazi— which has led many to believe he had a beauty brand prior to Jeffree Star Cosmetics with this name.
Jeffree addressed the controversy in a lengthy Twitter note, claiming he was young and stupid.
Then of course, weeks later Tati Westbrook broke her silence on the BYE SISTER scandal, accusing Jeffree Star of manipulating her into ruining James Charles' career. She alleged that Jeffree and Shane Dawson gaslit her into believing James was a predator and claimed Jeffree has an abundance of "dirt" on influencers and brand owners in the beauty industry which he uses to blackmail people into doing what he wants. Jeffree later apologised to James Charles and said he got caught up in the drama.
Jeffree Star has not publicly responded to Insider at the time of publication.
Could this be the straw that breaks the camel's back for YouTube's biggest beauty guru?