Instagram
https://www.instagram.com/p/CC19mU6jqfJ/
https://twitter.com/Jaclynhill/status/1314405398326251520
In bizarre YouTube news that we could've never predicted, Trisha Paytas claims beauty guru Jaclyn Hill is allegedly taking legal action against Trisha's friends and family.
The drama first kicked off back in December when Trisha posted a photo hugging Jaclyn's ex-husband Jon Hill. Trisha and Jon went on to spend multiple days partying together and documenting it on Instagram for the world to see. At the time, fans were very confused about their relationship. Trisha later explained that Jon slid into her DMs before Christmas and they would spend hours talking every day. She then asked Jon to visit her in L.A. so she wouldn't have to spend the holidays alone, and to Trisha's surprise, he was on a flight the next day.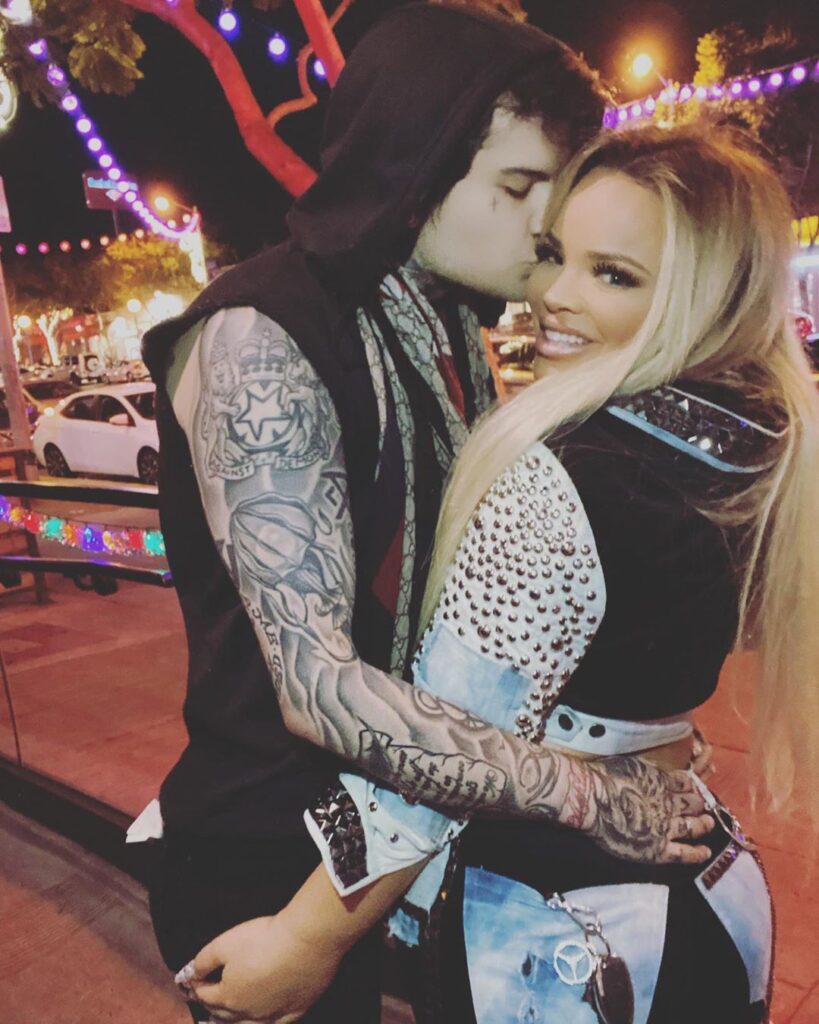 Fast forward almost an entire year when Trisha addressed the Jon Hill saga and his divorce from Jaclyn on her podcast, The Dish with Trish. While chatting with her sister, Trisha made heavy claims, saying Jaclyn is awful to her ex-husband and that Jeffree Star reportedly called Trisha and Jon's relationship "disgusting."
"Look, I don't know Jaclyn Hill, but to me, she has been a bitch," Trisha said. "She's talked shit."
Trisha then claimed that Jaclyn told Jon that Jeffree Star "talked shit" about Trisha and Jon spending time together. "She's kind of like a fake behind-the-scenes— she's like 'I had such a hard year' but also telling Jon 'Um, Jeffree said that you guys were fake…and trash and disgusting and embarrassing.'"
Trisha also called out Jaclyn's new boyfriend, Jordan Farnum, for being "embarrassing" and says she "hate watches" his YouTube channel.
Understandably, it seems Jaclyn wasn't happy with Trisha's jabs. In a series of Instagram stories posted October 9th, Trisha exposed the cosmetics queen for allegedly trying to sue people around Trisha— but not actually Trisha herself— for what she said on the podcast.
"Guess what? You can't sue someone for talking about you if you're a public figure," Trisha said. "Jaclyn Hill threatening to sue people I know because I talked about her in a video? Then come for me!"
The OnlyFans creator went on to call Jaclyn a "bitch to her ex-husband" and said Jaclyn makes everyone around her sign an NDA.
"This has nothing to do with any of her exes…this is about her saying shit about me, saying my friend Jeffree called me a mess, a drug addict all this stuff when I was hanging out with a mutual last year," Trisha explained. "That's my issue."
Shortly after Trisha's rant, Jaclyn tweeted some cryptic quotes which many believe are directed at Trisha.
"Who remembers their parents saying 'Birds of a feather flock together' because damn it's true!!!," the beauty guru wrote, followed by, "You catch more flies with honey."
Trisha has stayed quiet since Jaclyn's tweets.
And that's the latest messy drama from YouTube's OG creators.