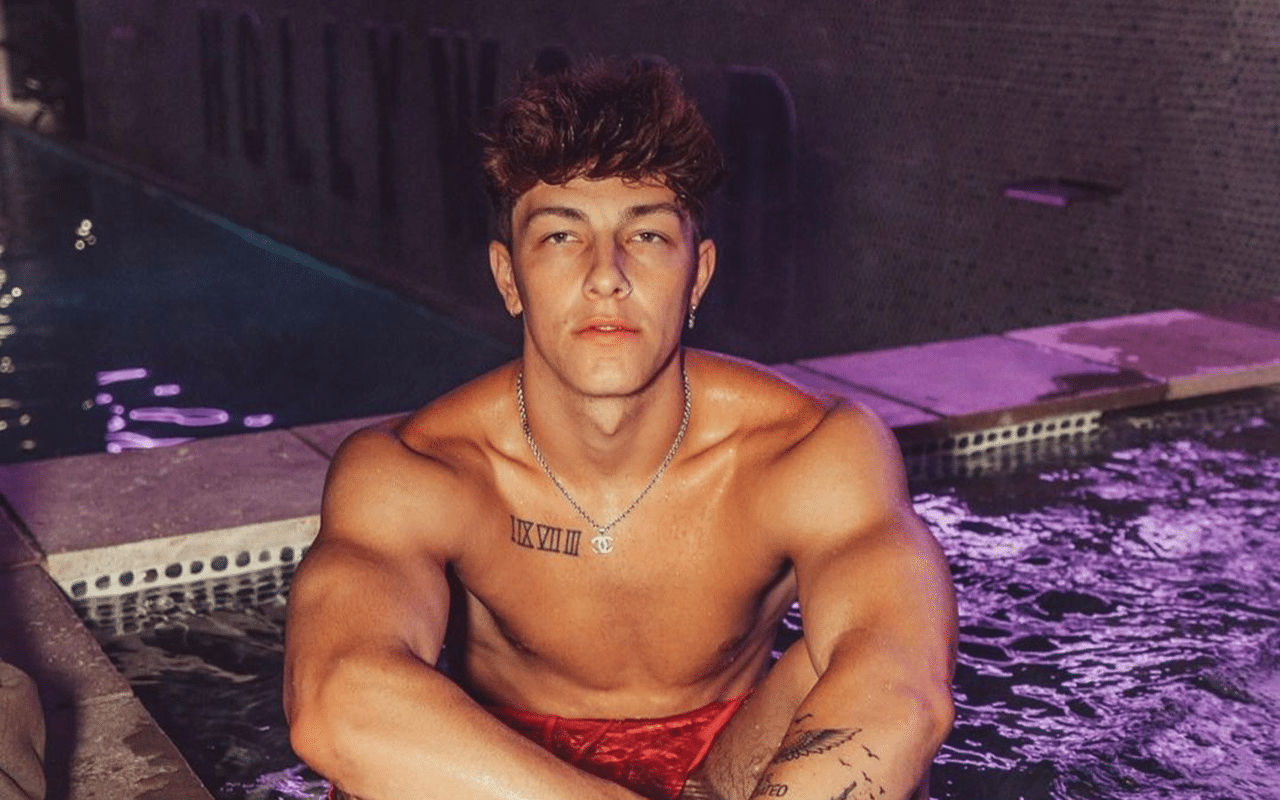 @taylerholder
https://www.instagram.com/p/CZdPax1FryR/?utm_source=ig_embed&ig_rid=640a2b7b-bb77-443c-936e-592725602cc9
https://www.instagram.com/p/CaSy1z8vJ6f/
https://www.instagram.com/p/CcQ3goDPwpG/
TikTok star Tayler Holder has finally addressed sexual assault rumours that came to light earlier this year.
In February 2022, fans were confused when they noticed that the 24-year-old had been unfollowed by major influencers including ex-girlfriend Charly Jordan, Bryce Hall, Loren Gray, and Daisy Keech. He was also reportedly unfollowed by some people on his professional team. While no one directly addressed the situation, some of Tayler's former friends began posting cryptic Instagram stories, leading people to believe it involved allegations of sexual misconduct.
Creator Juliano Hodges has notably been the most vocal, posting about "someone" getting the karma they deserve. "Some actions are unforgivable, and you have been getting away with these sinister acts since the day I met you," he wrote on Instagram stories.
While Tayler attempted to clear his name during an appearance on the BFFs Podcast shortly after, he failed to provide any reasoning behind his friends unfollowing him, nor did he make the situation any clearer.
Tayler allegedly proceeded to send cease and desist letters to several L.A. influencers asking them to stop talking about him behind his back.
Now, the influencer is addressing everything in an open letter published for E! News.
Tayler starts by saying this year was "one of the toughest" of his life and greatly impacted his mental health, citing his "difficult" split from Charly Jordan that resulted in some social media drama between the two.
He then goes on to address the sexual misconduct rumours.
"On top of that, there were other unfortunate situations that came into play that led to a series of fabricated rumors, which can only be described as cyberbullying, that led to my 'cancellation.' This online harassment took a serious toll on my mental health, and these false accusations cost me dearly on a professional level," he writes. "Despite exhausting every effort to reclaim my reputation and because I was never confronted with anything specific to which I could respond to, it felt like I was fighting a silent aggressor. This led me to take a hard look at myself, process my feelings and develop the tools to handle the negative effects that the internet can bring."
Tayler says he felt deep loneliness after being "cancelled" for something he claims he "absolutely did not do" and this gave him "perspective" on what is important in life.
"So, in my healing process, music became my personal therapy—my necessary creative outlet—where I used my feelings of loss, loneliness, anger, fear, and sadness, to help me create something beautiful to help others understand that they are not alone in this world," he writes before announcing the release of his new single, 'Human.'
"'Human' captures all of these feelings into one song. I wanted it to reflect the simple feelings of what it feels like to be just that—a human. I pray that people find the same hope that I felt when I put my emotions down on paper. My dream is that this song will help others as much as it did me when I was writing it."
Despite his heartfelt words, some influencers have taken to the comment section to share their skepticism.
Aisha Mian wrote, "Lol. A joke." Markell Washington, the best friend of TikTok royalty Noah Beck, responded to Aisha's comment, writing, "Literally I didn't know it was comedy hour but let me hush because I can't afford a lawyer".
In response to the comment implying that no allegations have surfaced because Tayler sent everyone cease and desist letters, Aisha wrote, "Yup".
Despite the whirlwind rumours, no allegations against Tayler have surfaced at the time of publication.