@denisestephaniee / @charlyjordan
https://www.instagram.com/p/CVw5_iQLnfk/
Charly Jordan is clapping back at a viral TikTok video.
The influencer, who held a Halloween party over the weekend at her LA home, has addressed rumours that she allowed guests into her party based on their follower count. The rumour started from a viral TikTok video made by user @denisestephaniee who detailed her experience trying to get into Charly's event.
The user first posted a TikTok with a friend, writing, "I thought y'all were kidding but you seriously gotta show your follower count to get into a party?!!! LA is something different". The caption on that video reads, "Like I thought this was a joke. Also ur fav 'influencers' are all rude as sh!t," leading TikTok users to ask her to name who she was referencing.
"So we went to Charly Jordan's party last night because my friend Michelle has like an 'in' there," she said in a follow-up TikTok. "We were standing outside and it was a little f-cking madhouse, and then I hear people being like, 'Oh my God pull up your Instagrams, pull up your TikToks, you gotta show them to get in'."
The user went on to explain an encounter she had with James Charles outside the party, as well, insinuating he was rude to her when she told him security was being difficult. James responded to her claim in a comment— which appears to have since been deleted— writing, "I remember this interaction & it definitely didn't happen like this. I said thank you for telling me, I'm not sure what else you wanted me to say…?"

Charly has since responded to the rumours about her party via Instagram story.
"So some girl who couldn't get into my party made a video, it's going viral, about how I wasn't letting people into my party because they didn't have enough followers," Charly said Tuesday morning.
The 22-year-old went on to say that people were attempting to jump the gate to get into her party so her security decided to ask guests to pull up their social media accounts to check if Charly followed them. "There were so many people out here that my security said, 'Pull up your following, and if Charly follows you, then we'll let you in,'" she explained. "Everybody misinterpreted that and just started pulling out their phones and showing their follower count for no reason."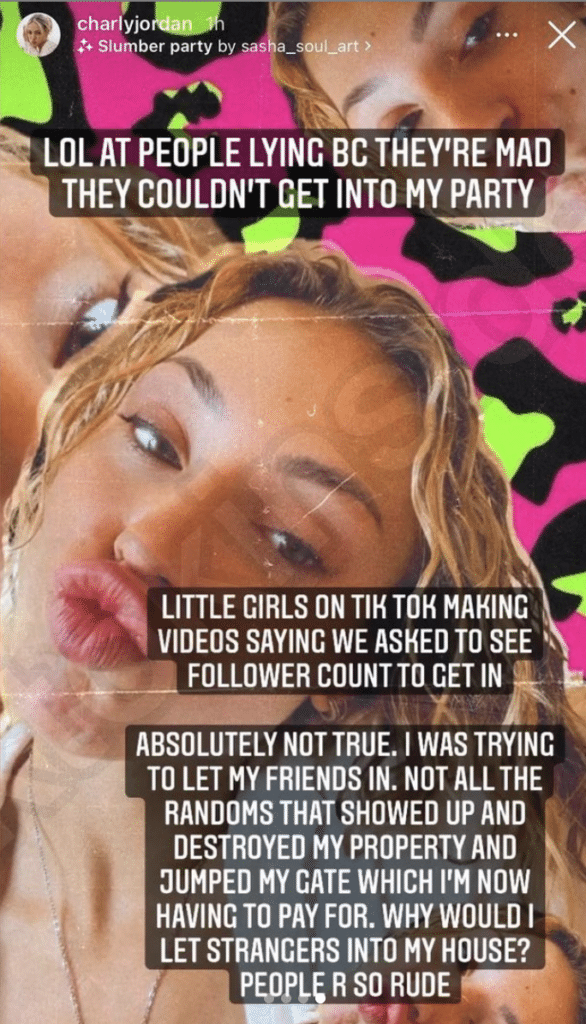 Though fans are rallying around the TikTok user, several influencers have come to Charly's defense, including Mark Thomas and Jack Bono, who have both commented that @denisestephaniee and her friends were not invited and thus not let in.