Another viral star has been accused of racist behaviour.
On Sunday evening, YouTuber Spankie "SWOOP" Valentine called out fellow creator Lauren "Mykie" Mychal of popular SFX makeup channel, Glam&Gore, for racist and homophobic behaviour in her latest video.
Throughout the video, Spankie details her experience being gaslit and manipulated by Mykie while the two were BFFs for over two years.
For context, she shares multiple screenshots of alleged text messages and tweets in which it appears Mykie attempts to twist the narrative to invalidate Spankie's emotions and experiences as a Black woman on YouTube and instead, paint herself as a victim. It seems Mykie even went as far as to claim that she — a white, cis, straight woman with eurocentric features — is more discriminated against in the entertainment industry than people of colour. Spankie provides examples of many times Mykie pushed this rhetoric.
Spankie also speaks on Mykie's consistent homophobic remarks towards the internet's biggest beauty gurus, Jeffree Star and James Charles.
Again, Spankie provides numerous receipts of Mykie dragging Jeffree and James, claiming they only found success because they are both gay men. Spankie alleges that Mykie frequently bad-mouthed James Charles specifically for being "less talented" and not working very hard despite his massive following. In a text message to Spankie, Mykie allegedly wrote that the YouTube algorithm favours Jeffree and James because of their sexuality. She often expressed to Spankie that white, cis, straight people are the "only ones" not getting a leg-up these days.
Mykie took no time to respond to Spankie's heavy allegations. Shortly after Spankie's hour-long video went live, Mykie took to Instagram stories to apologise for her behaviour.
In a series of posts, Mykie admits that she has been absorbed, tone-deaf, and regrets her behaviour. She claims she has been working on personal development privately as she is "ashamed" of who she used to be and says she chose her own comfort over those she has hurt.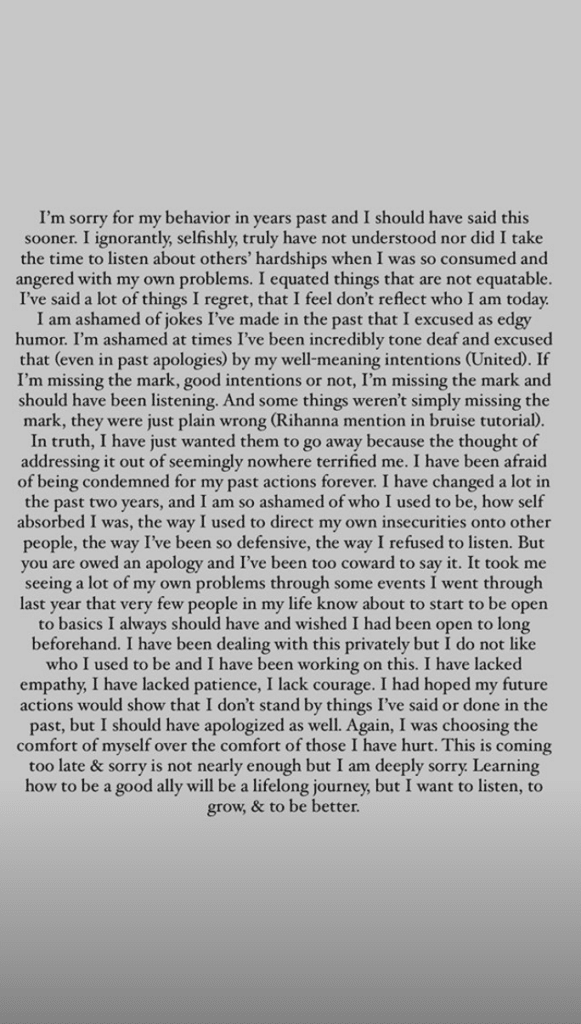 Mykie then addresses Spankie's claims, writing that "a lot of thing were shared or omitted without the full context which does change some conversations." Mykie blames her own insecurities and jealousy issues for the harmful things she said about the beauty community and says she used venting as a way to cope with her own problems. The influencer later calls her behaviour towards Spankie ignorant and says she takes full responsibility for "how badly my intent did not align with my action."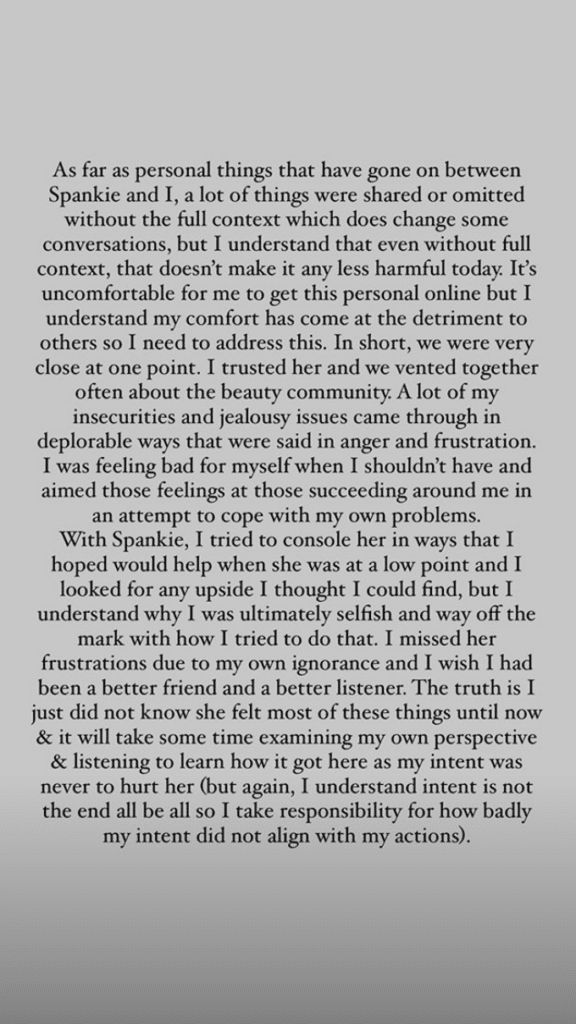 Mykie then shares her own screenshot from their text messages in an attempt to clear her name against Spankie's allegation that Mykie's BLM support is virtue signalling.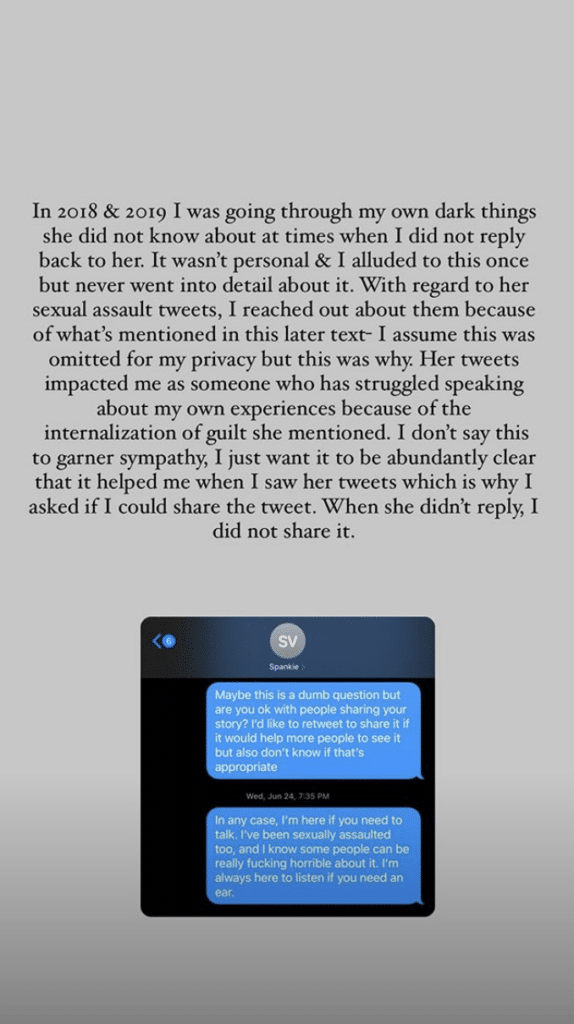 The makeup artist finishes by saying "ultimately, it is my fault" and that she is "grateful" Spankie called her out for her past behaviour. "I'm sorry to Spankie and the BIPOC and LQBTQ+ community who were hurt by this," she concluded. "And I promise to do better moving forward."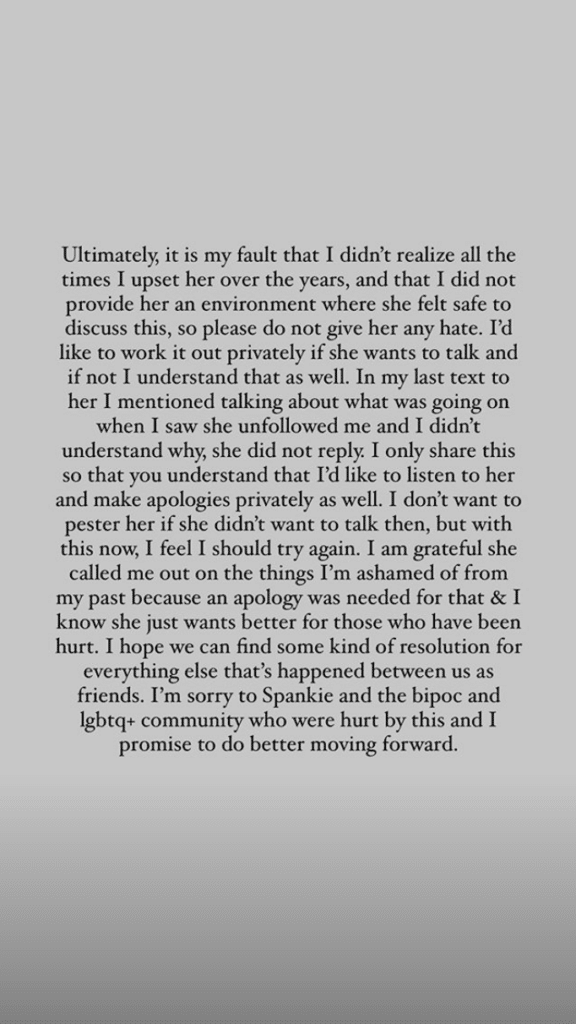 Despite Mykie's claims, Spankie maintains that she attempted to speak to her former friend about these issues multiple times to no avail.