Over the last couple of weeks, some serious allegations have been made about beauty mogul Jeffree Star and his involvement with musician Dahvie Vanity.
Their history dates back nearly a decade and involves dark, predatory behaviour that has recently re-emerged.
Yesterday, Jeffree sat down with journalist Chris Hansen over YouTube live-stream to discuss his relationship with Dahvie and set the record straight. Chris has been chasing the Dahvie Vanity story for months, attempting to bring justice to the victims involved.
But unless you were deep into the MySpace scene of the early 2010s, you may be wildly confused about who Dahvie Vanity is, why Jeffree Star is involved with him, and what accusations are being thrown around about the two.
Here's what you need to know.
TW: Sexual assault and consent.
Who is Dahvie Vanity?
Jesus David Torres AKA Dahvie Vanity is a founding member of music group Blood on the Dance Floor. He shot to fame on MySpace under the alias "The Elite Hair God" and performed around across America with Jeffree Star, who was also a MySpace electropop musician at the time.
What is Dahvie Vanity accused of?
Dahvie Vanity has a deeply problematic past. Blood on the Dance Floor's music was known for pushing boundaries relating to sex— specifically promoting sexual deviance, underage sex, and revenge porn.
These predatory undertones were further amplified by the fact that the band's primary audience was teenagers.
In 2018, Metal Sucks published a story detailing Dahvie's alleged history of sexual abuse towards underaged girls, some as young as 12 years old. Many of the women interviewed for the exposé made similar accusations about their encounters with Dahvie— claiming he physically overpowered them, forced them to perform oral sex and violent sexual acts, was manipulative, verbally and emotionally abusive, and engaged in grooming tactics.
The Huffington Post also interviewed the women on their experiences with Dahvie, publishing their stories under the headline, "Scene Singer Dahvie Vanity Is A Rapist Who Preys On Minors, A Dozen Women Say."
How is Jeffree Star involved?
Amongst the horrifying details of Dahvie Vanity's behaviour, the exposé suggests that Jeffree Star was an eye-witness to many of these encounters.
Fans apparently dug up old tweets that Jeffree wrote in 2010 in which he admitted to being an eye-witness to these crimes. In the alleged tweets, Jeffree publicly separated himself from Dahvie, writing that he saw Dahvie engage in sexual misconduct with minors and that he would no longer support him.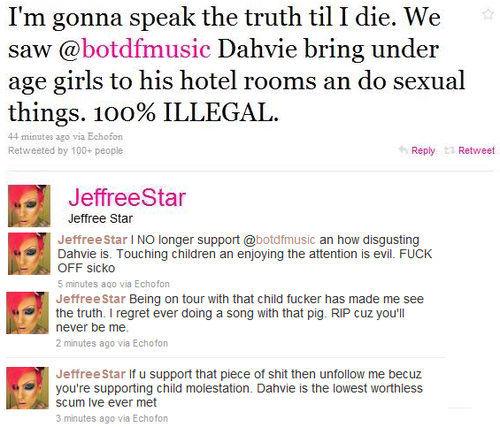 However, there is also evidence to suggest that one year later, Jeffree retracted those statements. In a since-deleted tweet from 2011, he wrote that he is "over" the past and he and Dahvie are friends again. The two proceeded to make new music together and even went on tour.

It appears Jeffree continued to publicly support Dahvie throughout 2012, 2013, and 2014 across Twitter and Instagram.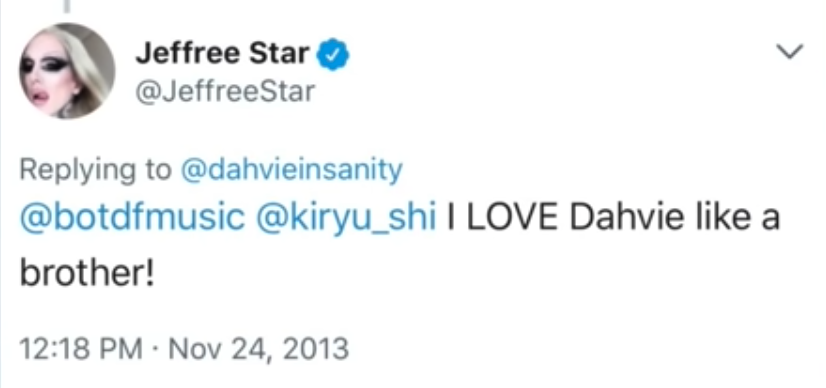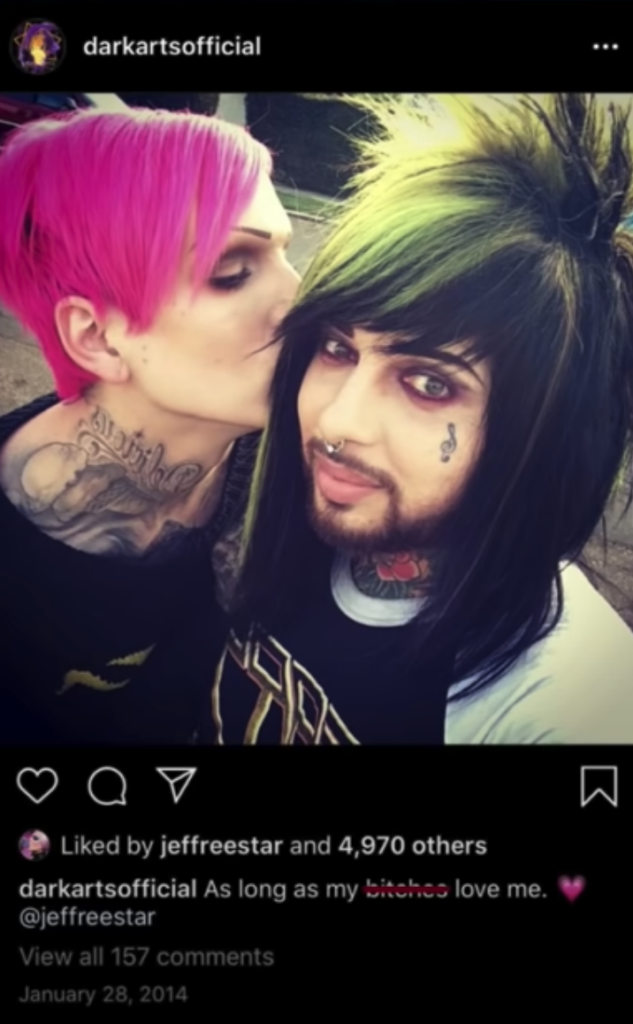 Though it appears Jeffree has not been friendly with Dahvie in years, Chris Hansen's investigation into the musician has sparked a lot of criticism of Jeffree online.
Some fans believe Jeffree should be held accountable for staying quiet about Dahvie's behaviour which put potentially hundreds of young girls at risk. Others believe Dahvie is a master manipulator and was able to convince Jeffree to forgive him, therefore it's not Jeffree's fault.
What does Jeffree have to say?
Earlier this month, YouTube drama channel Petty Paige quote-tweeted a user accusing Jeffree Star of copying makeup packaging from beauty brand Lorac, writing "Completely unethical…but tbh I'm more interested in him completely switching his perspective on his alleged pedofile friend…"
Jeffree reportedly sent Paige a DM after seeing that tweet, in which he said that no one had reached out to him for comment on the Dahvie situation. He claimed that the old tweets were photoshopped and said he never saw Dahvie do anything illegal otherwise he would have reported it. He finished by saying he wishes he could do something to help "put him away."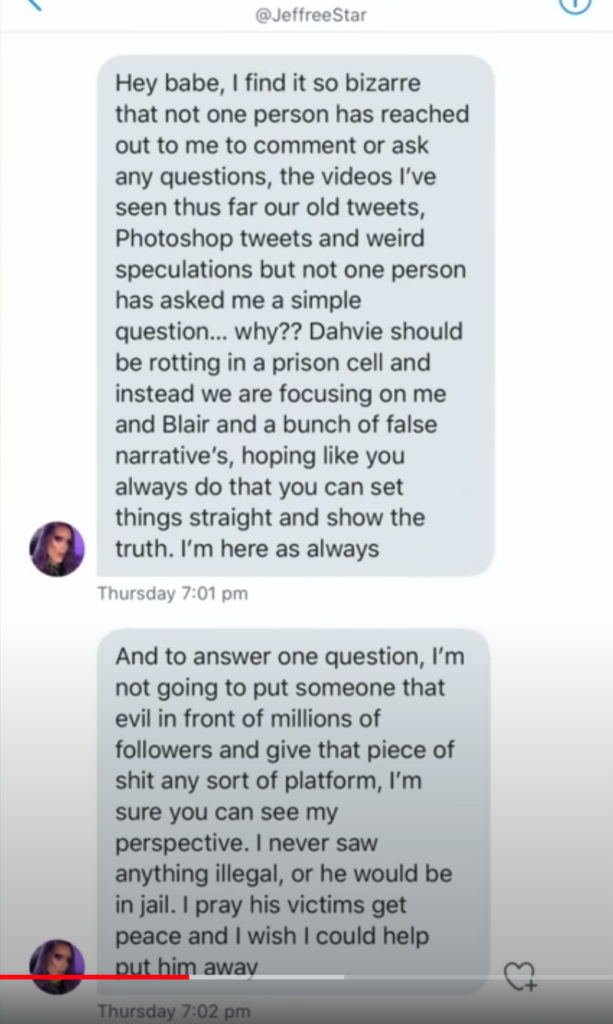 Many did not take this as a valid explanation and Twitter erupted with fans accusing Jeffree of deflecting and protecting a predator.
After weeks of staying quiet on the matter, Jeffree eventually agreed to share his side of the story in a virtual interview with Chris Hansen of To Catch a Predator.
Jeffree Star on his involvment with Dahvie Vanity
"Back in the day, there was a lot of crazy rumours about Dahvie," he told Hansen on live-stream. "There was never any criminal charges against him. He was never put in jail for— I know there was one instance, but he never served real jail time. There was no criminal case against him."
He went on to say that during that time, people in the music world were "not sure what was really going on."
"It was very believable but then at the end of the day, there was no proof," Jeffree explained.
The viral star took responsibility for the tweets saying he did call Dahvie a "child molester" because he genuinely believed it at the time.
"Did I ever see an actual sexual crime? Absolutely not. Did I see weird inappropriate behaviour? Yes," he admitted.
Why did Jeffree work with Dahvie again?
In the interview, Jeffree explained that Dahvie is a master manipulator and somehow managed to make the allegations disappear quite quickly.
He said that one year later, Blood on the Dance Floor was put forward as an option for the opening act of Jeffree's tour. Jeffree claimed he did his due diligence and reached out to Dahvie's bandmates including Bandy Wynn, a mother of four, to make sure the allegations were not true before bringing them on his tour.
Jeffree alleges that Brandy said she had seen inappropriate things, but nothing illegal. "I took her word for it," he concluded.
Response to the Chris Hansen interview
Jeffree is no stranger to scandal. Though he has lost the support of some, many of his fans are content with his explanation given during the interview.
However, critics haven't been so kind on Hansen, who's journalistic integrity is now in question.
Many viewers and fans believe Hansen was "starstruck" by the opportunity to interview Jeffree Star and thus avoided asking the tough questions. It appeared as though Jeffree had been sent the questions in advance, which many feel was not appropriate given the nature of the interview.
In general, some say the interview fell short of their expectations on both ends.
What happened to Dahvie?
Dahvie has addressed the allegations multiple times on social media and throughout his song lyrics, claiming they are all false.
Dahvie was arrested in 2009 for sexual assault, but charges were never filed. In 2016, the group essentially broke up over "creative differences" and in 2019 Spotify pulled Blood on the Dance Floor's music from their platform.
He is apparently living with his parents in Florida.
And may soon be relocating to a prison cell.
If you or someone you know has been a victim of sexual misconduct of any sort, please call the Australian National Sexual Assault Support line at 1800 737 732.