@jaclynhill
https://www.instagram.com/p/CRH0zg-pNfR/
Jaclyn Hill is facing another rocky launch.
The YouTube star is facing criticism following the reveal of her latest product release, a limited edition face range collection for summer.
The collection, called Haute Tropics, features the Reflective Light Putty Highlighter in four shades, Sun Kissed Cream Bronzer in five shades, Beaming Liquid Highlighter in three shades, and Pout Drip Hydrating Lip Oil in four shades.
Upon revealing swatches of the collection, makeup lovers are slamming Jaclyn and her brand for its lack of inclusive shades, particularly for the bronzer range. The beauty guru seemingly attempted to get ahead of this backlash in her announcement video, telling viewers the brand was "only able to do five shades" in the cream bronzer.
"When it comes to creating something that really deserves a very big and broad shade range, it is really difficult for me," Jaclyn explains. "I feel like it should be difficult for everybody because when it comes to shades that I can't wear, like once I get into like the darker shades or the super, super, super fair shades, I kinda just like don't know so I have to rely on testing. I have to rely on giving it to other people with different skin tones."
The beauty guru went on to say that she is open to "constructive criticism" from those with various skin tones.
Many feel Jaclyn's attempt to explain the collection's lack of diversity is a poor excuse given the vast number of dark and light-skinned beauty influencers living in the United States that Jaclyn could have sent products to for testing and feedback.
Following days of backlash on social media, the brand has officially addressed the issue via Instagram story claiming they have engaged a diversity, equity, and inclusion consulting firm to help them make decisions moving forward.
"We would like to address the shade range of our Sun Kissed Cream Bronzers," the statement reads. "We hear your feedback and recognize that the range is not broad enough. Our vision for Jaclyn Cosmetics is to create an inclusive and diverse brand that is a haven for ALL lovers of beauty. To ensure we deliver on that vision we have partnered with Change Cadet, a diversity, equity, and inclusion (DEI) consulting firm to look at all areas of opportunity within our business and to address our process going forward. We thank you for sharing your feedback with us and want you to know that we are committed to doing better."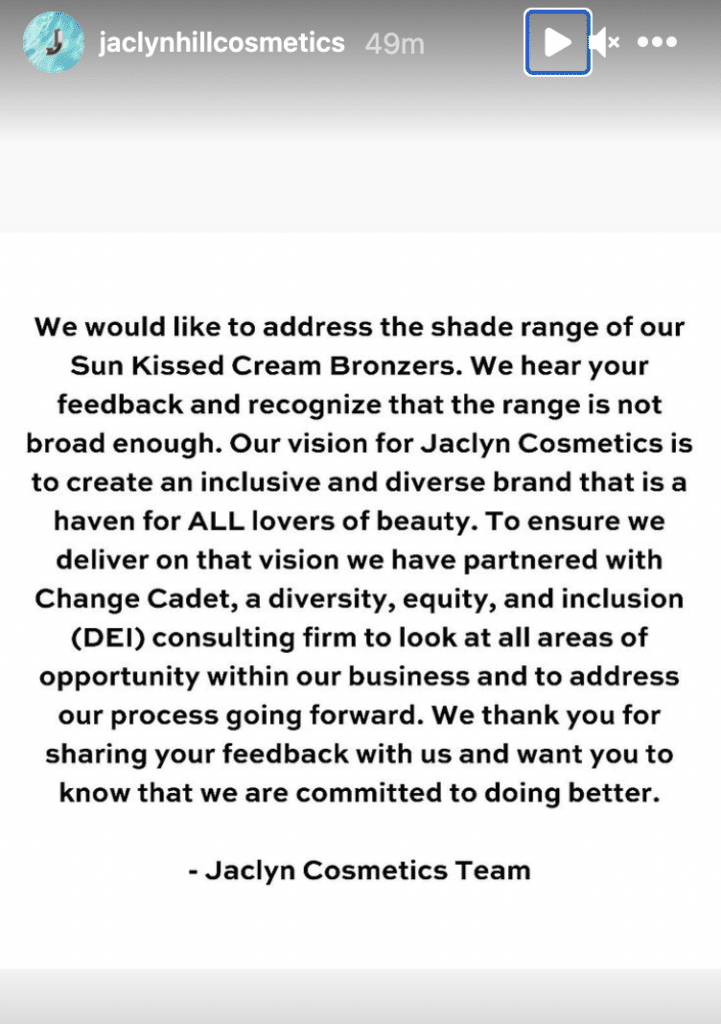 The summer collection comes off the back of a series of botched releases for Jaclyn Hill and her brand, including the infamous 2019 lipstick gate in which the brand sold thousands of contaminated and possibly expired lipsticks, forcing Jaclyn into hiding for over a year.
Jaclyn has also faced issues launching collaborations with brands such as Becca Cosmetics and Morphe.
The Jaclyn Cosmetics limited edition summer collection will be available to shop from July 13th online and at Morphe retail stores.