@mikaylajmakeup
TikTok influencer Mikayla Nogueira has found herself in the middle of the latest Jaclyn Hill drama.
With over 6 million TikTok followers and counting, Mikayla has become one of the biggest beauty creators on the platform, finding fame last year for her realistic product reviews, easy-to-follow tutorials, and down-to-earth personality.
Despite her generally unproblematic nature, the 23-year-old creator is facing backlash for her defending Jaclyn Hill's beauty brand and their decision to release a collection of bronzers without an inclusive shade range. Yesterday, the brand was forced to address criticism surrounding the limited shade range, claiming they have engaged a diversity, equity, and inclusion consulting firm to help them make decisions moving forward.
In response to a comment on Mikayla's IGTV review of the collection which called the shade range of the Haute Tropics bronzers "terrible," Mikayla replied to the critic, writing:
"I think it's important to understand budgeting when it comes to creating and developing products. Jaclyn Cosmetics is a newer and smaller brand compared to brands that have fully established themselves. Smaller brands typically cannot afford to have massive shade ranges. As they grow and their budget grows, they extend the ranges. In the meantime, I think she did a great job of getting the best range she could with the budget she has to work with. In the future, she mentioned she will be extending the ranges."
Mikayla's comment was met with resistance, with many pointing out that several POC-owned indie brands release inclusive shade ranges and likely have smaller budgets than Forma-backed Jaclyn Cosmetics.
Others note that they don't take issue with a limited shade range, but rather that the shades released for deeper skin tones are unflattering and lack representation of nuanced undertones. "You can do small ranges with a great assortment of shades," writes beauty expert Kirbie Johnson on Here For The Tea's Instagram page. "This, however, is not it."
Mikayla has since apologised for defending Jaclyn Cosmetics, taking to the comment section of that same IGTV video to address the controversy.
"My comment was incredibly ignorant, with zero excuses," she starts. "I do believe the shade range is inexcusable and I wish I had appropriately called it out in my video. Even more so, my behavior/response towards the launch is wildly inexcusable. I 110% respect, recognize, and understand the disappointment and anger my comment has brought."
Mikayla goes on to say that she attempted to "rationalize" the small shade range by assuming it was a budget issue. "But after hearing all of the feedback, that is surely not the case," she writes. "Budget will never be an issue here. So there is no excuse. I also thought about the new [Anastasia Beverly Hills] cream bronzer line which has only two additional shades but even still the shade line up is far more inclusive overall. And other indie brands with far lesser budgets have successfully put out inclusive ranges as well."
The influencer admits that she has "admired" Jaclyn Hill for years but now realises that "it is inappropriate of me to ignore that POC are being pushed to the side and not thought of in the launches."
Mikayla promises to call out representation issues in shade ranges moving forward and insists she wants to see progress in the beauty industry moving forward.
"Working at Ulta, I witnessed daily POC struggling to find shades that worked for them, and I hated seeing that. So my behavior in that particular comment is unjustified and I am truly remorseful. A change is absolutely needed and I understand that my platform is larger and that I do have every ability to make call outs that can lead to change," she finishes. "And I will do absolutely what I can to be a voice for change from now on. POC deserve to be seen and heard with every launch that is put out there. Thank you for calling me out. And I will not let you down going forward. You have my word."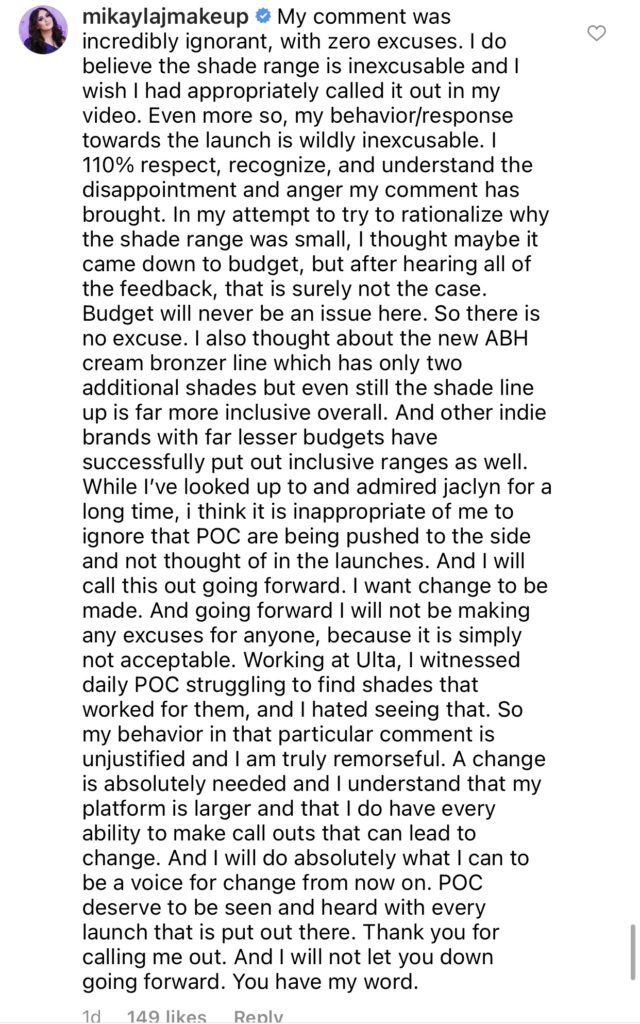 Regardless of Mikayla's attempted damage control, many do not see this as a genuine apology nor are they ready to accept it.
Mikayla has not addressed this issue outside of her IGTV comment section at the time of publication.