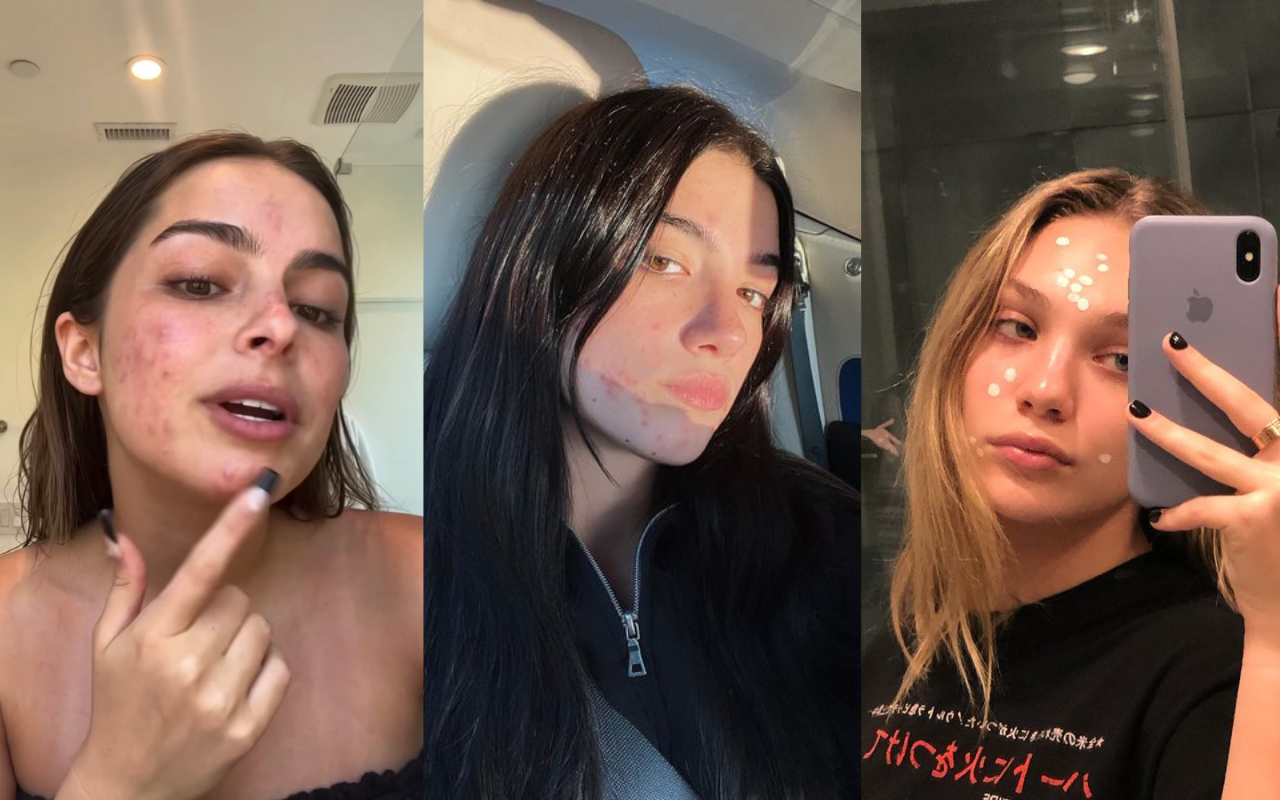 @addisonrae / @charlidamelio / @maddieziegler
https://www.instagram.com/p/Cc3NccLr8YK/?igshid=YmMyMTA2M2Y=
https://www.instagram.com/p/CaSQ4wUFfwI/
Thanks to TikTok, we all know That Girl. That Girl wakes up at 6:00am to go to the gym before work. That Girl drinks green juices out of glass mason jars with metal straws. That Girl works her 9-5 before finding time to cook a healthy meal, change her sheets, deep clean her bathroom, and fill out her five-minute journal before bed. 
At the start of 2022, coupled with the hope of new year's resolutions, everyone wanted to be That Girl. But it didn't take long for internet critics to point out that the That Girl trope is simply the latest manifestation of toxic productivity and another set of unattainable goals. Hence, the anti-That Girl movement. 
This movement isn't just about opposing the That Girl aesthetic, but more a call to reality and authenticity. Because while it's great to have goals for a healthy lifestyle, these goals shouldn't become another object of ceaseless striving, making us feel incompetent when we inevitably fail to keep up.
Of course, the call for more authenticity online has been a long time coming, and we have already begun to see the fruits of this turning tide. From the advent of finsta accounts to now living in a post-casual Instagram society, the average Gen Z social media user would likely agree that they expect "realness" from their friends, brands, and celebrities online.
Interestingly, even those that uphold the That Girl aesthetic are starting to open up about how unrealistic it is to maintain this lifestyle at all times.
This takes us to the latest victory from the anti-That Girl movement: posting photos of your unfiltered skin, acne and all.
Surprisingly, it's celebrities and influencers that have been paving the way for this unexpected trend.
Celebrity and social media commentator @hannahzookpop described this phenomenon as celebrities wearing their acne as an "accessory". In a recent TikTok, she points to the likes of Bella Hadid, Charli D'Amelio, and Joshua Bassett as the latest celebrities to bring attention to their imperfect skin.
"I think in an act of rebellion against the That Girl movement, we're going in the extreme opposite way, and instead of FaceTuning your acne out, we're like wearing it as an accessory loud and proud and embracing what we have," she said.
In Hannah's video, she mentions Starface, the company behind the cute and colourful pimple patches that have undoubtedly contributed to the idea of acne as an accessory.
In recent years, we have seen a number of celebrities and influencers with young audiences coming forward about their skin troubles. For one, Emma Chamberlain has been open with her subscribers about her acne journey for years, and of course, who could forget Kendall Jenner coming clean with a full-blown announcement and partnership with Proactiv.
While the over-hyped promotion of the latter's big reveal was about as appropriate as her Pepsi commercial, Kendall was definitely the biggest name that had spoken about her skin troubles at the time.
Just this week, 'Dance Moms' star Maddie Ziegler posted a story on Instagram sharing her frustrations with back acne and asking her followers for advice on how to treat it.
To top it all off, the queens of TikTok Charli D'Amelio and Addison Rae have played a huge role in promoting skin acceptance by posting on social media regularly with a bare face.
In the same vein, these key Gen Z figures could not be better people to lead this trend. With acne being more or less a universal experience for their young audience, seeing their generation of celebrities confidently posting filter-free is bound to set a new normal of authenticity online.