Ruchi Page / Maggie Zhou
Faces of Australia is a column highlighting BIPOC creatives to bring you their stories. Creators are asked to collaborate on a makeup look that empowers, holds meaning, or describes their experience as it relates to Australian beauty standards and the Australian beauty industry. Faces of Australia is written and produced by Ruchi Page, with a mission to show the beauty industry how accessible BIPOC talent is across this diverse nation.
Introducing writer and producer for Refinery29 Australia, Maggie Zhou.
MAC Cosmetics Studio Fix Fluid Foundation is our foundation of choice for our collaborative makeup look— a brand that has maintained inclusivity and celebrated the vibrancy of diverse voices since the beginning. The brief we followed is a nod to Maggie's story as she moves from a social media personality into a thought-leader in mainstream Australian media.
Our chat begins with a single question: who is Maggie Zhou? Melbourne-born, the writer tells me she identifies as Chinese Australian. When Maggie isn't managing Refinery29 Australia's socials, she is "writing across its culture, style, wellness, and entertainment verticals," she tells me. Additionally, Maggie co-hosts the Culture Club podcast alongside friend and writer, Jasmine Wallis. A proud Pisces, she tells me she's a middle child and "a regular stomach ache haver, a slow fashion lover, and a cheese lover." Continued, Maggie appreciates life's simplicities, such as "reading, drinking multiple English Breakfast teas, and complaining about said stomach aches".
One of Maggie's most recent successes is joining the Refinery29 Australia team. From exploring the connection between body image and social media, to discussing her own sexuality, her content is raw and authentic. I asked Maggie how have these written conversations impacted the audience she has nurtured on her own platforms. "One of the things I love most about Refinery29 is its unapologetic ability to tackle taboos — from grief to money to loneliness," she explains. Because of these significant topics, Maggie has formed vulnerable yet powerful connections. She mentions "my favourite messages are from people saying things along the lines of, 'I hadn't thought of that before, thank you for sharing.'"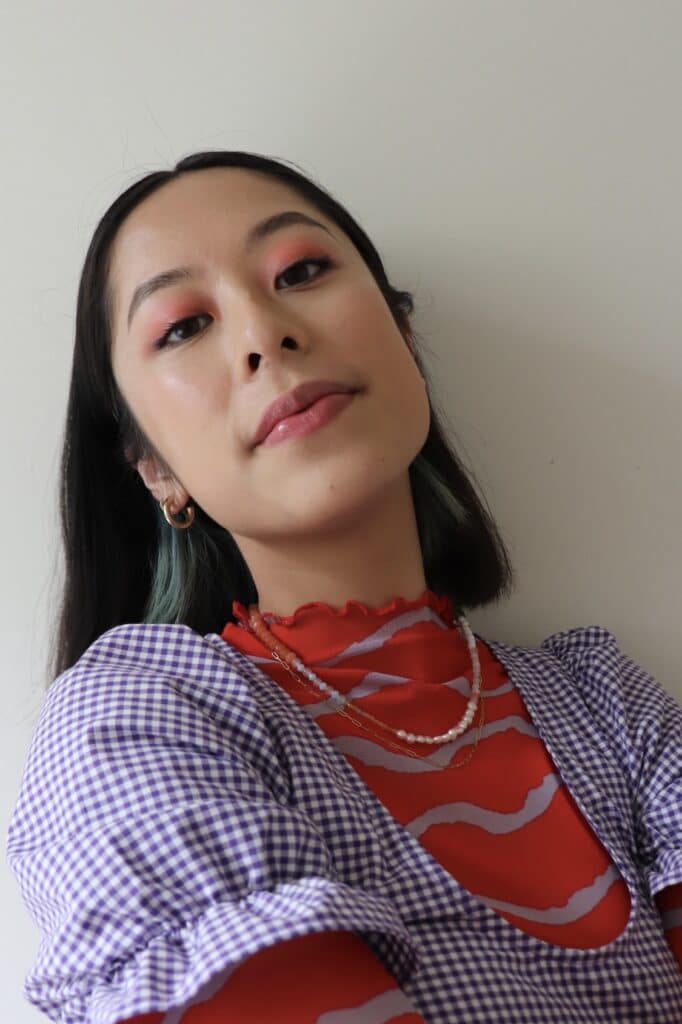 She reminds us of the importance of sharing these lived experiences in mainstream media. We agreed that BIPOC stories, in particular, deserve more visibility. "Being able to hold space for these conversations in an Australian publication is so important. It's nothing new to proclaim that a lot of BIPOC Australians grew up without media representation — but I'm hoping that will change for future generations," she confirms.
Speaking of visibility, I have quite literally turned around and witnessed Maggie's face on a passing Melbourne tram. I was wowed for many reasons, but more importantly it was so refreshing seeing someone from social media making a splash into mainstream. I asked Maggie what this journey has felt like for her. "It's so surreal. Honestly, if you'd told me a couple years ago that photos of myself would be on trams, trains, and billboards, I would've laughed," she tells me.
Coming to terms with this shift, Maggie tells me "now, it's a strange reality where people are jumping from the social world into the mainstream world. Digital life has seeped into our 'real' world, so it naturally makes sense that these two worlds have become quite fluid and interwoven." With representation, 'diversity check lists' and tokenism are still a big problem. I asked Maggie if she had ever experienced tokenism. She reflects, "tokenism is a funny thing. I think people from underrepresented and misrepresented groups are always cautious and skeptical of being used as a token." I agreed— being wary of intention is a repetitive cycle in this space. "It's not a nice feeling either, at least for me, it always leaves me second guessing opportunities and whether I was chosen based on my talents and merit, or just my check box 'different' card," she says.
Despite this, Maggie holds gratitude for the brands who abide by their morals and dedication to equality. "I'm very lucky to have worked in many supportive environments where I'm surrounded by many other BIPOC creatives. But there have been many times where 'diversity' feels forced; where there's a strict criteria of one minority representative present (usually led by an entirely cis white team)," she explains.
The conversation concluded and Maggie and I explored her lived experiences. I asked the creator if she's ever had to defend her identity in a social situation. "The phrase 'defend your identity' is so interesting and rings true in so many areas of my life. The fact that so many of us need to protect and prove their identity is really disheartening," she tells me. "Racially, I've experienced this on both sides. I feel myself having to prove my Australian nationality to my white counterparts, and having to prove my Chinese ethnicity to fellow Asians." An obstacle I have known too well, we agreed it can often feel like we are battling a divisive check list to fit in.
Similarly, Maggie has faced confrontation in her writing. "I write about divisive issues sometimes, like cultural appropriation, and am often faced with backlash within my own cultural groups. It's completely understandable that that would happen, after all we are more than a homogenous clump of people," she tells me. Disappointingly, the reality remains that there is a lack of willingness to learn about these differences. "But I have found that there's a hurtful gap of understanding between mainland Chinese citizens and those who have grown up in a Western country. We have vastly different lived experiences and I've had many times where fellow Chinese people discredited and disregarded my work and experience because of my upbringing," she says.
As our conversation closed, I wanted to hear Maggie's advice for the Australian beauty industry. Here is her answer:
"Admit that you're behind. Admit that you've stuffed up and will probably continue to do so. Everyone is chasing their tails and trying to fix their wrongs, without properly realising the extent of the pain they've inflicted on so many. Whether that's not supplying dark foundation shades, or perpetuating the ideal of White Australia, or promulgating trends that directly defy BIPOC features, there's been a lot of bullshit we've had to put up with. Actual change is going to take a long time and if you think it can be summarised and diminished into one Instagram campaign, you are sorely mistaken. Keep having conversations with those in marginalised groups, and actually listen to what they say. Better yet, hire these people into senior roles in your company. Change starts from the inside."
Faces of Australia season 2 is brought to you by