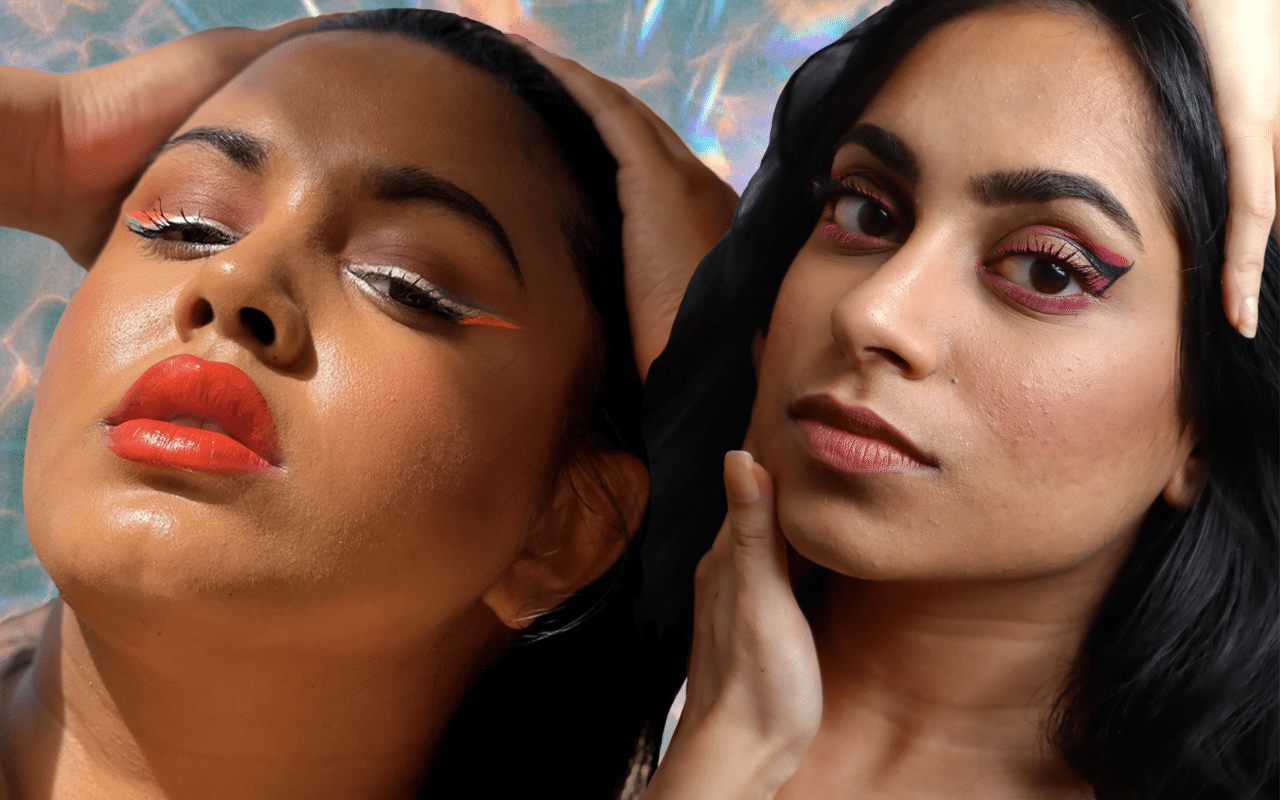 Ruchi Page / Ushi
Faces of Australia is a column highlighting BIPOC creatives to bring you their stories. Creators are asked to collaborate on a makeup look that empowers, holds meaning, or describes their experience as it relates to Australian beauty standards and the Australian beauty industry. Faces of Australia is written and produced by Ruchi Page, with a mission to show the beauty industry how accessible BIPOC talent is across this diverse nation.
Introducing Melbourne-based content creator, Ushi.
Our collaborative makeup look represents both our positive and negative experiences as people of colour living in Australia. Our eyeliner looks take practice and dedication to achieve the perfect wing, just like our inner strength to persevere through challenging and othering circumstances.
We are both wearing MAC Cosmetics Studio Fix Fluid Foundation— a reliable brand that has always catered for us, from shade ranges to campaigns. This makeup look is particularly meaningful to Ushi's commitment to celebrating the fierce and sharp energy of her cultural roots.
I began our chat by asking Ushi how she culturally identifies. The 23-year-old content creator tells me she is Mauritian-Indian. With Australia being her home for the past four years, Ushi noticed an emphasis on how her identity has been misconstrued and difficult to categorise by others. "I have been mostly brought up in Mauritius and occasionally in India," she tells me. At times, understanding her cultural roots was a confusing element of Ushi's life. "Growing up with parents from two separate countries, my identity was a hot mess. I would always feel too Indian when I was in Mauritius, and too Mauritian when I was in India," she explains. Relating to the life of a chameleon, Ushi tells me she was "ready to blend into whichever of the two cultures demanded more Indian-ness or Mauritian-ness". And with relocating to Australia, Ushi tells me she found herself on the receiving end of comments like, "so you're just two forms of Indian", "ah, you're Mauritian", or "just say you're Indian!".
These moments took place in Ushi's younger years, "I now take pride in the differences between the two cultures and consider myself lucky to be part of both". I particularly adore Ushi's outlook. She tells me, "instead of taking this complex ethnic background as a burden, I have learnt to appreciate (and flaunt!) its respective richness".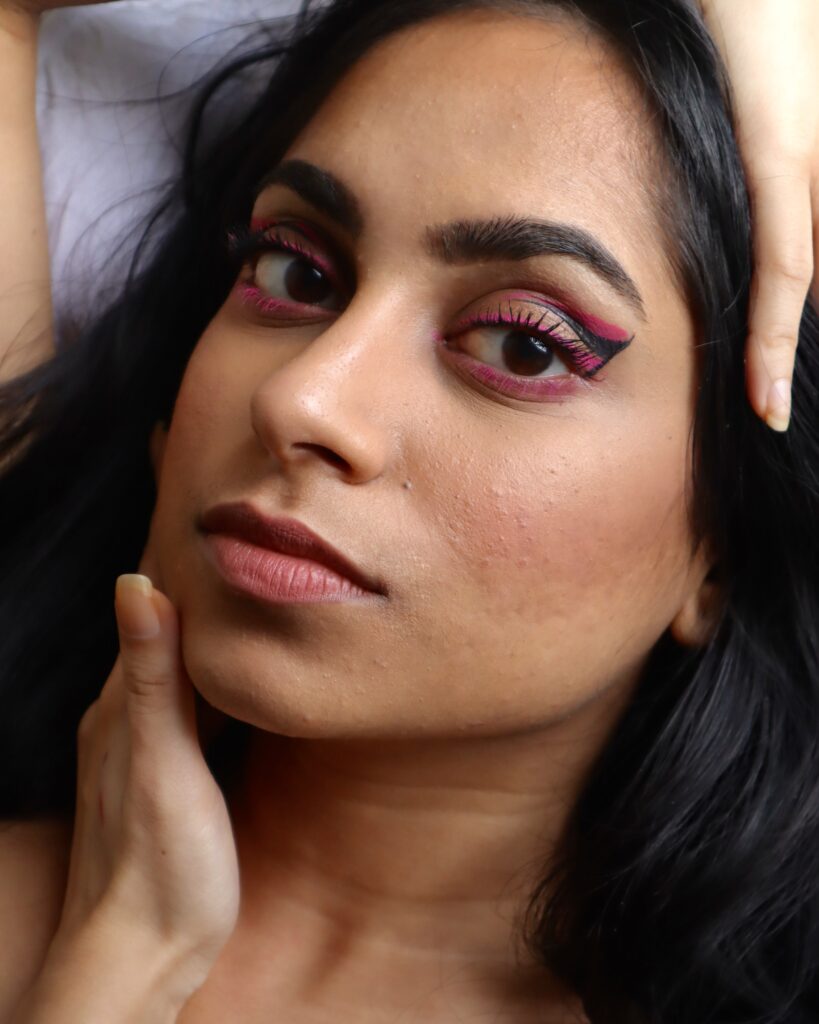 With this pride, Ushi takes major inspiration from Bollywood for her content and enjoys highlighting her culture. Alongside having a talent for film and editing, Ushi shares breakout-prone skincare suggestions with her audience. She tells me she loves to binge-watch crime shows on Netflix, play piano, and read rom-com books. 
Whilst Ushi has reclaimed pride in her cultural identity, oppressive circumstances still exist in the creator's life. I shared my own frustration with Ushi regarding having to over-explain my life story to strangers. I asked Ushi if there were any repetitive, challenging experiences that elicited feelings of separation. She related to my frustration and tells me, "I would always receive [that response] whenever I would delve into my background. Another incredibly off-putting incident would be the subsequent comment of 'your English is so good for a Mauritian/Indian!' whenever I'm asked where I'm from." We both agreed that more consideration is required when people want to make these comments. Ushi confirms that these comments are harmful. "People need to realise the racist undertones in this sentence and the underlying stereotype of how a certain ethnic group sounds like," she says.
Though negative experiences have been an equal part in both of our daily lives, Ushi reminds us of the positive ones, too. "A positive experience as a woman of colour would be the appreciation or genuine interest which would be expressed when I'd mention that I'm multilingual," she tells me. I ask Ushi how it feels to be multilingual. She responds, "being a mixed kid and having a proficiency in English, French, Hindi, and Creole has allowed me to connect with diverse people, both in real life and on Instagram." She continues, "It enabled me to have empowering conversations with other people who've had similar experiences to me, and this will always be the biggest win of being a WOC for me." With Ushi's profound story it is no secret that people of colour have so much to offer our media space. We both agree that there is a missed opportunity when brands and companies skip over the talent within our community.
In the social media world, Ushi tells me that finding brands that genuinely share similar values can be a challenge. With culture being a major part of her content, I asked Ushi to share what she looks for in a brand partnership. "In case brands are less receptive to the cultural influences on my page, the least I expect is that they respect and appreciate my content and are able to recognise the quality, effort, and value associated with it," she tells me. More than just an aesthetic, Ushi urges brands consider the following. "When brands themselves consistently and overtly value diversity, this always strikes a chord with me." She continues, "It means a lot more when brands approach you holistically as a person rather than just a marketing tool; brownie points if they have taken the time to go through your body of work and the nature of engagement present on the page, rather than taking a quick look at your follower count!" In addition, Ushi notes that it is very obvious when BIPOC talent are used for the sake of a campaign. "Over the past two years, I began noticing certain PR companies who 'happen' to reach out to me only when their client's campaign is centred on diversity and inclusivity." We both agreed that whilst diversity campaigns are powerful, they should not be used as a 'spotlight feature' moment.
Our conversation was brought to a close and I asked Ushi to compare her first experience with buying makeup to the present day. Reminiscent of the first time, Ushi tells me, "this question brought back so many bittersweet memories! For the longest time, until my teens at least, I believed that foundations only come in three shades: light, medium, deep. If you didn't perfectly fit into any, makeup just wasn't meant for you." A very harsh reality for so many of us.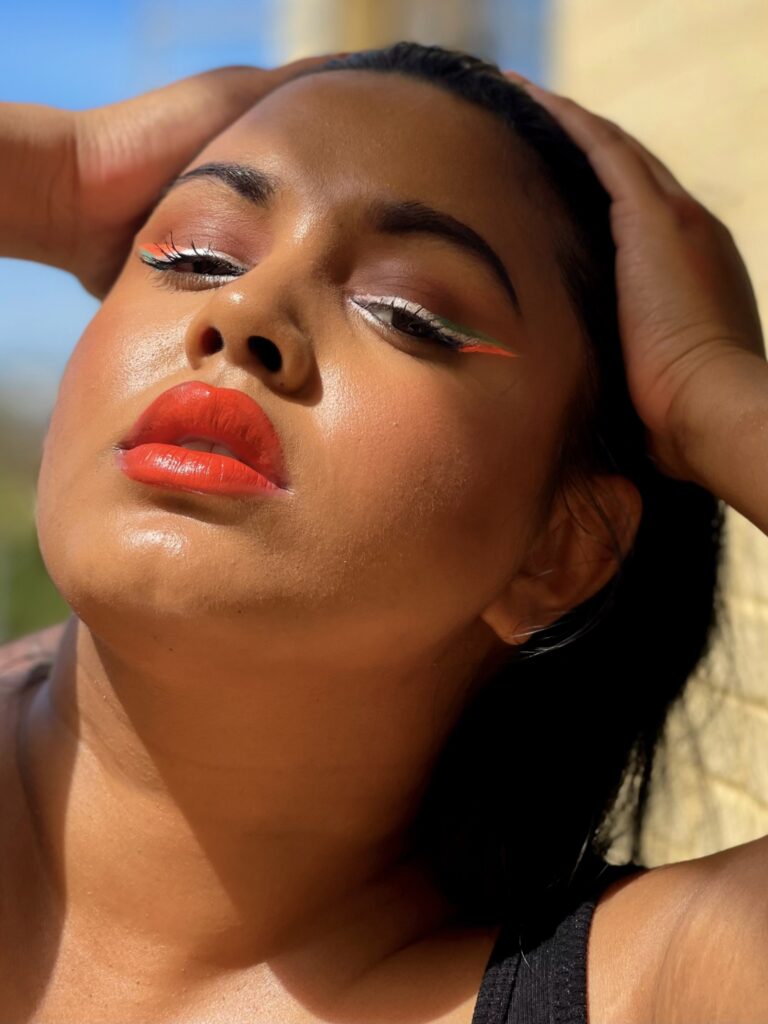 Ushi pays tribute to her first time using MAC Cosmetics. "I remember hearing about MAC Cosmetics and its jaw-droppingly wide shade range during my mid-teens and it gave me hope— like my skin tone was worthy enough to be bottled in a foundation and that I was worthy of wearing foundation." Today's beauty experience for Ushi is a comforting example of how far the beauty industry has come. I asked her about her current experiences. "Today, I can actually attempt to get matched in-person instead of watching swatches videos," she says. Ushi told me she is aware of her privilege, having a medium skin tone, however, she mentions, "over the last few years, I can look at these global beauty brands, especially those owned by a WOC, and see myself in their campaigns, products, and ethos. In that sense, we've come a long way".
Whilst there has been substantial change, there are still many slip-ups in the industry and Ushi acknowledges this gap. "I do recognise that there are many people of colour with a deeper skin tone than mine who may not experience the positive change I have," she says. "And every so often, I do get reminded that even my medium skin tone may not be a priority for every makeup brand out there."
I concluded our chat the same way as all of the previous interviews. I asked Ushi to share her advice for the Australian beauty industry.
"Makeup is a beautifully fluid form of self-expression and personally, has shaped my creativity, freedom, and confidence in significant ways. It should be the last thing to be confined by gender, race, ethnicity, and complexion. The way 16-year-old Ushi felt when she saw her shade being worthy enough to be included in MAC's foundation range— everyone deserves to feel that when they walk into any makeup counter. And it's saddening that many have still not experienced this empowering feeling. To the retailers and brands who claimed that there isn't a demand for expansive shades (which always happen to be the deeper shades), well, here we are. We've always been here; you just have to see us. For Australia to celebrate its full potential as a diverse and inclusive country, how about we start making every skin colour feel included, accepted, and unapologetically beautiful?"
Faces of Australia season 2 is brought to you by