@carinachaz
Despite identifying as a "zillennial", Carina Chaz feels very Gen Z. Softly spoken, stylish in a Scandi-maximalist way and hyper aware of the social and cultural environment, Carina is on a mission to "make life smell really good". As the founder, creative director and nose behind unisex, sustainable and (as the name would suggest) cool as hell fragrance brand, DedCool, she is doing just that.
We caught up with Carina to learn more about bringing DedCool to life, why value alignment is such an integral part of building a brand for Gen Z and the gap she saw in the fragrance category.
The first major point of difference for the brand is the focus on clean ingredients and sustainable practices. While clean is a buzzword in 2023, Carina's vision for the brand (prior to its 2016 launch) had much more to do with family values and upbringing than it did predicting trends.
"My mum and dad both immigrated to the US in the 80s' and they started a small, clean beauty boutique, which at the time was not anything people were thinking about or doing," she says. Ahead of the curve, Carina explains she grew up a conscious consumer, before it became a trend affecting Gen Z purchasing decisions. "My mum was born on a farm in Italy. She lived very holistically."
Without claiming the brand is 100% natural, DedCool fragrances are certified vegan, cruelty free and non-toxic. "It's definitely a challenge, we have to go through a lot of hoops and regulations and testing. Not only that, it's expensive to get verified, but at the end of the day, it is just a part of our brand DNA." And while it has been non negotiable for the brand since the beginning – it has also been a contributing component to its success. For a generation looking for sustainably minded brands, DedCool feels authentic. "We want people to trust us, we want products that are healthy for our consumer and for the planet," she says. "Being a woman, especially in the world of fragrance, I understand that there are many hormone disruptors [in traditional fragrance] and for us, we want to celebrate our consumer by giving them products that we feel good about."
Layer two has been ensuring the brand feels truly inclusive…but also personal. In theory, these sound like contradictory ideas. In practice, striking the elusive balance has been a defining factor of DedCool's growth story.
As the creative director, Carina speaks of the bottle design: "I know my boyfriend loves pink, but he's not gravitating towards a pink bottle to put on his shelf. We completely eliminate all things revolving around gender and not only that but we show it in our branding, our messaging, how we represent ourselves to the outside world. This is definitely a part of our brand foundation," she says.
"It's funny to think when the brand concept came to be in 2016, at the time, there were no, I would say genderless product offerings, especially in the world of scent. For so long fragrance and just luxury and beauty has been so rooted in gender identity – the concept of DedCool completely illuminated that."
Not without its challenges, she explains "It's hard because of course, our bottles are [intentionally] discreet and then sitting next to a bottle that is custom and beautiful, you have to fight for the shelf space at the end of the day," she says. "I think the brand recognition has been so strong and now, the visibility and awareness is there."
An important factor with fragrance being so closely tied to emotion and memory, (think: signature scent) Carina acknowledges "There's no fun when you smell exactly like your best friend at the end of the day…We want to [provide] a product [our customers] can use to celebrate themselves and ensure individuality is at the forefront."
By no means a new strategy in the world of fragrance, but not often a leading ethos for a brand, DedCool's answer to personalisation and self-expression is scent layering. "We want people to express themselves with our range, within our fragrances, so layering is a huge piece of it."
While DedCool offers a range of opportunities to integrate fragrance into your every day (like air fresheners, Poop Drops and newly launched laundry detergent), Carina explains empowerment is the end goal. "I want people to understand that they can experience the brand at a price point that makes sense for them," she says. Fragrance is a mood-boosting experience, "If someone is not into wearing fragrance, there are definitely ways to [integrate] DedCool into your daily life. If we can't be every product for you, we want to be at least one," she says.
As with any brand that truly resonates with Gen Z, TikTok sooner or later plays a role. While testing and experiencing a product IRL has become a priority post COVID-19, the discoverability of the short-form video platform has been crucial for brands to reach their desired audiences.
"TikTok has been an amazing discovery platform. Red Dakota we laugh, that is our TikTok famous scent," Carina explains. "Prior to Red Dakota [going viral], it was a scent that did fairly well but at this point, it is one of the leading fragrances…and now you see [the awareness of the brand] extend into every other product," she says.
See Also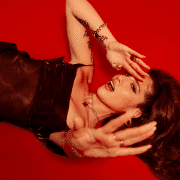 Another strength of the platform, and social media more broadly is community. "We're very active with our community," Carina says. "They share not only what they want to see from the brand but what they're loving, what they don't like and it helps us be stronger." Most importantly, however, and clearly speaking to the genuine alignment of the brand for Gen Z, "It's so great we get to be ourselves on a platform [like TikTok], where we don't have to pretend to be anyone else," she says.
In an industry that has for so long been rooted in the traditional, DedCool's goal is to do things differently, but also authentically. "Creating a more obscure way to experience fragrance…breaking boundaries and blurring the lines and it worked," Carina says of the brand's success so far. "We want people to express themselves through scent…to create fragrance that is easily accessible and wearable for everyone," she says.
DedCool is now available at MECCA in store and online.