This should be fun!
Viral Instagram page, TikTok Room, revealed yesterday that it will be holding its very own creator awards this coming Saturday.
With over 1.8 million followers, the account pays homage to the wildly successful Instagram outlet, The Shade Room, reporting on the latest TikTok news in real-time via quick social media posts. Though anonymous at first, the team behind TikTok Room was later revealed to be two teenage friends Nat and Elasia who met online. The girls first started blogging about Musical.ly stars under the username Muser Shade Room, which was absorbed by TikTok.
"Get ready y'all! VOTING STARTS FRIDAY! Award show is on Saturday!!!" they wrote, explaining there will be a quick 24-hour turnaround from voting to the award show.
No further details have been shared, however some of the platform's biggest creators have sent in videos telling fans to vote for them…despite not actually knowing what exactly they're in the running for.
Jacob Sartorius was the first to address the awards saying, "TikTok Room! We just went shopping, I was told I'm nominated for something on Saturday. Go vote, go vote, go vote!"
Charli D'Amelio, who was the first to hit 100 million followers on the app earlier his week, also encouraged fans to vote. "Hello it is Charli D'Amelio," she said. "And there is a special award show going on Saturday so make sure that you guys go vote!"
Other creators that have sent in clips include Nessa Barrett, Loren Gray, Sissy Sheridan, Vinnie, and Bryce Hall, all citing they've been nominated "for something." Bryce joked that maybe he's been nominated for "most problematic."
The tea page has since received some backlash for providing little explanation as to the voting process or what the award show will entail. However, the girls responded via Instagram post, saying they've been doing these creator awards "since @musershaderoom and the musers would also make videos like that!"
They also shared they will be blocking any hate before quickly deleted the post.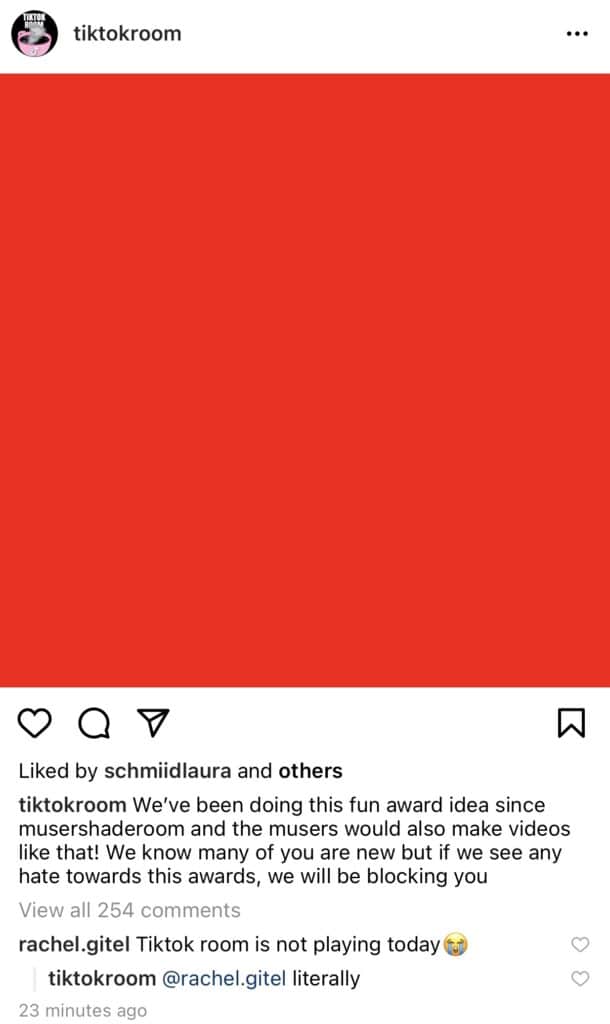 While the details are still murky, it seems the public will gain access to voting via TikTok Room's link in bio tomorrow.
Fans can follow along with the hashtag #ttrawards2k20.
We can't wait to see who wins!