TikTok / @charlidamelio
Charli D'Amelio has found herself at the centre of controversy after she went viral for "pretending" to work as a Walmart cashier.
The video, first posted to Charli's TikTok account, was promotional content for Be Happy Popcorn Snacks. Both Charli and Dixie are featured in the TikTok video and can be seen wearing Walmart uniforms and restocking the shelves.
Be Happy Popcorn Snacks is the newest venture from D'Amelio Brands.
Under the framework of D'Amelio Brands, the family will be launching companies across various industries, including fashion, beauty, lifestyle, and, of course, food. So far, D'Amelio Brands is comprised of D'Amelio Footwear, ZitsAllright and Dam Fam Merch.
"With Be Happy Snacks, which was inspired by Dixie's hit song, we are aiming to spark joy and satisfy cravings with fun, unexpected snacks that bring people together," CEO of D'Amelio Brands, Marc D'Amelio, explains.
A handful of comments on Charli's TikTok were excited about the D'Amelio's latest project; however, most users were critical of the sisters "cosplaying" as the working class. Not only do these viewers see the video as "demeaning," but they also claim that the D'Amelios have trivialised the struggles of working a minimum wage job.
"I can barely afford to live as a retail worker but i'm glad ur having fun lol," one user wrote.
"I wish i had enough money to cosplay as a retail worker, so fun being in the working class", another added.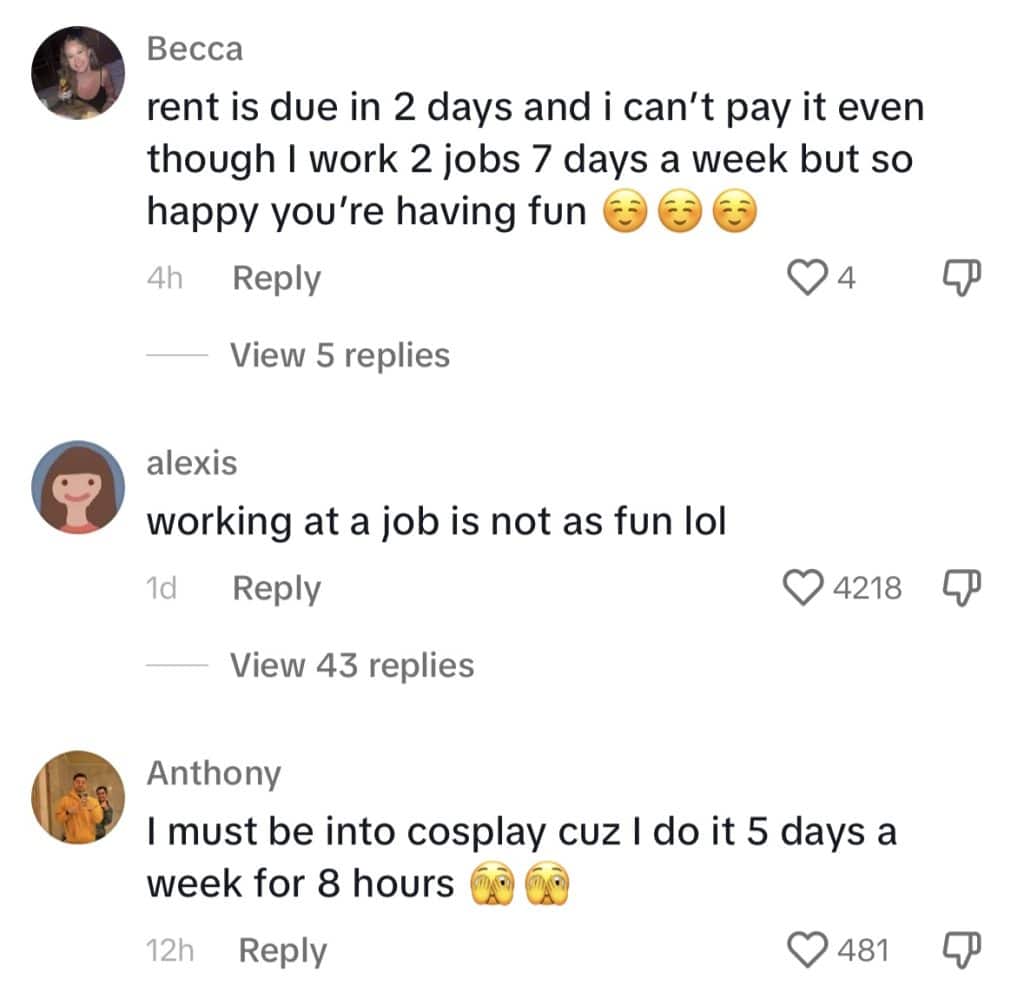 The criticism directed toward the sisters intensified when @PopCrave posted a behind-the-scenes video of the shoot on X. In just two days, the post has garnered over 113 million views, with over 25,000 likes and 19,000 quotes.
Just as on TikTok, many X users felt that the D'Amelio sisters went too far in their attempt to appear "relatable." Much of the commentary surrounding the post has criticised Charli and Dixie for treating working a minimum wage job as if it were a trend of some kind.
"It's just the way [Charlie and Dixie are] acting like it's cute and fun but in reality these jobs are so draining and awful," one X user shares. "The people who work them are only there bc they don't have any other way to get money."
While Charli and Dixie's efforts to look like they are having fun makes sense for promotional content, it's clear that they did not read the room.
The backlash against the D'Amelios is part of a broader discussion that has been happening online, particularly about Gen Z work culture and the challenges of working a 9-5 job.
Earlier this month, a TikTok user named Brielle went viral after sharing a tearful video reflecting on her experience working a full-time job after graduating from University. In the video, which has now amassed over 2 million views, Brielle criticises the corporate grind.
"This is my first 9-5 job after college… and I'm commuting in the city and it takes me f—king forever to get there," she says. "I don't have time to do anything… I don't have time or energy to cook dinner, I don't have energy to work out."
While the response to Brielle's video was mixed, many X users have come to her defence, noting that her "critique [of productivity culture] is deeply valid."
Unfortunately, the struggles of working a 9-5 job are often magnified on social media— especially when internet users witness everyday people seemingly transform into social media influencers overnight.
With TikTok democratising viral fame, there has been a substantial pushback against full-time content creators like Charli and Dixie. Digital culture enthusiasts no longer have the appetite for "out-of-touch" influencers who flaunt their privilege or trivialise the "average" working-class lifestyle.
All that to say, influencer-first companies might need to think more critically about the messages they convey through their marketing and promotional content.