The Sesh / Jaclyn Hill
Jaclyn Hill has addressed comments made about her cosmetics business by her former friend, Marlena Stell.
On May 18th, Marlena went on The Sesh podcast with Kendall Rae and Janelle Fields to "expose" the YouTube beauty community. Marlena is an OG YouTube creator and the founder of the beauty brand Makeup Geek, which closed its doors in 2022.
Throughout the episode, Marlena spoke openly about her falling out with Jaclyn.
She claimed that Jaclyn screwed her over on a Makeup Geek collaboration years ago, putting the brand $4 million in the hole.
Marlena also said that she introduced Jaclyn to connections within product development and manufacturing when she was first thinking about launching her own beauty brand and that Jaclyn essentially ghosted her as a friend after that.
Most damaging, however, were Marlena's claims about Jaclyn's 2019 lipstick launch that rocked the beauty community.
In June 2019, Jaclyn launched her own makeup line in collaboration with Morphe. The debut product was a range of nude lipsticks. This was an exciting announcement for fans and something Jaclyn had been teasing for years on her YouTube channel.
According to Jaclyn, the lipsticks were creamy, pigmented, and long-wearing. The swatches in her reveal video impressed fans and the range quickly sold out.
But when customers started receiving their lipsticks, something was off. Many took to social media to share that their lipsticks appeared to be contaminated with hazardous debris including sharp plastic shards, long black hairs, white fuzzies, and even mould.
On The Sesh, Marlena alleged that Jaclyn and Morphe were aware of the sanitation issues at the lab used to make the lipstick range because Marlena had warned them not to work with that facility. They chose to do so anyways because it was the cheaper option.
While this is not the first time that Marlena has alluded to this, fans of Jaclyn's have been urging the creator to address these claims since the episode went live.
Three weeks later, Jaclyn has now responded to Marlena's allegations.
In response to a TikTok comment asking her to address the interview, Jaclyn wrote, "I don't intend to [comment on The Sesh podcast]. I addressed this situation 5 years ago on YouTube. Have also sent her 3 texts & was left on read."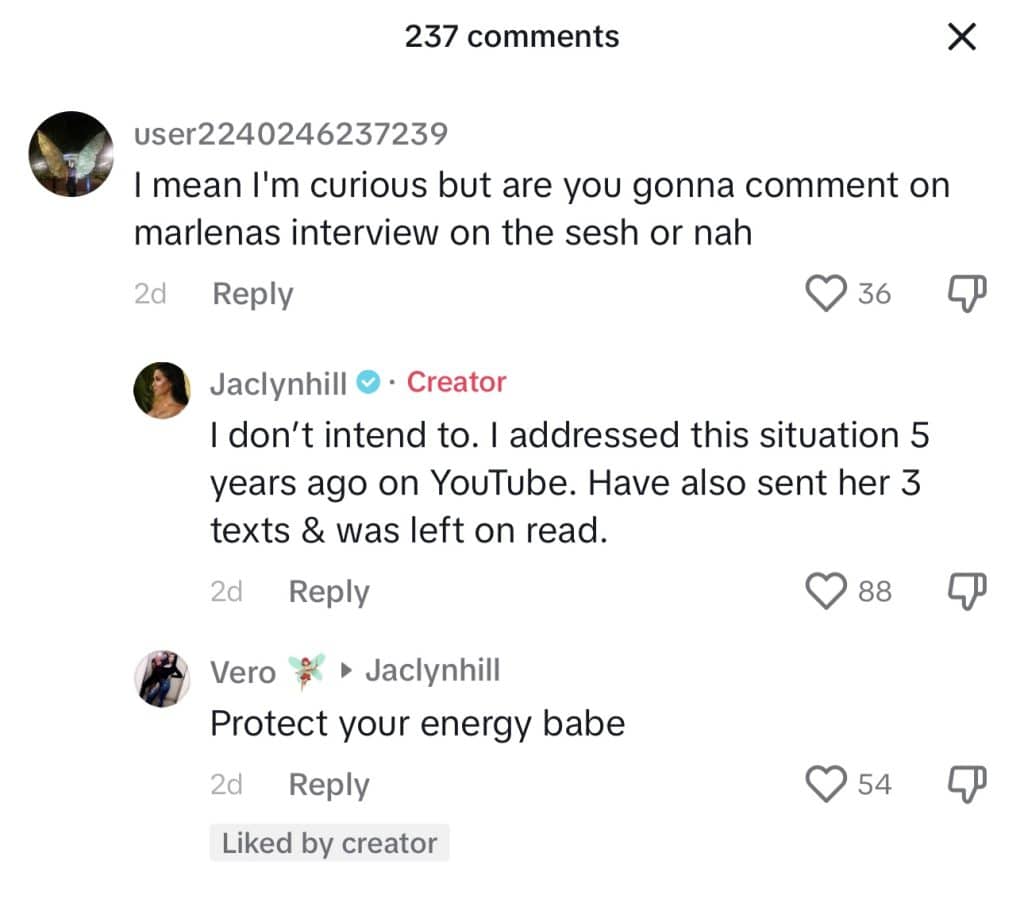 In 2018, Jaclyn published a 45-minute YouTube video addressing several of her recent scandals to date, including the deterioration of her relationship with Marlena and her decision not to move forward with the Makeup Geek collaboration years prior.
Jaclyn has not yet refuted Marlena's suggestion that she and Morphe were aware of the sanitation issues at the lab they used to create her lipsticks.