@mannymua733
Manny MUA has come under fire after publicly showing support for fellow beauty YouTuber James Charles.
Despite staying out of drama over the last few years, Manny took to social media this week to share posts supporting James and his new teddy bear coat collection for his merch brand, Sisters Apparel.
The beauty guru first showed support via Twitter, responding to James' launch announcement in a since-deleted tweet that read, "I want in every color".
Days later, Manny posted a photo to his Instagram stories wearing one of the new Sisters Apparel jackets with the caption, "feelin so cute and cozy in my @sistersapparel new collection!"
Though it might seem innocent enough, many have been quick to criticise Manny for giving James love and support off the back of James' ongoing controversy this year.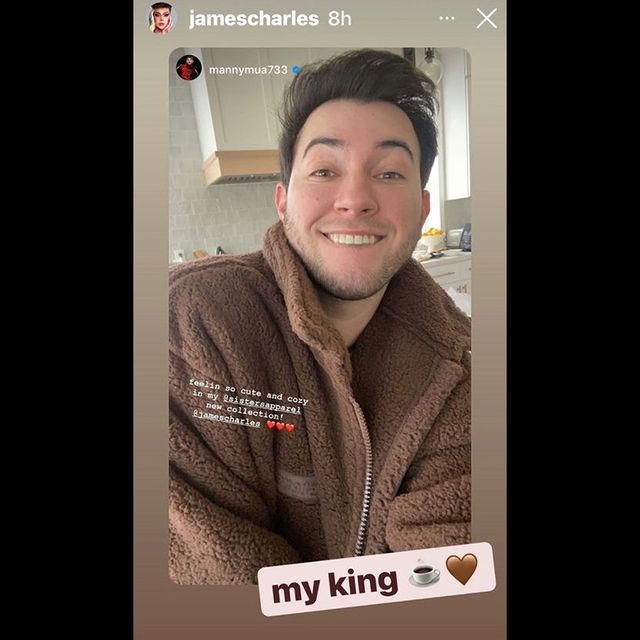 In February 2021, James was accused of sexting a 16-year-old fan via Snapchat named Isaiyah. In a two-part TikTok series, Isaiyah claimed that James added him on Snapchat, sent unsolicited nude pictures, and encouraged him to send explicit Snaps in return. Isaiyah alleges he made it clear to James that he was 16-years-old, however, James continued to ask for nude photos and attempted to FaceTime him.
This is one of many similar accusations against the influencer. The accusations against James include sexting minors, soliciting racy photos from minors, manipulating and grooming minors, as well as abusing the fan-influencer power dynamic for his own personal agenda.
On February 26, James responded by releasing a statement on Twitter denying Isaiyah's allegations against him, followed by a since-deleted YouTube video posted April 1st addressing several of the accusers and their claims.
Amid the controversy, James was dropped by long-time partner Morphe, removed as the host of YouTube Originals Instant Influencer, and his YouTube channel was temporarily demonetised.
James returned to his channel in early July 3 with a video addressing his behaviour. The video received mixed reviews from fans.
Amongst those disappointed to see Manny supporting James is Marlena Stell, founder of Makeup Geek and OG beauty YouTuber. In response to tweets about Manny, Marlena defended that the ramifications of James' actions this past year are not "cancel culture".
"There's a difference between people making stupid mistakes that are forgivable," she wrote. "Or making a big mistake but not doing it again. When a full grown adult repeatedly baits underage children that's actual criminal behavior. But sure, let's make excuses instead of protecting children".
In a follow-up, Marlena continued, "We've all made mistakes in life because no one is perfect, but [James Charles] has proven multiple times that underage children will be baited for sexual favors or advances. It's GROSS. And it's been multiple incidents of this not just one."
Additionally, fans seem confused about Manny's friendship with James, given he was such a vocal supporter of the now-defunct Frenemies podcast which played a huge role in platforming James' toxic behaviour and swaying public opinion on the matter.
Some have noted that Manny made a point to disassociate himself from James earlier this year amid the allegations— a decision that now seems like a PR move rather than a show of support for James' alleged victims.
Manny has not responded to the backlash at the time of publication.