TikTok / @jack.wright
TikTok star Jack Wright has come under fire for a recent video he posted to his 11.3 million followers.
Over the weekend, the 19-year-old posted a TikTok re-creating a scene from Netflix's Jeffrey Dahmer biographical crime series, 'Monster: The Jeffrey Dahmer Story'.
In the video, Jack swigs from a milk jug donning Dahmer's signature glasses, parted hair, and white t-shirt with the caption, "POV: psychopaths drinking milk by itself".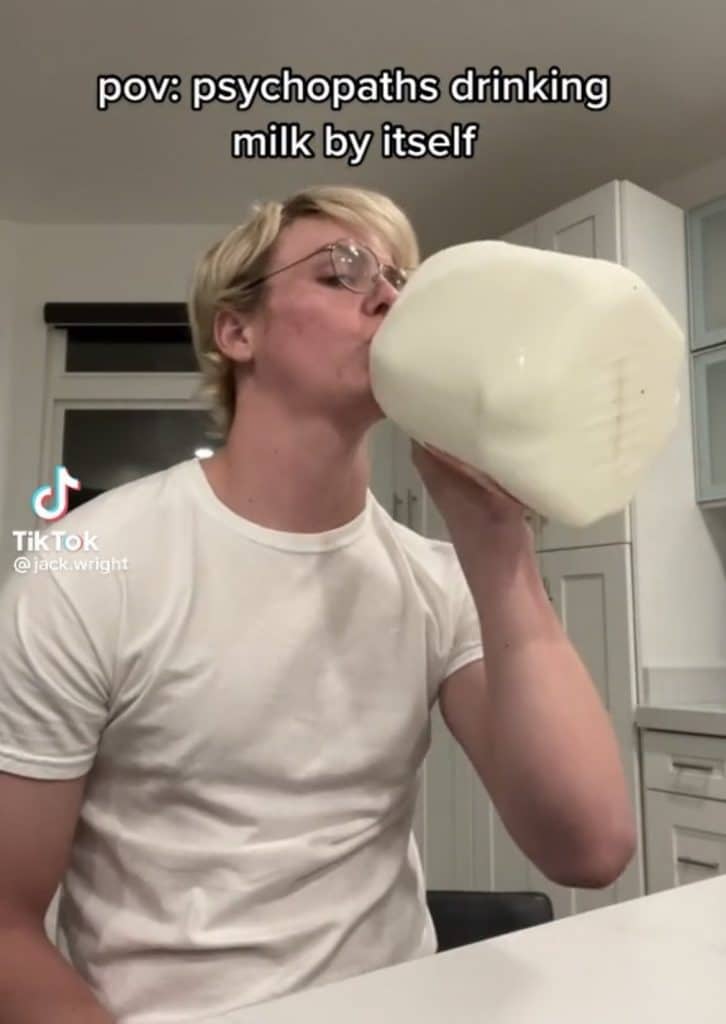 Users were quick to call out the creator for making light of Dahmer and his 'quirks'— a running criticism of the series in general. Many felt the series disrespected Dahmer's victims and their grieving families by humanising the serial killer.
"Hey Jack I know [you] probably don't understand and aren't thinking, but Jeffrey Dahmer killed 17 people. He's a rapist and some of his victims are underage and [the] majority [were] Black," wrote pop culture creator @yakiemsgreenscreen in a stitch of Jack's video before showing photos of Dahmer's victims. The stitch has since been deleted.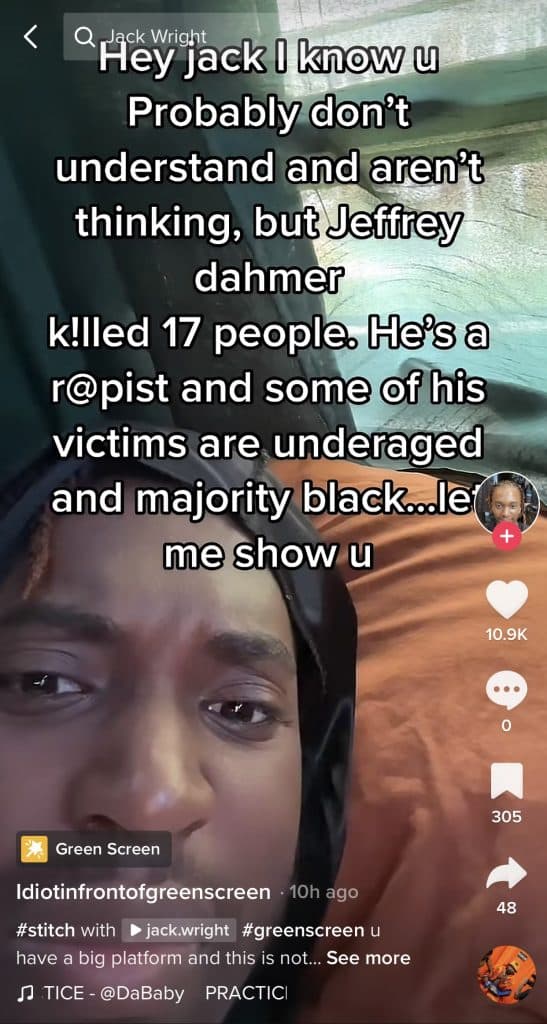 Several other users pointed out that the video was particularly insensitive coming from Jack, given he is a survivor of sexual assault himself.
"Him being a victim of SA then cosplaying as Jeff Dahmer for Halloween is an odd take…," wrote Anna-Kate Alexis over a duet of Jack's video.
In 2021, Jack accused fellow TikTok star Sienna Mae Gomez of repeatedly sexually assaulting him over the course of their friendship.
Jack also alleged that Sienna would constantly break into his house while he was sleeping, and he would wake up with her lying beside him with her hands down his pants.
"Part of me wants to blame myself for being nice and sticking around after so many, so many times," he said in a YouTube video. "But now I realise that I was stuck in this like, manipulative cycle of her acting like she extremely cared about me and then that night she would do stuff to me."
He concluded the video by saying he was proud of himself for speaking up about what he experienced and wants others to know that it's okay to speak up about sexual assault, too.
Jack has deleted his Jeffrey Dahmer TikTok video and has not responded to the backlash at the time of writing.