Jack Wright / YouTube
https://www.instagram.com/p/CHX9EnDBr9V/
Updated: January 22nd, 2021
TikTok star Jack Wright has addressed accusations that Sienna Mae Gomez sexually assaulted and verbally abused him.
In a new video titled 'what sienna mae did to me', the 18-year-old sat down to tell his side of the story nearly eight months after the allegations against his rumoured ex-girlfriend went public.
Though Sienna and Jack never publicly confirmed their relationship, the two began posting videos together on their social media platforms in October 2020. The news of possible sexual misconduct broke a week after the couple allegedly called it quits.
On May 30th, 2021, Mason Rizzo posted a note to Twitter alleging claims of verbal and sexual assault against "one of his best friends since kindergarten." Though he kept the note anonymous, Jack retweeted the post. Fans were soon speculating that the note was referring to Sienna and Jack.
"I struggle with seeing a girl getting praised after telling my best friend to kill himself and sexually assaulting him numerous times after he set boundaries and then repeatedly wonder why 'he doesn't like you back'," Mason wrote on Twitter. "She also has a history of verbally abusing people in high school and in LA. She prioritizes the growth of her platform rather than the positive message she represents herself as followers should not be an excuse to get away with abusive behavior. You guys all deserve to know the truth about her."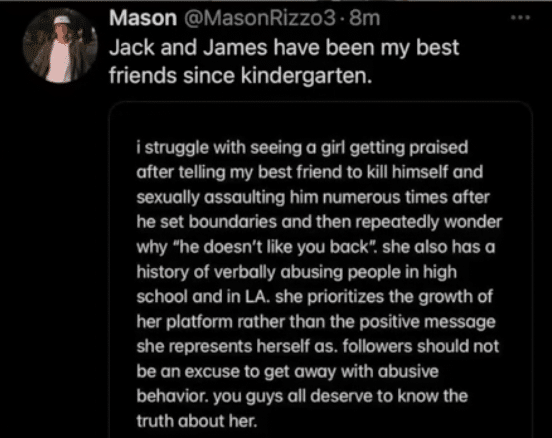 James Wright, Jack's twin, later came to his brother's defense on social media, claiming he couldn't sit back and watch Jack get painted as the "bad guy." The Wright brothers also posted cryptic TikTok videos alluding to Sienna's problematic behaviour.
Sienna took some time off social media following the allegations, returning months later with a video stating the claims against her were "unequivocally false". James responded to the video via Instagram story, calling for Sienna to "get help".
Despite her best efforts to deny the accusations, the controversy around Sienna intensified when TikToker Lachlan Hannemann posted a video showing evidence of her sexual misconduct. Initially posted on June 3rd, the now-deleted video shows Jack passed out on a couch with Sienna kissing and touching him. Sienna posted a second video addressing the clip, saying it was "normal" for her and Jack to kiss one another and insisting that he was not unconscious when the video was recorded.
During this time, both Jack and Sienna were filming for Netflix's reality show about The Hype House. The series aired earlier this month, but both teens were noticeably cut from the show.
In his new video, Jack starts by saying that Mason's initial tweet was "true" and that his family and his lawyers asked Mason to take the tweet down so they could handle it privately.
He goes on to say that Sienna's first video addressing the accusations "hurt a lot" as she spent eight minutes "invalidating" his feelings and "saying untrue stuff" about Jack, James, and Mason. Jack also claims that Sienna gaslit him about the video that Lachlan posted.
"It was typical gaslighting to a victim," he says. "It was, 'why didn't you stop hanging out with me? Why didn't you tell me no in the first place?'"
Jack clarifies that they both knew they were "just friends" when they first started hanging out and that he had set out clear boundaries with Sienna.
The creator alleges that Sienna had repeatedly sexually assaulted him over the course of their friendship. He claims that Sienna would always apologise after, saying it would never happen again and that she would be seeking therapy. He says Sienna took advantage of him while he was vulnerable— like when he had been drinking— because she knew his boundaries.
Jack also alleges that Sienna would constantly break into his house while he was sleeping, and he would wake up with her lying beside him with her hands down his pants.
"Part of me wants to blame myself for being nice and sticking around after so many, so many times," he says. "But now I realise that I was stuck in this like, manipulative cycle of her acting like she extremely cared about me and then that night she would do stuff to me."
Jack then shares screenshots from his DMs with several men who claim Sienna has done similar things to them. He finishes tearfully, saying he's proud of himself for speaking up about what he experienced and wants others to know that it's okay to speak up about sexual assault, too.
Days later, Sienna's team responded to Jack's video in a statement to NBC, denying the allegations. "There has been no police investigation— not even a police report to our knowledge— no charges, no private lawsuit and no contact between Sienna and Jack or their respective legal teams in many months," they said. Sienna's rep also referred to the allegations as a "reframing of their history".
Sienna has since shared her side of the story in an article published on Medium, which you can read here.