@jamescharles
https://www.instagram.com/p/CC9CoShjhwV/
Multiple California influencers have come under fire recently for partying during the coronavirus outbreak and ignoring CDC guidelines.
First, YouTuber Jake Paul copped backlash after he threw a massive party at his California mansion the weekend of July 11th. Footage of the rager was leaked, showing hoards of attendees who were not social distancing and not wearing masks.
This led to an outcry across social media as well as within the Calabasas community itself. Multiple neighborhood residents reportedly called the Calabasas Mayor's office, who said she was she was "outraged" by Jake's party. "They're having this large party, no social distancing, no masks, it's just a big, huge disregard for everything that everybody is trying to do to get things back to functioning," said Mayor Alicia Weintraub. "It's really just a party acting like COVID does not exist, it's acting like businesses aren't closed."
It has since been confirmed that one of Jake's close friends, Tanner Fox, tested positive for Coronavirus. Jake addressed the controversy in a July 18th vlog where he apologised for the party. However, many feel the apology was rooted in sarcasm.
In a similar vein, TikTok star Larri "Larray" Merritt was highly criticised for throwing his birthday bash last weekend at The Hype House. With many high-profile influencers in attendance, including Tana Mongeau, Charli and Dixie D'Amelio, James Charles, Nikita Dragun, and Emma Chamberlain, the party attracted lots of negative press and some fellow viral stars got involved.
OG YouTuber Tyler Oakley tweeted at the famous guests, writing, "Please consider social distancing, mask wearing, & using your huge platforms to encourage responsibility during a worldwide pandemic." He also asked fans to revaluate following influencers who are partying during these times.
Larray replied to Tyler's call to action, saying his party was "a dumb thing to do." He also said he will "do better & actually take this shit seriously."
Shortly after, Larray took to Instagram to announce to his 4.1 million followers that he was putting himself in self-quarantine.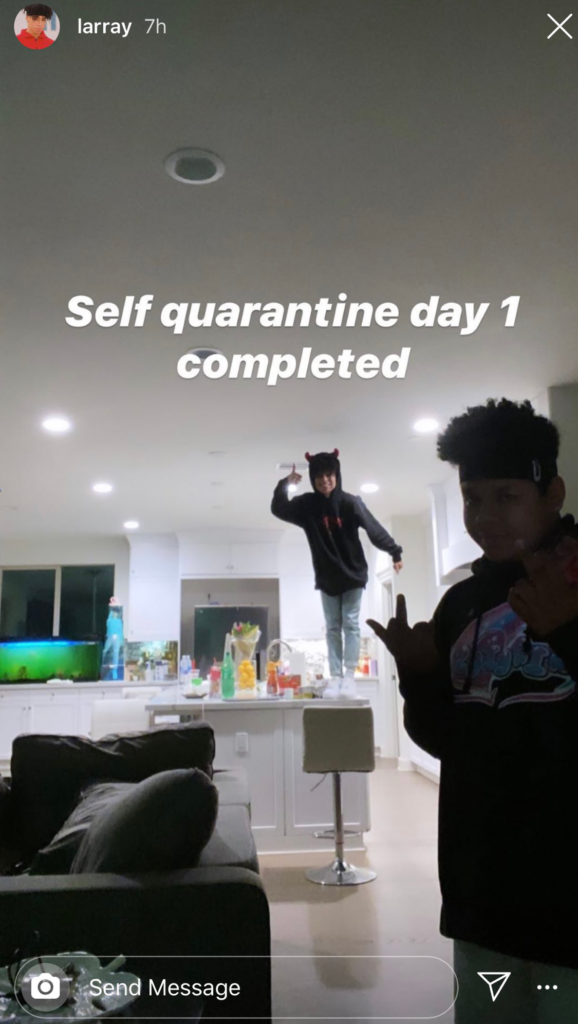 James Charles has also apologised for attending Larray's birthday celebration in his latest YouTube video, A Day In The Life Of James Charles.
At 17:05, James shares a message to viewers on a black screen which reads, "Hi Sisters! I decided to cut the party footage from the video. Even though I have been wearing a mask in public and have tested negative multiple times, going to a party during a pandemic was a selfish & stupid decision. People's safety and keeping COVID-19 contained is FAR more important than celebrating a friends birthday and unsafe partying is not something I want to promote to my audience. I recognize that with my platform comes responsibility, and I encourage you guys to be smarter than I was – Wear your masks and continue to social distance. Love you."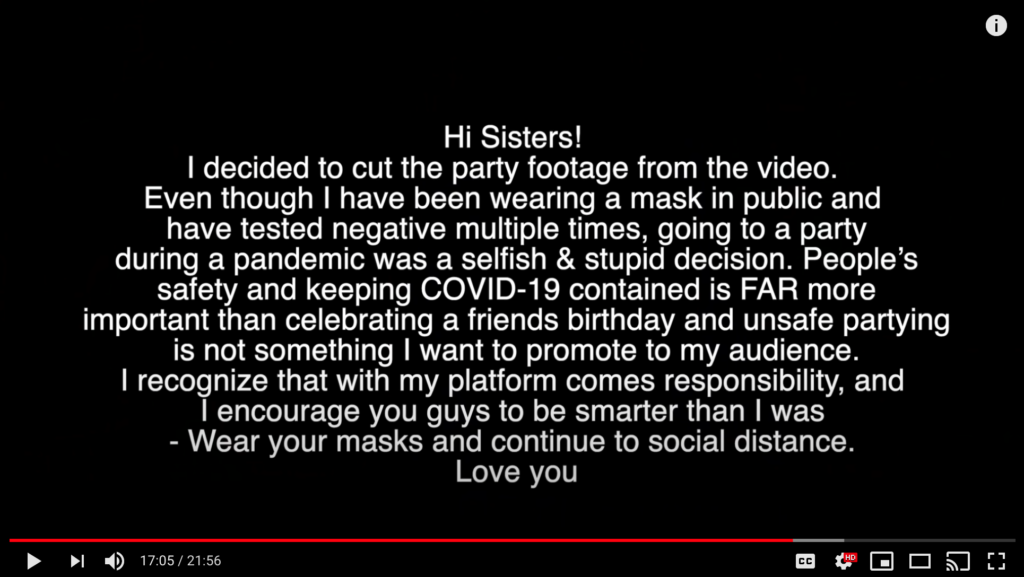 Now, Tana Mongeau has also joined the apology train.
After promising fans a series of videos addressing racist accusations against the star, Tana has spent the last few weeks avoiding accountability and ignoring COVID-19 guidelines. The YouTuber attended both Jake Paul's party and Larray's birthday. She has also been paparazzied at multiple L.A. restaurants with groups of friends.
However, it was a clip posted to Instagram that really tipped fans over the edge. Over the weekend, Tana uploaded an IG story at a party with influencer Erika Costell. Tana and Erika notoriously have drama relating to their shared ex, Jake Paul. In the clip, Tana and Erika look at the camera and say, "Listen, we don't fucking care. Sorry!"
Fans took this as a jab at those criticising the influencers for partying during the Coronavirus outbreak.
In an Instagram story posted today, Tana attempted to clear up any confusion, explaining that she and Erika were actually referring to their past drama. The 22-year-old also wrote that her recent escapades have been "careless" and "irresponsible." Tana said she holds herself accountable and will be "staying inside."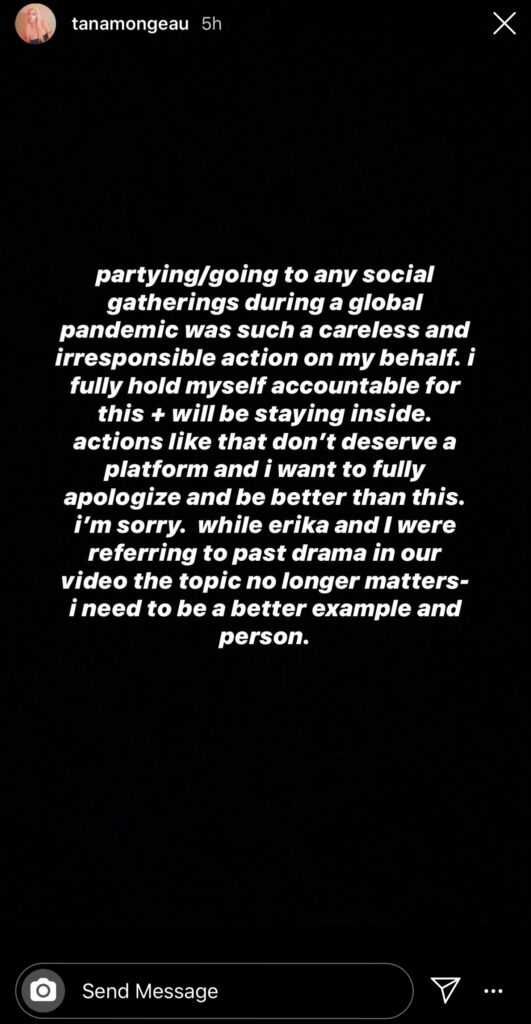 So in case anyone needs another reminder: practice social distancing, only go out for essentials, and wear?a?freakin'?mask.?