Riley Hubatka / Bryce Hall / Josie Canseco
https://www.instagram.com/p/CSkKHUiJAC3/
https://www.instagram.com/p/CHlezRij9mb/
Bryce Hall and Josie Canseco have fans even more confused than ever.
After denying dating rumours back in June, the pair made a spectacle over the weekend with a very public kiss at Bryce's 22nd birthday party.
In footage captured by several attendees, Bryce and Josie can be seen standing on a table as the crowd yells, "happy birthday!" Bryce then leans over and kisses Josie as everyone cheers.
Romance rumours began circulating about Bryce and Josie back in March when someone sent a tip sent in to celebrity gossip Instagram account Deux Moi, hinting that the two were "hooking up" following his split from Addison Rae.
ICYMI, Addison has recently moved on with songwriter/producer/guitarist Omer Fedi— whom she likely met through her friendship with Kourtney Kardashian.
"Bryce Hall and Josie Canseco (Logan Pauls Ex) hooking up in front of everyone at parties for the last month seems like an interesting play at Los Angeles love," the email read. "Bryce wants the internet to think he's still on good terms with Addison so his fight gets views."
A few days later, Bryce seemingly insinuated something was going on between him and Josie when he was a guest on the BFFs podcast with Josh Richards and Dave Portnoy, saying, "Me and Josie are like good friends. We're hanging out, like, we're just vibing."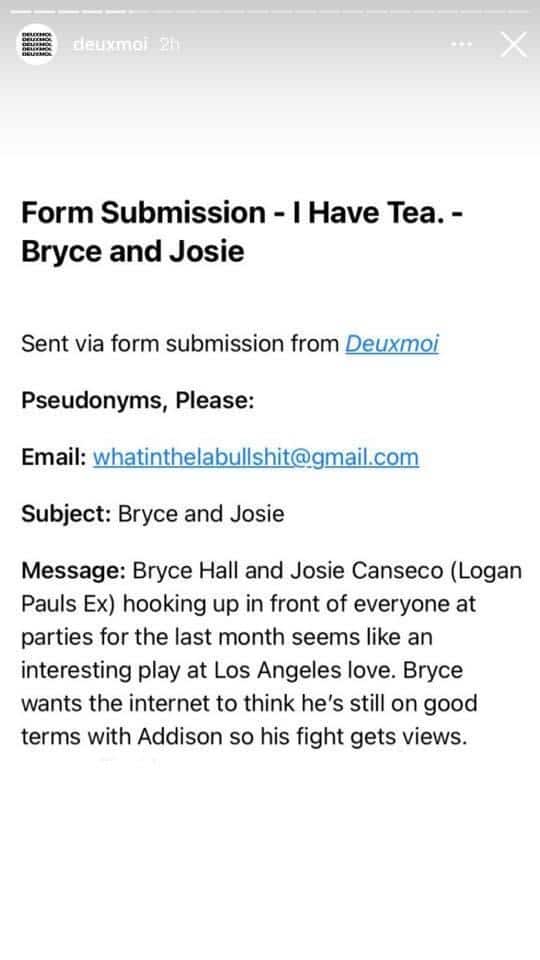 Josie split from Logan Paul around November 2020 after just a few months of dating, though she's remained close to his inner circle.
On February 28th, the model made headlines while dining out with Tana Mongeau— Logan's ex-sister-in-law— at Saddle Ranch. According to Instagram stories posted by Tana, Bryce sent Tana and Josie red roses and alcohol shots to their table amid allegations that he cheated on Addison.
Upon leaving Saddle Ranch, Bryce got into an altercation with The Hollywood Fix over the paparazzi filming him hanging out with Tana and Josie. He allegedly did not want the reporters to post the footage.
One day later, Addison tweeted that she was going to buy herself flowers, seemingly in response to Bryce buying Tana and Josie flowers. "Preferably not white or red roses," she wrote. Bryce and Addison were allegedly on rocky grounds at the time and split shortly after.
However, by June, Josie seemingly shut down rumours she was involved with Bryce, tweeting, "I can't believe I'm even addressing this but guys I'm reeeeaally not dating bryce. at all. in any way. pls stop. how many times do I have to say I'm completely single. being friends w someone and being supportive and close to them IS NOT dating. end of story."
In the following weeks, Bryce appeared to have moved on with TikTok star Riley Hubatka, posting several flirty videos together and telling fans the two are "dating" but Riley's "just shy".
But if Bryce's 22nd birthday party tells us anything, we're thinking the former Sway boy is single and just having fun.