Addison Rae / Jack Harlow
https://twitter.com/defnoodles/status/1408194915880693765
Updated: June 25th, 2021
TikTok queen Addison Rae reportedly has a new love interest!
The 20-year-old social media star is rumoured to be dating rapper-singer-songwriter Jack Harlow fresh off her split from Bryce Hall. Addison and Jack were apparently spotted together at Jake Paul's fight on Saturday and several fan pages are speculating the two are an item.
Today, commentary personality Daniel Keem, better known as KEEMSTAR, tweeted that he "just confirmed with a very very very credible source. Addison Rae is in fact dating Jack Harlow".
While their rumoured romance is still up for debate, fans think Bryce's recent Twitter activity might be confirmation that Addison and Jack are together.
After Addison and Bryce were also allegedly spotted together at Jake Paul's fight (what was in the Las Vegas water?!), Bryce tweeted, "im about to explode man" followed by, "fucking me, telling me u love me then sneaking around w/ someone else… that fuckin hurts".
Fans immediately assumed these ominous tweets were about Addison, as the couple split in early March when rumours surfaced that Bryce had cheated on the He's All That actress during a recent trip to Las Vegas. He maintains he remained faithful to Addison.
Hours later, Bryce tweeted that he feels "like such an idiot".
He also tweeted and deleted, "downgrade".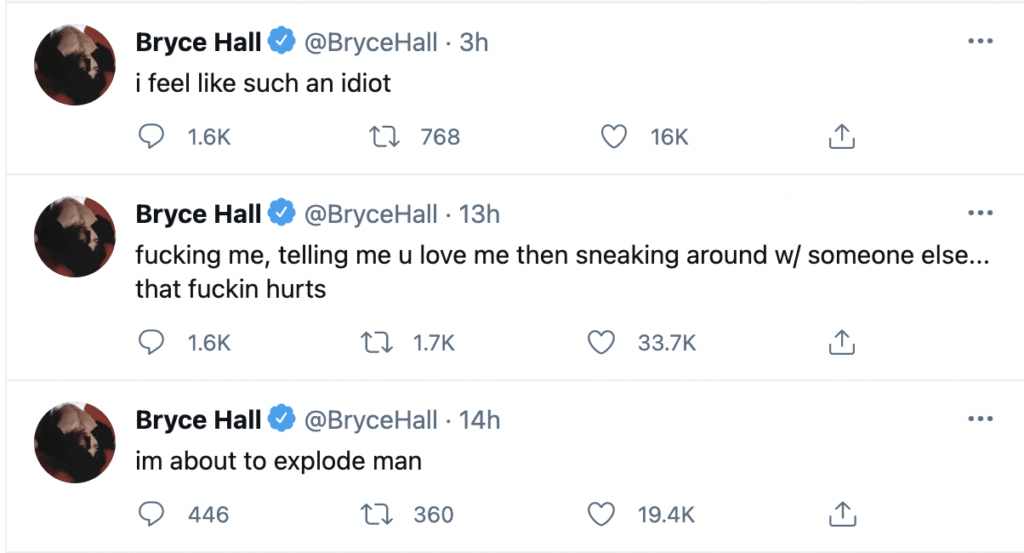 Since the breakup, Addison has also been linked to Logan Paul— rumours that were actually fuelled by Bryce himself when he went on the BFFs podcast with Josh Richards and Dave Portnoy. In the episode, Bryce told the hosts that after the Las Vegas cheating scandal, Addison began hanging out with Logan Paul. "Rumours [of the cheating scandal] started circulating across the internet," he said. "And then I see Addison and Logan hanging out, and I'm like, what the fuck?" Bryce was linked to Logan Paul's ex-girlfriend Josie Canseco at the time.
Logan is now allegedly dating Charly Jordan, so it seems the Addison/Logan/Bryce/Josie love cube is defunct.
Shortly after KEEMSTAR's tweet, Addison responded to the rumours she's dating Jack with a simple tweet, writing, "I'm single".
Despite Addison's tweet, however, rumours of their alleged romance have continued for months. On June 24th, Addison tagged Jack's photographer in her Instagram stories, leading many to believe that she's been spending time with Jack while he's on a trip to L.A.
Though we're not entirely convinced, we can't help but think where there's smoke there's fire.