@tanamongeau
https://www.instagram.com/p/CFyIdQGBbHC/
https://twitter.com/defnoodles/status/1311501985439379456
Tana Mongeau has found herself at the center of controversy once again for potential illegal activity surrounding the United States Presidential election.
In an effort to persuade her young fans to help vote Trump out of office this November, Tana has been vocal about her support for Democratic candidate Joe Biden— an unusual move for the YouTuber who typically shies away from speaking about politics on her public platforms.
But now it seems the star's support has backfired. Literally.

On Wednesday, Tana took to social media to promote her #BootyForBiden campaign which asks fans to send proof — like a selfie with their ballot— to show they voted for Biden. In exchange, Tana promises to send them a free nude photo on her OnlyFans page, Tana Uncensored.
Hours later, Tana announced that the campaign "broke Tana Uncensored," presumably from so many voter selfies.
Though Tana likely meant well, critics are quick to note that the star's campaign may fall under electoral fraud.
Unfortunately for Tana's fans who sent her photographic evidence, it is actually illegal to take a photo of your ballot in 16 states, including New York, Florida, North Carolina, and Georgia.
And while this offense does not directly affect Tana who lives in California, some believe her #BootyForBiden initiative also teeters the line of vote-buying.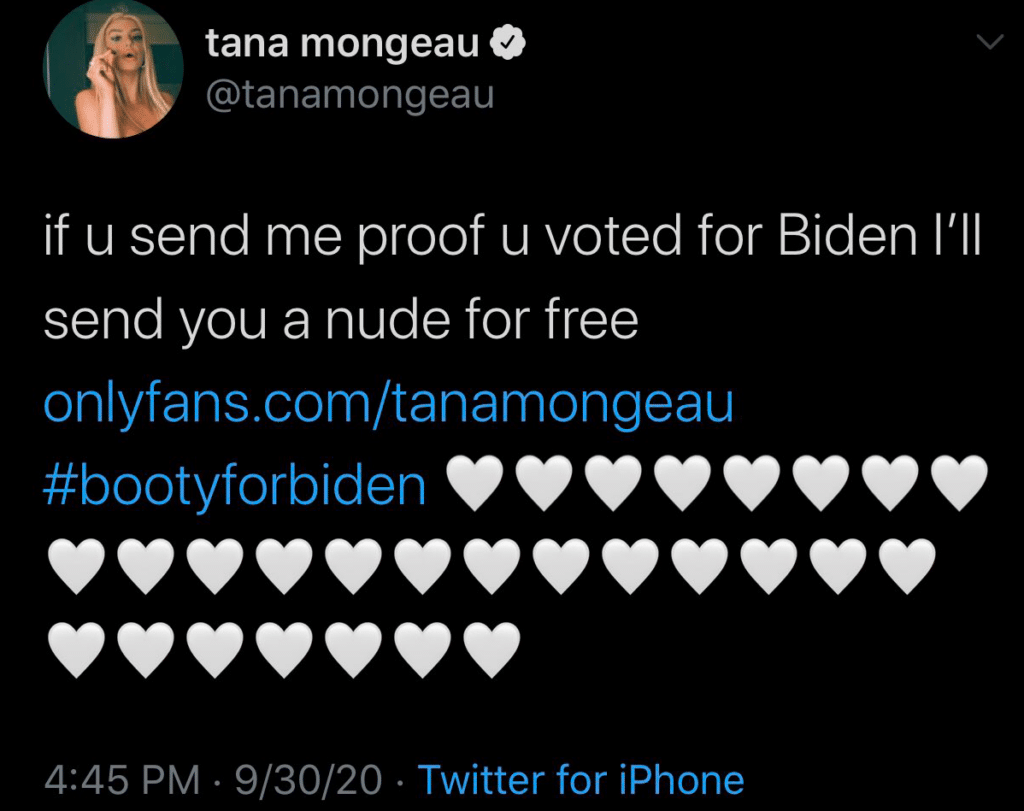 According to U.S. Code § 597, vote-buying involves "offers to make an expenditure to any person, either to vote or withhold his vote, or to vote for or against any candidate; and whoever solicits, accepts, or receives any such expenditure in consideration of his vote or the withholding of his vote."
Vote-buying, or attempting to sway someone's vote, is illegal across the United States and is punishable by up to two years in prison.
Shortly after her endorsement, Tana clarified that she does not require an actual photo of the ballot. "I just meant tell me," she tweeted. The 22-year-old also deleted her original tweet offering a nude photo in exchange for a vote for Biden.
Regardless of the intent, many believe Tana's recent political agenda is a strategic PR move to avert attention away from the racist accusations brought against her amidst the Black Lives Matter movement.

The controversial star attempted to apologise for her history of racist behaviour in a YouTube video earlier this month, during which she first endorsed Joe Biden. The video was not well received and Tana has since promised to make a follow-up video addressing the backlash.
While we're all for encouraging young America to vote, committing possible electoral fraud is probably not the best way to go about it.