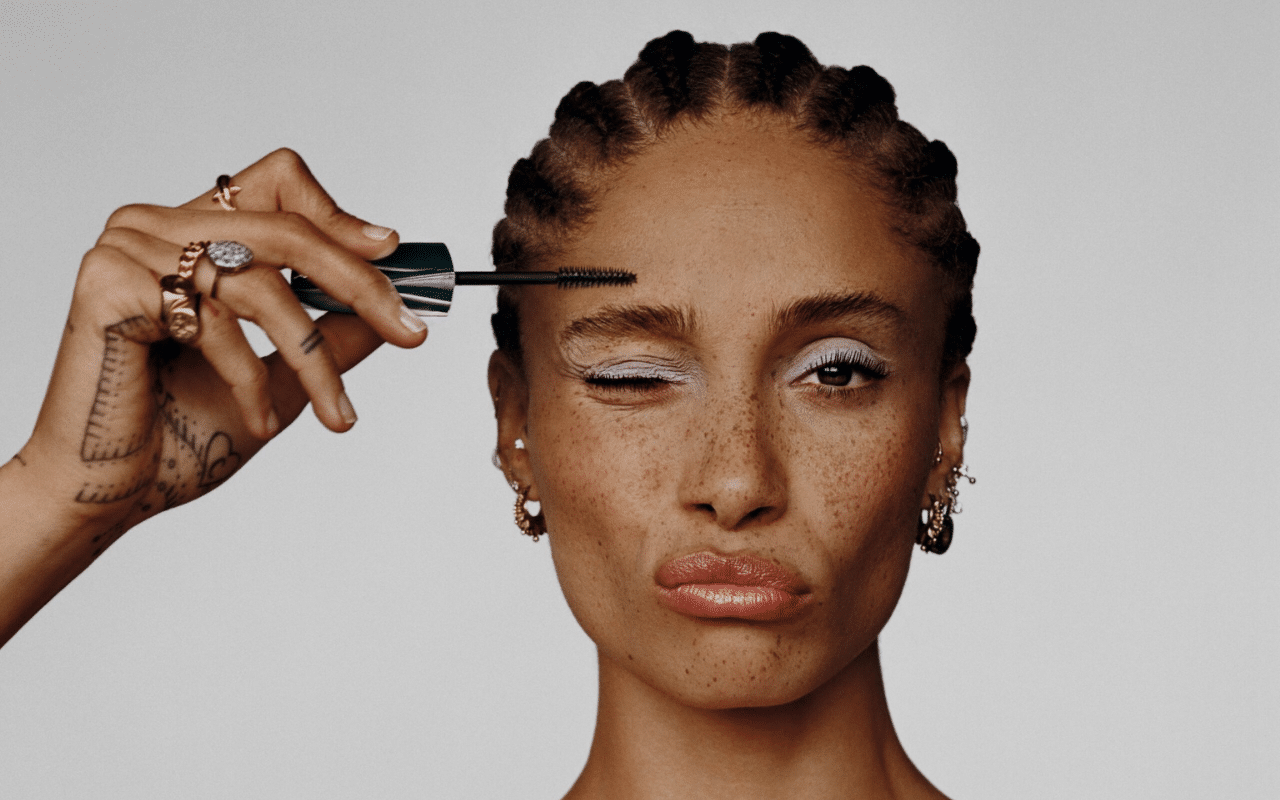 https://www.instagram.com/p/CW6IQX-P0Ih/
https://www.instagram.com/p/CYlWTXkKjmZ/
Launching Gurls Talk in 2015 – a community-led non profit designed to empower, inspire and provide support for adolescent and young women, Adwoa Aboah is no stranger to difficult (i.e. important) conversations. A model since 18, landing her first Vogue cover at 22 and subsequently covering the likes of Harper's Bazaar, Love Magazine, Elle, Time and i-D, she is also wildly familiar with the detrimental mental health effects of social media and the pressure to meet beauty standards.
Centennial Beauty spoke to Adwoa about working with Rimmel London as the brand's new global activist – a role that will see her at the centre of major beauty campaigns for the brand while simultaneously continuing to open the conversation around beauty, mental health and the celebration of "bold individualism", in turn creating safe spaces both on and offline where young women can share, listen and support each other.
Having an unhealthy relationship with beauty as a young woman is something Adwoa acknowledges is "quite a universal experience," and something, in her current role with Rimmel London and beyond, she hopes to be able to impact. "I didn't see myself reflected in mass media, I didn't see myself reflected in beauty, so [that] was quite detrimental to my self esteem and my confidence," she tells Centennial Beauty. "I think I spent a lot of my younger years, in regards to beauty, trying to fit in and look a certain way…that I thought would bring me [the] confidence and self esteem I was looking for," she says.
Almost seven years since launching Gurls Talk, Adwoa explains her desire to carry the priorities of the non-profit into her work with Rimmel London. "I think first and foremost the most important thing is inclusion…bringing that intersection we see in the room with Gurls Talk…There's not one person that comes from the same background and that's the kind of thing I'd like to bring in as well with my position at Rimmel. I want it to be a brand that is continuously reflective of what's going on, what people want to see and what they want to hear about. I want it to continuously be a brand that's reflective and showcases deep, meaningful conversations…conversations grounded in truth and authenticity," she says. "Which is something they've done for a long time, but [continuing] that is going to be one of my aims. I think it's a responsibility that all brands have– to speak for the people they're selling their products to."
But spearheading a mental health movement on a global scale, is by no means an easy undertaking. When asked if she feels a personal responsibility given her own mental health struggles, she replies: "It wasn't something I consciously decided to do, [but it did feel] like it was a responsibility because of the support that I had been given. It felt like a responsibility because coming from a more privileged background, I was given the help that I really needed," she says. "I have always felt when I found my community, it was the best thing that ever happened in my life," she explains. "And when my modelling took off, I felt a massive responsibility to say more, and to use that platform…not to give voice to the voiceless, because I think they've always been speaking, they've always known what they want to speak about, but just to hand the platform over in any way that I can," she tells Centennial Beauty.
Of working with Rimmel London, Adwoa reflects, "It's such an iconic brand and I think with all the work that I do surrounding mental health and Gurls Talk, it feels like such an amazing collaboration." Following in the footsteps of Rimmel's previous ambassadors, including Cara Delevigne, Rita Ora and Kate Moss, just to name a few, Adwoa explains "I think to follow such iconic women is always amazing but I do think I'll be able to bring something different. I think 'Brand Activist' says it all…[It's such] an [big] opportunity to use and work with such an iconic brand that's able to…speak to so many people – that's really exciting."
Of her own mental health journey, Adwoa shares with Centennial Beauty the advice she would give her younger self: "I would say that there is light at the end of the tunnel. I would say it's definitely not an easy journey, there's no point A and point Z. There's many other journeys in between, it's not linear and it doesn't always go the way you think it will," she says. "It will throw you different hurdles that you'll have to overcome but…life throws you things when you're ready to deal with them and this has happened time and time again through my mental health journey."
"But I would say there is hope, to keep on going, you are capable of so much more than you ever thought you were, it's just going to take a little bit of time before you realise, but that's fine," she says.
Listen to the Gurls Talk Podcast here and shop Rimmel London here.