@petroutv
https://www.instagram.com/p/B6ggpkkJZw1/
https://www.instagram.com/p/B6893EjF-CS/
Updated July 29th 2021
One week after ex-Hype House member Daisy Keech uploaded her viral exposé on the famous TikTok crew, Hype House manager Thomas Petrou has responded to her allegations.
In a now-privated video called The REAL Truth About The Hype House, Thomas explains his side of the story, providing "proof" that debunks many of Daisy's claims.
As one of Daisy's former best friends, Thomas was largely the subject of her YouTube video exposing the drama going on within The Hype House. Throughout the video, Daisy made some heavy allegations, including that Thomas is possibly stealing the team's money and won't give anyone else access to the business accounts.
Now, Thomas is defending himself.
And tbh, he makes some convincing arguments, leaving us even more confused than before! Here's what he had to say.
Thomas and Chase put the money down
In her video, Daisy claims that both she and Chase Hudson (Lil Huddy) put down $18,000 and Thomas only put down $5,000. She also says that house couple Alex Warren and Kouvr Annon put down $5,000.
However, according to Thomas, he and Chase put down money for the deposit on their own— Thomas put down $15,000 and Chase put down $31,000. Alex and Kouvr were never part of the equation.
He says Daisy did eventually pay them $18,000 as her contribution and he provided screenshots of bank transfers to both himself and Chase from Daisy's account.
The entire crew was kept informed on all press events
Since the Insider article, Daisy has maintained that Thomas purposefully kept her out of the loop on some major press events, including interviews with the TODAY Show, Entertainment Tonight, and Forbes.
Thomas refutes this, showing screenshots from a group text where he sent a schedule of the upcoming press events with dates and times. He claims that Daisy chose to workout instead of attending the TODAY Show interview and that she chose to go to Miami during the ET and Forbes interviews.
While this may be true, Thomas provides no evidence that Daisy is part of the group chat in his screenshots.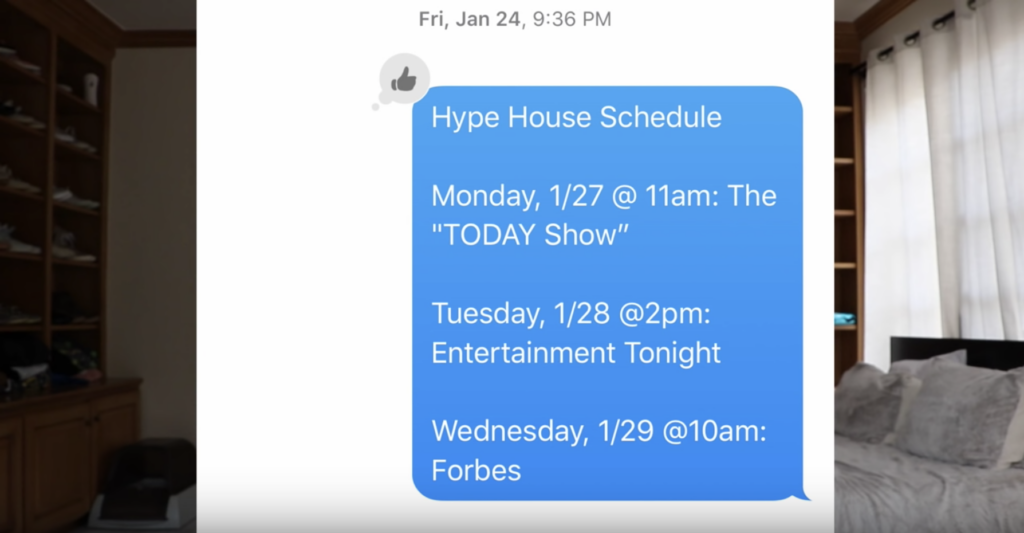 Daisy is the only one who ever referred to herself as a co-founder
Thomas alleges that he has never referred to himself as the sole founder, nor has he ever claimed that he and Chase were the only co-founders.
He says, in fact, Daisy is the only one between the three of them who publicly referred to herself as a co-founder, putting it in her Instagram bio a couple of months back.
Daisy secretly filed the trademarks
In her video, Daisy says she filed trademarks for The Hype House to protect herself after she felt like Thomas had been trying to push her out.
Thomas provides evidence to prove that Daisy filed the trademark under her name alone on January 7, 2020. He says she did this secretly without anyone else knowing. In March, the team filed for the trademarks together under The Hype House LLC rather than under one individual's name as good business practice.
He explains that Daisy filing for the trademark under her own name was a big red flag and the crew stopped trusting her after that.
The Hype House has made money
Thomas clarifies that The Hype House has made money, but everything made is reinvested back into the business for things like photoshoots.
To Daisy's point, Thomas can afford things like a new Cartier bracelet and a Tesla because of his own brand deals. He says he makes all of his own money and has never touched anything from The Hype House for his own personal gain.
Everything is a team decision
Despite Daisy claiming that Thomas is controlling of The Hype House's social media, Thomas says everyone has the TikTok logins and if anyone ever asked him for the Instagram login details, he would give it to them "in a heartbeat." He also says every single "follow" or "unfollow" from THH account is a group decision, implying the decision to unfollow Daisy was not solely his.
He says the same rings true for how any money made by the business is spent.
The Hype House is managed by an agency
Daisy alleged that Thomas had sole access to THH business email account and would not share the passwords. Thomas explains that The Hype House email is run by their management agency, not Thomas himself. The management agency is in charge of organising brand deals and sponsorship opportunities for The Hype House.
Thomas says Daisy wanted her lawyer/manager to be involved in all emails. Thomas also claims her lawyer/manager told Thomas himself he wanted to use that email account to "bring Daisy deals."
Thomas says to date, none of the members have ever received an email for a brand deal or sponsorship to that inbox and if one ever did come in, they would forward it to their direct management team. The email account is for group deals only and is managed by their external agency.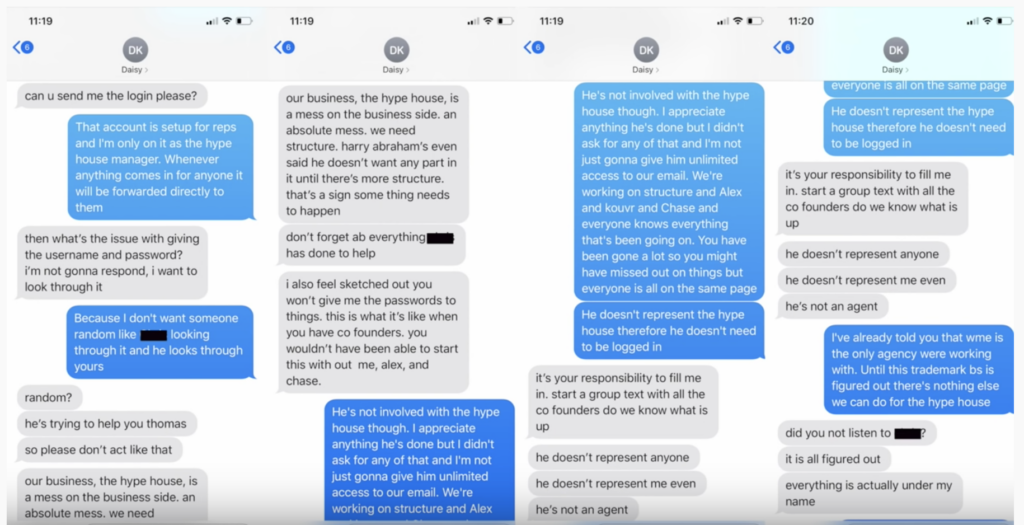 Daisy didn't want to be part of The Hype House from the start
Throughout his video, Thomas says multiple times that Daisy didn't seem interested in being part of The Hype House, despite putting down money initially.
He says she came into the house with over 1.5M Instagram followers but never once promoted THH on her page. The only time she would post content with other members was for her TikTok account, which obviously helped grow her following on that platform.
He says she would stay in her room, wasn't interested in collaborating with others and only shot content at The Hype House if it included her friends who weren't part of the crew. As mentioned above, he claims she opted out of multiple group press opportunities, moved out of The Hype House well before all the drama started, and acted as if she didn't want to be associated with The Hype House from day dot.
He finishes by saying he wishes Daisy the best and asks fans not to send hate her way.
Thomas goes on the BBFs Podcast 
Fast forward to July 29th 2021— Thomas guest-starred on the BFFs Podcast with Dave Portnoy and Josh Richards and spoke on his relationship with Daisy after all the drama that ensued last year. Unfortunately, Thomas remained tight-lipped as both he and Daisy signed NDAs, prohibiting them from talking about one another.
Explaining his motivation behind The Hype House, Thomas likened the group to a "modern-day Nickelodeon." He explained that it exists as a stepping-stone for creators like Charli D'Amelio, Addison Rae, and Daisy to grow their social media platforms. Thomas said he expected members to eventually "find their own managers (and) agents" after blowing up online.
Dave then questioned how Thomas' attempt at creating a "frictionless environment, where people come and go" caused so much drama with ex-members like Daisy. Here, he insinuated that the clash between Daisy and Thomas came from a dispute over equity and ownership of The Hype House as a brand. 
Unable to get into the nitty-gritty of the drama, Thomas revealed Daisy's team attempted to sue him with an Intellectual Property Lawsuit that has since been withdrawn. He went on to say that there was "backdated evidence of me and Alex discussing this years before I met Daisy, so that was kind of the problem there."
But don't worry, there is some good news! Thomas revealed that he and Daisy quashed the beef about a week ago, reconciling their relationship and putting all the drama behind them.