@hexsteph
Despite making up 46% of Australia's gamer population*, it comes as no surprise that the gaming industry is rife with discrimination against women – many continuing to face gender-focused abuse, discrimination and hate. The same can be said for the recent uptick in female-identifying fans of Formula One – 65% of those that have joined the sport in the last four years, identifying as women** face similar forms of discrimination in the broader sports community and online gaming spaces alike.
Gamer, journalist and advocate for inclusive gaming communities, Stephanie 'Hex' Bendixsen spoke with Centennial Beauty to break down the albeit slow but shifting attitudes towards women entering spaces traditionally looked at as 'boys clubs' such as the F1 fandom and gaming spaces, including the crossover present in the motorsport gaming category.
In new findings from the 2023 Bastion Insights National Gamer Survey, it was revealed that 83% of female-identifying gamers have directly experienced and/or observed offensive behaviour or language while online gaming. In the motorsport category of gaming, Stephanie explains "I've definitely seen a significant shift over the last few years around the perception of female gamers – and I think that's also true of motorsport. Thanks to shows like Drive to Survive and a larger female gaming community sharing their passion through live streaming, as well as a broader celebration of pop culture in general – communities that had previously felt quite closed off in the past have become more accessible."
When it comes to motorsport fandom specifically, Netflix's Formula One-focused series Drive to Survive has arguably been responsible for the wild growth in the fanbase. The sport now counts double the physical fan base of the NFL and according to Forbes, it is the most valuable sports empire for 2023. Despite the respective growth of the sport, fuelled by the spending power of women, both "new" generation female fans (see: DTS fans) and those who engage with the motorsport category of gaming often face negative attitudes in the broader sporting community and the online gaming space, Stephanie explains "Ultimately you shouldn't have to qualify or legitimise your interest or reason for being there. Often I think that negative behaviour comes from a fear that women are going to somehow take something precious away from men by infiltrating 'their' space and changing it. There's this question of legitimacy that women face, as though we're all just pretending to like things like video games or motorsport."
When it comes to combating these attitudes in online or IRL spaces, Stephanie recommends "[Sharing] what exactly excites me about it. If you can get on the same page as someone else by articulating why you love it in a genuine way, often a wall comes down and you're just two people who share a passion for the same thing." Translating to sports viewership outside of gaming, recent research by Heineken shows that 7 in 10 fans report that they're now spending more time with loved ones because they're devoting, on average, an extra two hours per week during the racing season – bonding over Formula One as a sport.
When encountering a fan who questions your authentic passion for that interest, Stephanie says it's best to "block, report and move on with your life knowing that you have unique and diverse interests and a desire to learn new things – and they are probably just threatened by that."
In reference to the growth of female interest in Formula One as both a sport and in a gaming capacity, the success of bringing new fans into the fold speaks for itself. As The Cut reports, "the 2022 F1 season was the most viewed, ever, in the US."
"Diversity in any community only ever makes it better," Stephanie says of gaming. "This new research from Heineken has found that around 65% of new fans to F1 are female – which shows just how keen women are to be a part of something like this when they're given the space to enjoy it and learn. It's just about putting yourself out there, I think – and not worrying about dudes who try to gate keep."
See Also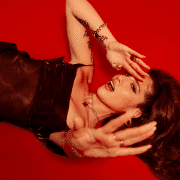 As sports like Formula One and the motorsport category of gaming attract more mainstream attention, companies like Heineken are launching the Player 0.0 initiative. A national Sim Racing tournament, Player 0.0 seeks to unite Australian F1 fans through their shared love of the sport and gaming, encouraging them to race around a virtual F1 racetrack at event sites across the country ahead of the F1 Australian Grand Prix in Melbourne taking place Sunday 2nd April, 2023. Similarly, brands like Maybelline have launched "Through Her Eyes", a campaign, as part of the Brave Together program, committed to lifting the lid on the discrimination of female-identifying members of Australia's gaming community. 
Despite clearly having a long way to go, "It's getting a whole lot easier for women to find other women who are visibly sharing their interest in sports and activities traditionally enjoyed by men," Stephanie says. Programs like "Heineken Player 0.0 is bringing all kinds of fans together, which is exciting to see, since we've seen such growth in the F1 fanbase."
*Survey conduced by Bastion Insights in February 2023 across over 600 Australian gamers aged 600+
**The research survey commissioned by Heineken® was carried out by Censuswide between 10.02.2023 – 20.02.2023 with 1,002 Australian fans of Formula 1.