@tanamongeau
Nessa Barrett is purging her following list.
The young artist, who recently split from boyfriend and fellow TikTok star Jaden Hossler, raised questions earlier today when she unfollowed Tana Mongeau after the YouTuber posted a photo of herself on FaceTime at Jaden's meet-and-greet.
"Attending a @jadenhossler meet and greet virtually," Tana joked on Instagram stories. "Thank u @huntermoreno for making all my dreams come true! I am a Jadenator!"
Tana was a big supporter of Nessa last year when she came under fire for allegedly coming between Jaden and his then-girlfriend Mads Lewis. At the time, rumours swirled that Jaden had cheated on Mads with her best friend, Nessa, who was working on music with Jaden at the time. All three rose to fame on TikTok, however Nessa and Jaden have since focused on their respective music careers.
"Nessa and Jaden definitely give me hope. A lot of people have such controversial opinions about Nessa and Jaden, but I think that people often forget the fact they're so young," Tana said on an episode of her podcast, Cancelled, in September 2021. "At their age, I definitely did some shit like that."
Tana went on to say that she has heard "off-camera tea" from those involved which makes her understand why Nessa and Jaden seemingly screwed over their friends and respective partners to be together.
"If I were in Nessa's shoes, I think that she withholds a lot of— you know, maybe this is just my opinion, but she withholds a lot of things that she could say to vindicate herself," she said. "She chooses entirely the higher road."
Fans began speculating that Nessa unfollowed Tana for continuing to be friends with Jaden. Several people defended Nessa in the comment section, while others dragged her for unfollowing her friend over an Instagram story.
"As she claims she's team Nessa and would do anything for her LMFAOOO," one commenter wrote on TikTok Insider's post.
"When Tana says [they're] besties then does this 😍," wrote another.
Tana also commented on the post herself, implying she was surprised to see Nessa had unfollowed her after her Instagram story.
"Oh wow," Tana wrote. "I'VE DONE NOTHING BUT HAVE HER BACK I'M SAD WOAH".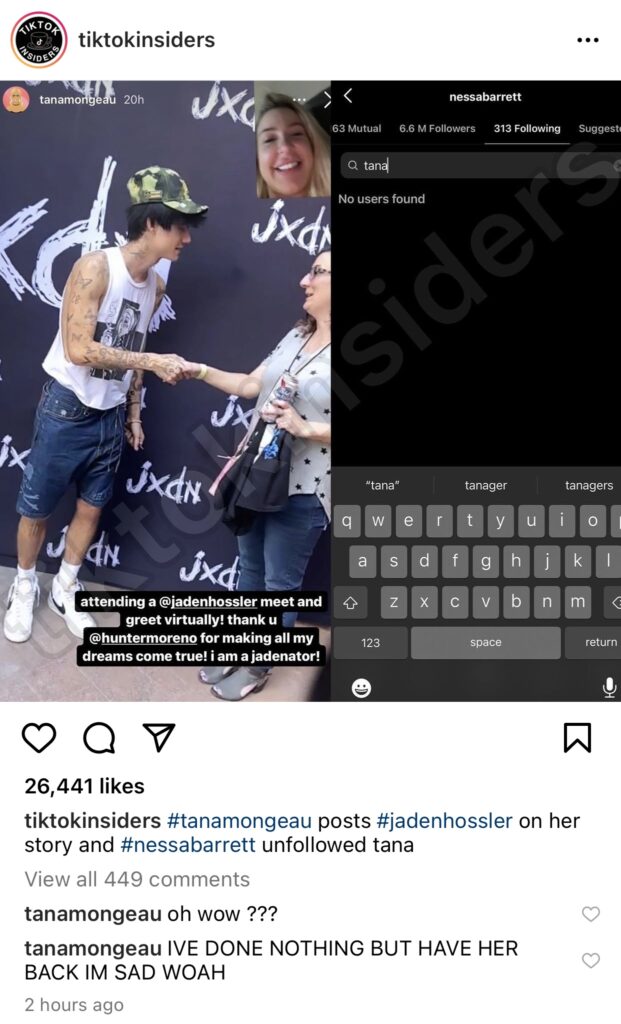 Nessa quickly responded to the speculation, explaining that she has unfollowed "a lot of people" amid her split from Jaden.
"I love Tana. Have nothing against her. She can be friends with whoever she pleases I just simply don't want to see certain things," she wrote. "I unfollowed a lot of people for that reason."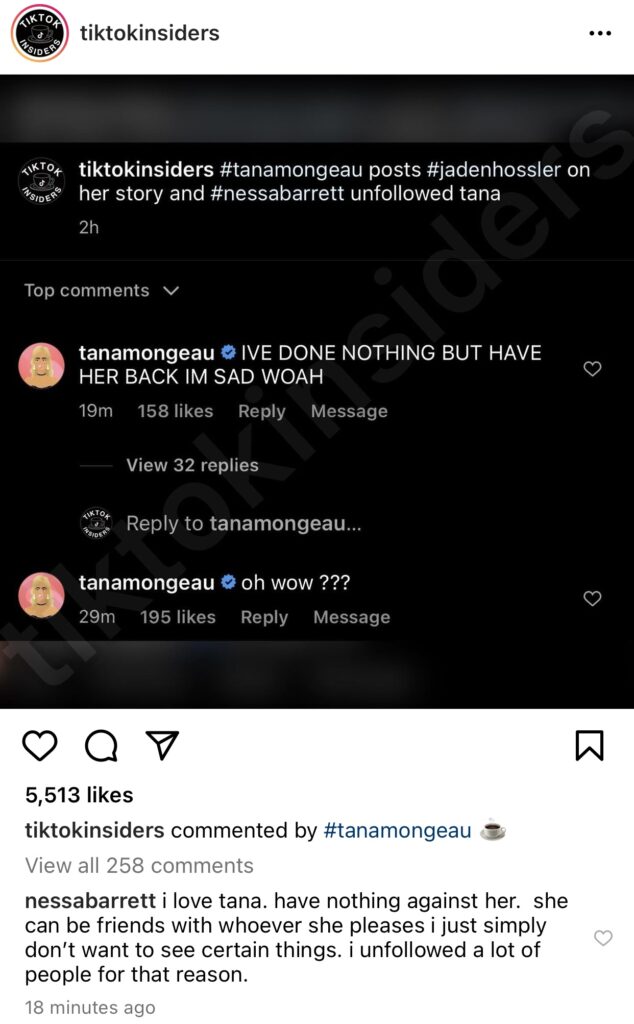 Though it's understandably a difficult time for Nessa as she navigates this high-profile breakup, she's taken to Twitter several times in recent weeks to express how happy and fulfilled she feels lately.
We love a comeback queen.