TikTok / @kyliejenner
Finally some positive controversy for Kylie Jenner.
Just days after the internet branded her a "climate criminal" for allegedly taking a 17-minute flight on her private jet as per the Twitter account @celebjets, Kylie's name is back on everyone's lips as TikTok is now convinced the beauty mogul is married to long-time boyfriend Travis Scott.
The theory started when the 24-year-old posted two TikToks on July 20th donning a white corset gown.
In the first TikTok, Kylie films a mirror video in the bathroom with sisters Khloe Kardashian and Kim Kardashian and best friends Stas Karanikolaou and Yris Palmer. The four are wearing similar black body-con outfits (with Kim, Khloe, and Yris all wearing sunglasses) while Kylie stands out in white— leading people to speculate that this could be Kylie amongst members of her bridal party.
The second video shows Kylie filming her dress and makeup look in the back of a car listening to Nicki Minaj.
Fans have flooded Kylie's comment section, convinced the mother-of-two is dropping hints that she got married.
"It's giving bride and bridesmaid vibes," wrote @karlasneakers.
"Is she getting married? Why is she the only one in white," @holdonandres said.
Duo Lingo, the language education platform that has taken TikTok by storm, also jumped in on the conspiracy, writing, "wedding bliss".
Adding fuel to the fire, an Instagram account claiming to be Kylie's nephew Mason Disick addressed the theory. "Kylie is getting married and she is currently on her [bachelorette] party," the account wrote on Instagram stories. "That's why she's the only one wearing white!!!"
Mason's mother, Kourtney Kardashian, quickly debunked this, taking to Instagram stories to confirm that the account is not Mason.
"Hello everyone, hope it is a beautiful Thursday. After months and months of thinking you would all know that is NOT Mason on these fake accounts, some of you don't," she wrote. "So I will spell it out clearly: that is NOT Mason on these fake social media accounts talking about our family. To any and all "news" outlets who use that false account as a source, you know better. Stop using it for the benefit of your slow "news" day please and thank you. And to the person relentlessly pretending to be Mason, ultra ultra ultra creepy!!!!!"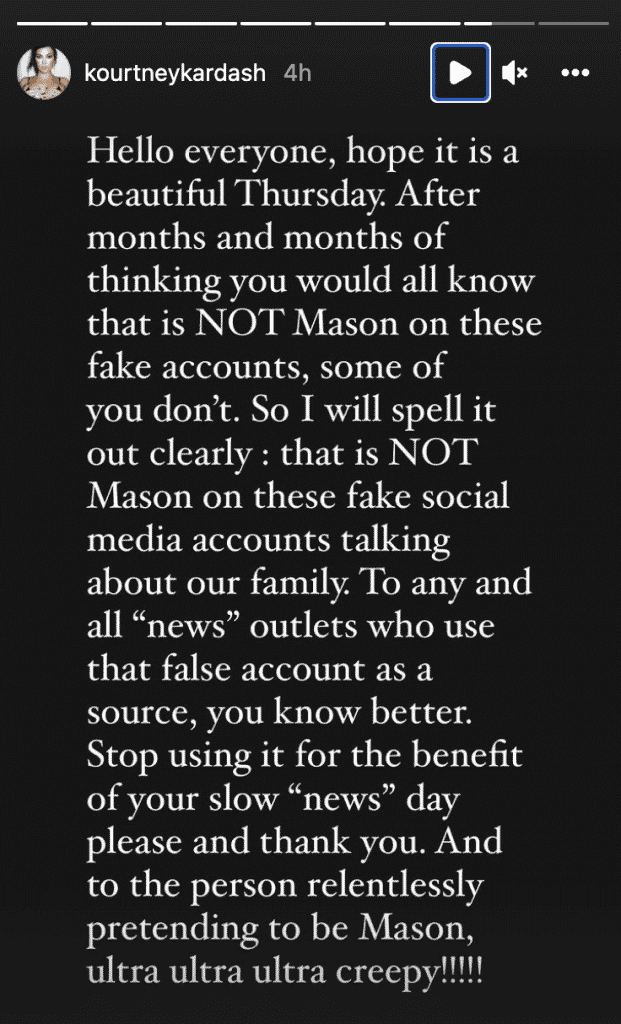 Though Kourtney neither confirmed nor denied the initial rumours, it's unlikely Kylie would make her marriage public given her love of privacy.
For now, we'll be chalking this one up to just another random TikTok theory.