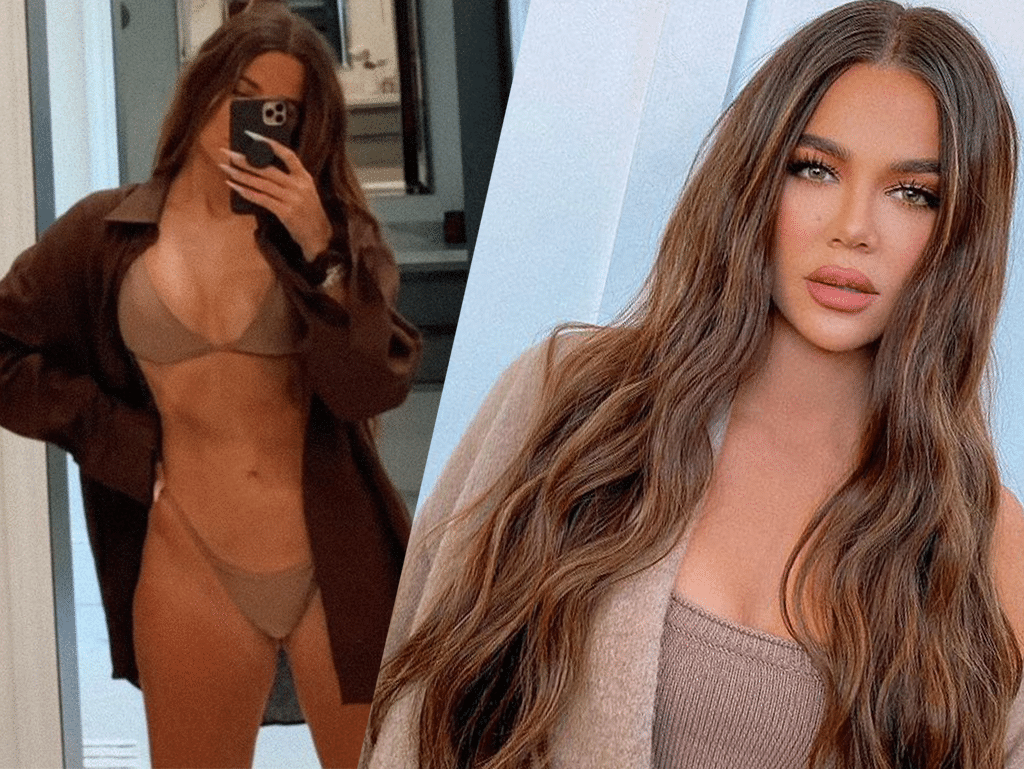 @khloekardashian
On April 5th, an unfiltered photo of Khloé Kardashian broke the internet.
The photo, which shows Kardashian standing by a pool donning a bare-faced smile and a barely-there bikini, was apparently snapped at a family gathering over the weekend. Some sources claim it was posted by an assistant without the reality star's permission, while others claim it was posted by Kris Jenner's mom, Mary Jo "MJ' Shannon, on her Finsta. Regardless of its origin, the photo quickly spread online, sending the Kardashian-Jenner PR team into a tailspin in an effort to scrub it from social media.
In the following days, copies of the photo were removed from Instagram, Twitter, and Reddit under legal threat from the famous family's team. Kim Kardashian allegedly messaged at least one account asking them to remove the "doctored" photo taken in "the worst lighting" and several Twitter users were locked out of their accounts after reposting the snap.
The camp's excuse for taking such extreme measures was a copyright violation. "Khloé looks beautiful but it is within the right of the copyright owner to not want an image not intended to be published taken down," CMO of KKW Brands, Tracy Romulus, explained in a statement.
And while the Kardashian-Jenner clan has received a barrage of backlash for attempting to suppress the photo (mostly because Kardashian looks great and their reaction is, dare we say, toxic for women everywhere), celebrities going to great lengths to control their image on social media and the PR frenzy that ensues as a result of said lengths, is actually a fairly common phenomenon called the "Streisand Effect."
Coined in 2005 by Techdirt founder Mike Masnick, the Streisand Effect refers to when a celebrity draws more attention to something they are trying to suppress simply because they are trying to suppress it. Masnick experienced this phenomenon after Barbara Streisand tried to sue Techdirt in 2003 for posting photos of her home. The publicity around the lawsuit resulted in a massive boom of traffic for the website as users flocked to get a glimpse of the famed photos Streisand was so desperate to hide.
Similarly, Khloé Kardashian's attempted damage control has increased circulation by fueling interest in her bikini photo. The conversation, however, has been unrelated to her physical appearance. In this case, rather, the Streisand Effect highlights the disparity between general social media users and celebrities, breaking the facade of the parasocial relationship.
The study of parasocial relationships between celebrities and fans dates back to the 1950s when psychologist Donald Horton and sociologist Richard Wohl first described the experience.
In their 1956 academic journal, 'Mass Communication and Para-Social Interaction: Observations on Intimacy at a Distance,' the researchers note an intimate relationship occurs between audiences and celebrities when individuals are repeatedly exposed to a media personality. This exposure leads to fans developing a sense of perceived intimacy and friendship with the celebrity.
Though it's no surprise that social media has allowed celebrities to exploit these parasocial relationships to further their career and influence millions, cracks in the facade can come as a shock to fans who feel like they "know" the public figure on a personal level. When a celebrity acts out or makes a decision that doesn't align with their public persona, it can be hard for fans to reconcile as many don't realise that the celebrity they know and love is just that— a public persona.
This distinction poses challenges when a famous person deserves genuine criticism, as fans with a parasocial connection may feel defensive, embarrassed, or like the target of criticism themselves for supporting the celebrity.
Brett Cullen, head of social media at Hatch PR, explains the complex relationship celebrities have with social media and how this differs from the way non-famous people use these platforms. "Celebrities have finely crafted public images and social media is an important part of making or breaking that. There's a strategy behind why celebrities do what they do (or don't), particularly on social," he tells BBC.
Cullen notes that "something coming out of the blue in an uncontrolled manner […] which doesn't align with that strategy can present a challenge and a risk."
While the Kardashian-Jenners' attempt to strike the bikini photo may seem extreme to the average social media user, a controlled public image comes down to one thing for the reality TV moguls: business.
"Having a strong brand can bring so many benefits beyond securing roles, there are wider commercial opportunities at play," Cullen says. "Keeping control of that image, and the narrative of the brand is therefore crucial for celebrities."
Kardashian is certainly not the only celebrity to curate a carefully controlled image.
Just last month, actress Rachel Bilson recalled a message she received from Bohemian Rhapsody actor and childhood friend Rami Malek after she posted a high school throwback photo of the two of them on her Instagram. While appearing on Dax Shepard's Armchair Expert podcast, Bilson said she received a blunt message from Malek asking the photo be removed.
"I'm a big fan of not taking yourself seriously, especially at that level of fame and talent," she said. "But look, he wants to be super-respected, it's his thing, so I respected it."
In 2013, Beyoncé also fell victim to the Streisand Effect when her PR team attempted to control the circulation of unflattering photos of the singer performing at the Super Bowl. In an email to Buzzfeed, which shared coverage of the performance, Beyoncé's team wrote: "There are some unflattering photos on your current feed that we are respectfully asking you to change. I am certain you will be able to find some better photos."
Unfortunately for Beyoncé, Buzzfeed actually published the email which led to even more publicity for the images.
Despite the hurdles social media may pose for celebrities and controlling their public image, these pale in comparison to the damage this type of censorship can inflict on fans.
In the case of Khloé Kardashian, the 36-year-old is notorious for altering her appearance on social media. But this time, her team's sheer desperation to wipe the photo from the internet's existence because it doesn't meet their standard of "perfection" sends a particularly toxic message to her primarily young audience.
This toxicity is amplified when you consider Kardashian is the co-founder of Good American— a premium apparel label that promotes size inclusivity, body diversity, and self-love. These seemingly stand in stark contrast to her heavily curated social media feed and obsession with photo-editing.
Regardless of how refreshing it is to see Kardashian stripped back, unfiltered, and looking like a normal person, the negative impact of this scandal— on both her fanbase and the Kardashian family themselves— cannot be ignored.