@justinbieber
Can't we all just get along?
Justin Bieber is defending wife Hailey Bieber after a viral video sent Selena Gomez fans to harass her during a livestream on Thursday.
The video, posted by a British TikTok user, asks fans to "bombard" Hailey's livestream comment section with "Jelena" spam— the internet's couple name for Justin Bieber and Selena Gomez. The troll finishes asking fans to "go after" Hailey as she won't be turning comments off.
Unfortunately, the video worked. Shortly after the TikTok was posted, Hailey had a scheduled livestream with Bare Minerals and Selena fans swarmed the comments with negativity and hate.
The 26-year-old singer came to his wife's defense via Instagram stories, posting a series of slides asking the public to get over his past relationship with Selena Gomez.
"This sad excuse of a human just encouraged people on video to literally go after my wife, telling people to say that my previous relationship was better so on and so fourth." Justin wrote. "I just wanted to share this so that people get an idea of what we face on a day to day."
Justin went on to say it's "extremely hard to choose the high road when I see people like this try and rally to gather people to bully the person I love most in the world. It is not right."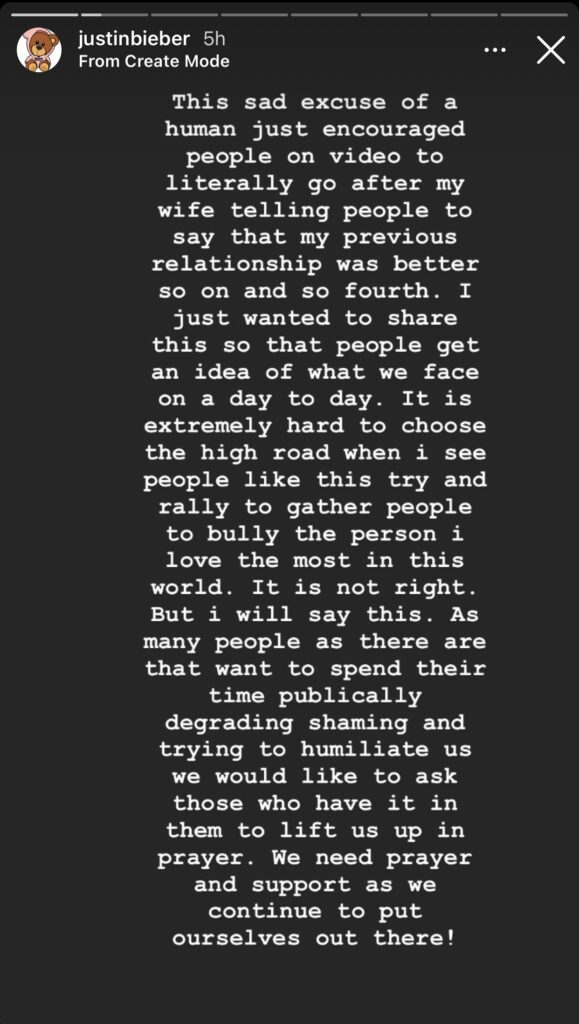 He continued in a follow slide, saying he feels sorry for the woman who made the TikTok. "I think about her life and how miserable she must be to want to spend her life treating to make others feel small," he wrote. "The lesson here is SHE'S THE ONE MISSING OUT… life is fulfilling when you uplift and add value to people! A life where you want to make others feel small will leave you with no friends and no real JOY."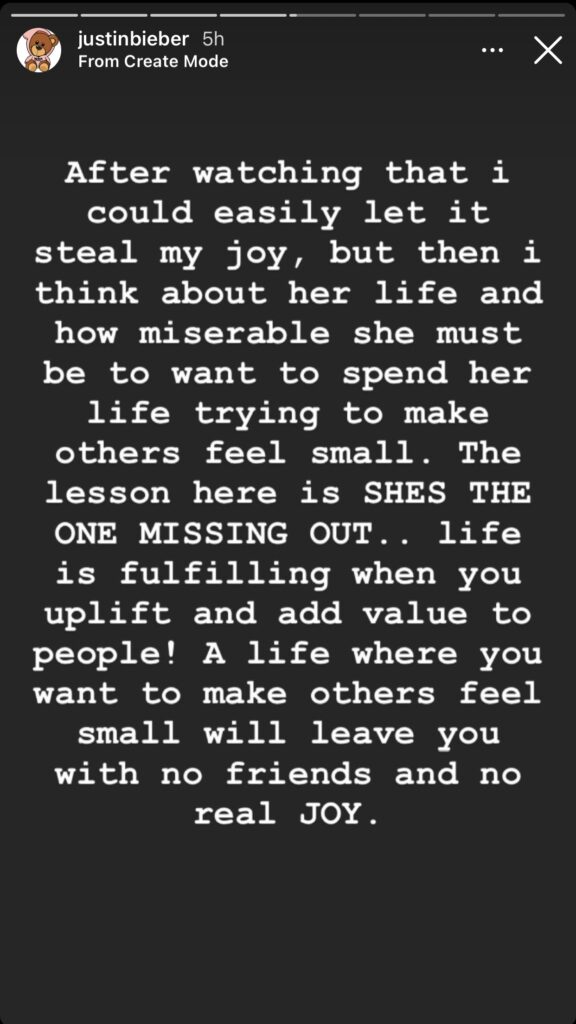 Hailey also addressed the barrage of hate on her livestream, taking to Instagram stories to say she would "never in a million years wish for someone to be treated this way and I will never condone this kind of hateful behavior."
Both Justin and Hailey wish the OP well before signing off.
However, it seems the Biebers' response added even more fuel to the fire, as Selena fans are now digging up old racist tweets, posts, and videos of the model using the n-word.
In one tweet, the 24-year-old writes that she'll be returning from a holiday in Florida "a different race" and uses a man wearing a turban emoji. She also writes the n-word multiple times both with an "a" and a hard "r."
The TikTok video comes off the back of Hailey's interview on Ashley Graham's Pretty Big Deal podcast last month in which she confirmed that despite speculation, her relationship with Justin did not overlap with his relationship with Selena.