TikTok / @jeffreestar
https://www.instagram.com/p/B4S7uQkB4Xa/
Fans have a conspiracy that two of YouTube's most controversial personalities are gearing up for another collaboration.
Earlier this week, Jeffree Star teased that he was getting ready to host special guests at his Wyoming yak ranch. "Someone else is landing [at the airport]… people, specifically. Who's about to be in Wyoming?" Jeffree said on his Instagram stories, secretively.
One day later, it was revealed that Jeffree's special guests were Shane Dawson alongside his partner, Ryland Adams, and videographer, Chris B.
Though both creators kept quiet about the reason for the visit, fans are convinced that the two are collaborating on another docuseries after both Jeffree and Shane posted a photo driving around the ranch with Chris filming them from the back.
"Yaks outta the bag," Shane wrote across the photo on his Instagram story where he dons a cowboy hat and farm clothes— leading people to speculate that the docuseries could be related to Jeffree's new life on the ranch.
Jeffree also shared a TikTok video of himself and Shane "mingling with the yaks".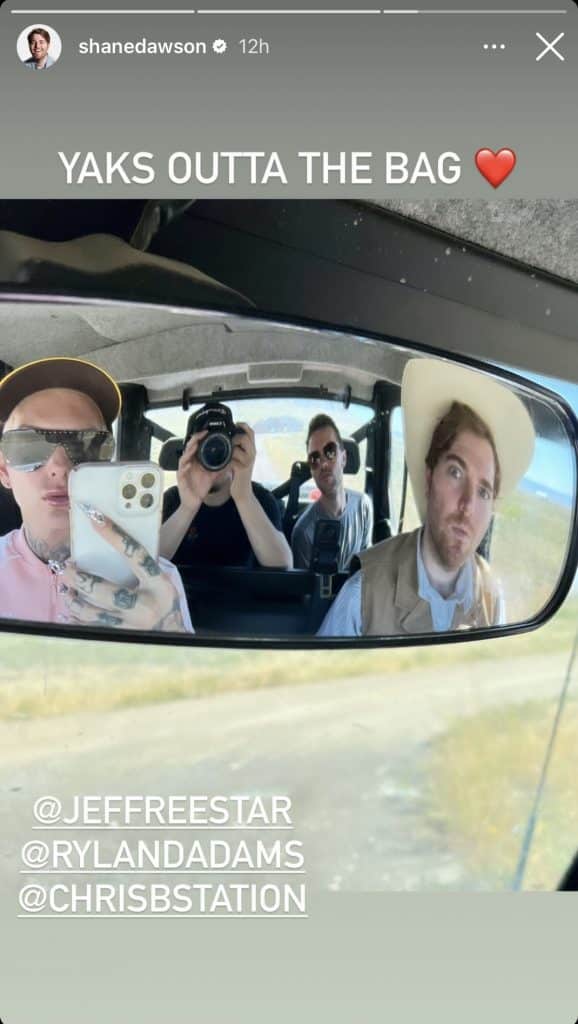 In mid-2021, the beauty mogul listed his L.A. mansion and permanently moved to his ranch in Wyoming. He began preparations to relocate in 2020 following several scandals that threatened his career and culminated in a mass cancellation for both himself and Shane.
Jeffree has spoken frequently about his love of yak farming, saying he is "in love" with their spirit and calling his 40+ animals part of his "family".
On September 1st, 2021, Insider reported that Jeffree had filed a trademark line for yak-related products, including yak yarn, treats, clothing, and more. Following this report, the creator allegedly posted an Instagram story claiming his yaks were just for petting and loving.
However, by May 2022, Jeffree was selling yak meat from his ranch to the local community in Casper, Wyoming.
While some signs point to a yak ranch docuseries in the making, other fans think the contentious duo may be working on another beauty launch, given the success of their Conspiracy Palette in 2019.
Jeffree also recently shared that he has a "massive collection" coming out at the end of August.
"I bet that Jeffree is coming out with a palette and a collection called 'Cancelled' and is having Shane come out for the reveal," writes one fan on a video by Rich Lux on the topic. "Or maybe it's Conspiracy 2!!!"

Though Jeffree and Shane have not confirmed anything, it's safe to say they have millions of fans holding out hope for a reunion.
Check back for updates.